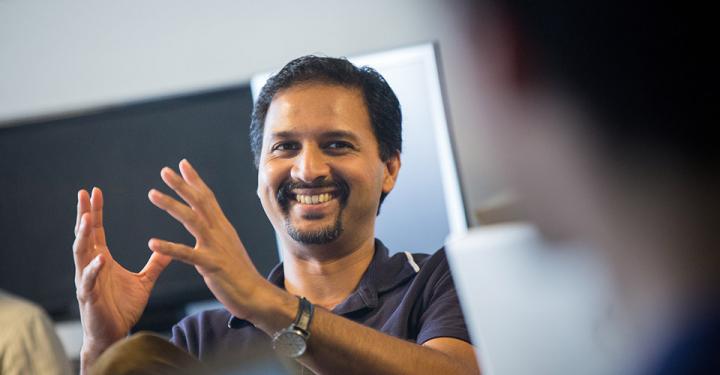 Case Western Reserve and Cleveland Clinic are leading development of a computerized tissue-imaging program that could soon help identify which lung cancer patients are likely to face an earlier recurrence of the disease.
With that information, cancer experts could more accurately determine which lung cancer patients should undergo aggressive post-surgery chemotherapy--and which are unlikely to benefit from it.
"Right now, virtually all early-stage lung cancer patients get surgery," said Anant Madabhushi, founding director of the Center for Computational Imaging and Personalized Diagnostics (CCIPD) at the Case School of Engineering. "The problem is oncologists don't currently have sufficient information to know which of these patients will also receive added benefit from chemotherapy."
The National Cancer Institute recently awarded Madabhushi and his colleagues a $3.16 million grant to advance the promising project.
"What we've proposed with this grant is to create the first actual predictive analysis for early-stage lung cancer to figure out who is going to benefit from chemotherapy or not," said Madabhushi, who is leading the research along with Vamsidhar Velcheti, M.D., a thoracic oncologist at Cleveland Clinic. "We haven't yet shown that it's predictive, because we haven't done the study from the clinical trials. That's what the grant will help us to do."
That predictive analysis would be welcome news for patients and the healthcare industry alike. Chemotherapy can be hard on the body and expensive, even with insurance covering some of the cost--often as much as $35,000 for a single patient, Madabhushi said.
Dr. Velcheti said that a predictive test before surgery would benefit both patients and give doctors a more precise tool in determining which patients can avoid the adverse side effects of chemo.
"If this can tell us that only 10 percent of patients have a chance of the cancer returning, that means the other 90 percent won't have to go through chemotherapy," he said.
Lung cancer is the most common cause of cancer death around the world, according to the World Health Organization. About 800 people each year are treated for the disease at Cleveland Clinic, Dr. Velcheti said.
Madabhushi said that the new analysis the grant will fund builds on the center's recent similar successes in using digitized images to stratify degree of risk and aggressiveness of breast and prostate cancers.
Co-investigators on the new project are Michael Yang, an assistant professor of pathology at Case Western Reserve and pathologist at University Hospitals Cleveland Medical Center; Pingfu Yu, an associate professor of biostatistics at Case Western Reserve; Kurt Schalper, assistant professor of pathology and director of the Translational Immuno-oncology Laboratory at the Yale School of Medicine; and Mark Lloyd and James Monoco from private partner Inspirata Inc.
Madabhushi, the F. Alex Nason Professor II of biomedical engineering at Case Western Reserve, founded his center in 2012. About 40 researchers there work on image-based detection, diagnosis, responses to treatment and prognosis of various cancers.
Madabhushi, Dr. Velcheti and six collaborators from the CWRU center published research regarding the techniquein late 2017 in the journal Scientific Reports. The co-authors were Fu, Schalper, Xiangue Wang, Andrew Janowczyk, Yu Zhou and Rajat Thawani.
That work clearly showed that the computerized image analysis of the early stage lung cancer tissue images could predict recurrence. The next step, however, is to be able to explicitly show that the approach can also identify patients who will receive added benefit from adjuvant chemotherapy, Madabhushi said.
The "secret sauce" for predictive analysis
"That's where the secret sauce comes in," Madabhushi said. "Our paper shows that we're able to look at the shape, texture and spatial arrangement of these nuclei and see a significant difference in those who have an early recurrence of lung cancer and those who have a late recurrence."
As in the innovative breast cancer analysis, the researchers will use the simplest and most readily available medical records for cancer patients: digital images of tissue biopsies.
Earlier research was often stymied by the fact that labs and hospitals were reluctant to give up tissue samples because testing them would often also destroy them. Using digital images of the original slides and feeding them into a computer has eliminated the need to examine the actual tissue.
Because virtually every oncologist also takes a tissue sample and then captures an image, that also means the analysis could be available--and more affordable--to patients globally. That's especially important in places where high-tech magnetic resonance imaging or other imaging tests aren't easily obtained, Madabhushi said.
Inspirata Inc. has licensed the technology used in the breast cancer diagnosis.
Mark Lloyd, executive vice president and founder of the Tampa-based company said the latest advancement from Madabhushi's center is just the latest in a "game-changing" approach to solving global health concerns.
"What we've done with breast cancer and now hope to do with lung cancer is possibly offer an alternative for patients that may be less expensive, and less difficult, than the standard chemotherapy approach, and Dr. Madabhushi's work is helping us to do that."
###
About Case Western Reserve University
Case Western Reserve University is one of the country's leading private research institutions. Located in Cleveland, we offer a unique combination of forward-thinking educational opportunities in an inspiring cultural setting. Our leading-edge faculty engage in teaching and research in a collaborative, hands-on environment. Our nationally recognized programs include arts and sciences, dental medicine, engineering, law, management, medicine, nursing and social work. About 5,100 undergraduate and 6,200 graduate students comprise our student body. Visitcase.edu to see how Case Western Reserve thinks beyond the possible.
About Cleveland Clinic
Cleveland Clinic is a nonprofit multispecialty academic medical center that integrates clinical and hospital care with research and education. Located in Cleveland, Ohio, it was founded in 1921 by four renowned physicians with a vision of providing outstanding patient care based upon the principles of cooperation, compassion and innovation. Cleveland Clinic has pioneered many medical breakthroughs, including coronary artery bypass surgery and the first face transplant in the United States. U.S. News & World Report consistently names Cleveland Clinic as one of the nation's best hospitals in its annual "America's Best Hospitals" survey. Among Cleveland Clinic's 51,000 employees are more than 3,500 full-time salaried physicians and researchers and 14,000 nurses, representing 140 medical specialties and subspecialties. Cleveland Clinic's health system includes a 165-acre main campus near downtown Cleveland, 10 regional hospitals, more than 150 northern Ohio outpatient locations - including 18 full-service family health centers and three health and wellness centers - and locations in Weston, Fla.; Las Vegas, Nev.; Toronto, Canada; Abu Dhabi, UAE; and London, England. In 2016, there were 7.1 million outpatient visits, 161,674 hospital admissions and 207,610 surgical cases throughout Cleveland Clinic's health system. Patients came for treatment from every state and 185 countries. Visit us at clevelandclinic.org. Follow us at twitter.com/Cleveland Clinic. News and resources available at newsroom.clevelandclinic.org.
---