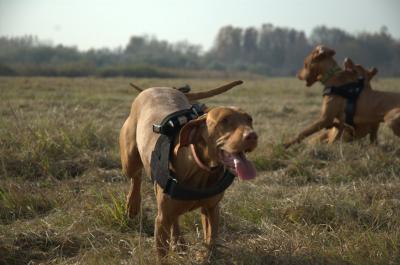 Dogs' paths during group walks could be used to determine leadership roles and through that their social ranks and personality traits, according to research published in PLOS Computational Biology this week.
Using high-resolution GPS harnesses, researchers from Oxford University, Eötvös University, Budapest and the Hungarian Academy of Sciences (HAS) tracked the movements of six dogs and their owner across fourteen 30-40 minute walks off the lead. The dogs' movements were measurably influenced by underlying social hierarchies and personality differences.
'We showed that it is possible to determine the social ranking and personality traits of each dog from their GPS movement data,' said study author Dr Máté Nagy of Oxford University's Department of Zoology. 'On individual walks it is hard to identify one permanent leader, but over longer timescales it soon becomes clear that some dogs are followed by peers more often than others. Overall, the collective motion of the pack is strongly influenced by an underlying social network.'
The study demonstrates the power of path tracking to measure social behaviour and automatically determine dogs' personalities. How dogs behave during walks reveals a lot about them. Dogs that consistently took the lead were more responsive to training, more controllable, older and more aggressive than the dogs that tended to follow. Dogs that led more often had higher dominance ranks in everyday situations, assessed by a dominance questionnaire.
'The dominance questionnaire tells us the pecking order of dog groups by quantifying interactions between pairs,' said Dr Enikő Kubinyi, senior author of the study from the Hungarian Academy of Sciences. 'For example, the dogs that bark first and more when strangers enter the house, eat first at meals and wins fights are judged as more dominant. Conversely, dogs that lick other dogs' mouths more often are less dominant as this is a submissive display.'
Pack leadership is well-established in wolves, where packs are typically led by a single breeding pair, but there is still much debate as to whether groups of domestic dogs have a social hierarchy.
'These dogs have no breeding pair' said Dr Kubinyi. 'However, there are dogs who take the lead more often than others. On average, an individual took the role of the leader in a given pair in about three quarters of the time. This ratio is of similar magnitude to the case of wild wolf packs with several breeding individuals. Using this qualitative data over longer time scales allows us to see the more subtle relationships that might otherwise be missed. Of course, hierarchies are likely to vary across breeds and individual groups, so we hope to use this technology on other animals in future to investigate further.'
The technology used in the study could be applied to other dogs used for search and rescue to provide quantitative data allowing handlers to compare how different dogs work together and pick those with the highest compatibility. Each device weighs only 14 grams and further sensors such as gyroscopes could be used to determine what each animal is doing at a given time.
###
Financial disclosure: This work was supported by the Hungarian Scientific Research Fund (K 84036, otka.hu), the Bolyai Foundation of the Hungarian Academy of Sciences (mta.hu), MTA-ELTE Comparative Ethological Research Group (01 031) and was partly supported by the EU ERC COLLMOT project (grant No. 227878,erc.europa.eu/). MN was partly supported by a Royal Society Newton International Fellowship (royalsociety.org), Somerville College (some.ox.ac.uk) and EU ESF TA´ MOP-4.2.1/B-09/1/KMR, nfu.hu. The funders had no role in study design, data collection and analysis, decision to publish, or preparation of the manuscript.
Competing interests: The authors have declared that no competing interests exist.
Citation: Ákos Z, Beck R, Nagy M, Vicsek T, Kubinyi E (2014) Leadership and Path Characteristics during Walks Are Linked to Dominance Order and Individual Traits in Dogs. PLoS Comput Biol 10(1): e1003446. doi:10.1371/journal.pcbi.1003446
Contact:
Name: Dr Máté Nagy
Institution: Oxford University
Department: Department of Zoology
Phone: +44(0)1865 271171
Email: mate.nagy@zoo.ox.ac.uk
Name: Dr Enikő Kubinyi
Institution: Hungarian Academy of Sciences
Department: Statistical and Biological Physics Research Group
Phone: +36 20 4729879
Email: kubinyie@elte.hu
Disclaimer
This press release refers to an upcoming article in PLOS Computational Biology. The release is provided by the article authors. Any opinions expressed in these releases or articles are the personal views of the journal staff and/or article contributors, and do not necessarily represent the views or policies of PLOS. PLOS expressly disclaims any and all warranties and liability in connection with the information found in the releases and articles and your use of such information.
About PLOS Computational Biology
PLOS Computational Biology features works of exceptional significance that further our understanding of living systems at all scales through the application of computational methods. All works published in PLOS Computational Biology are open access. Everything is immediately available subject only to the condition that the original authorship and source are properly attributed. Copyright is retained.
About the Public Library of Science
The Public Library of Science (PLOS) is a nonprofit publisher and advocacy organization founded to accelerate progress in science and medicine by leading a transformation in research communication. PLOS engages in outreach activities that promote Open Access and innovations in the communication of research for scientists and the public. 2013 marks PLOS's tenth year as an Open Access publisher, reaching an international audience through immediate and free availability of research on the Internet. PLOS publishes a suite of seven journals: PLOS Biology, PLOS Medicine, PLOS Genetics, PLOS Computational Biology, PLOS Pathogens, and PLOS Neglected Tropical Diseases and PLOS ONE, which publishes research from more than 50 diverse scientific fields and is the largest journal in the world.
---
Journal
PLoS Computational Biology