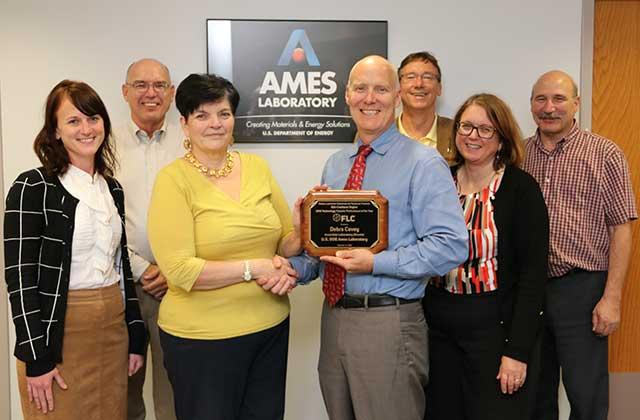 Debra Covey, associate lab director and director of Sponsored Research Administration at the U.S. Department of Energy's Ames Laboratory has been named the 2016 Technology Transfer Professional of the Year by the Federal Laboratory Consortium (FLC) Mid-Continent Region.
The award recognizes the efforts of an FLC laboratory technology transfer professional or team who has demonstrated outstanding work transferring technology in a manner significantly over and above what was called for in the normal course of work.
Covey is recognized for playing a significant role in the institution of the Ames Laboratory-led CaloriCool consortium for the discovery and development of environmentally friendly and energy-efficient refrigeration technologies. She is also credited with expanding non-disclosure agreements, intellectual property management, and collaborative R&D agreements that link the members of Ames Laboratory's Critical Materials Institute, a DOE energy innovation hub.
Over the past year, Covey also has made significant contributions in outreach to new partner communities, such as aiding in the development of and participating in a University of Oklahoma law-school class that utilizes a case study to immerse students in the process of forming a small high-tech company based on technology developed at a federal laboratory, such as the Ames Laboratory.
"It's an honor to be recognized by the FLC as this year's professional of the year," said Covey. "Technology transfer activities within the federal laboratories are key to enhancing and maintaining U.S. competitiveness. I couldn't have been successful without the dedication of my staff, the innovations from Ames Laboratory's scientists and the willingness of our partners to adopt these ideas and innovations. These efforts bring laboratory-based technologies to the marketplace and provide significant benefits for the American taxpayer."
Spanning 14 states and with over 100 federal laboratories and facilities connecting the heartland of America, the Mid-Continent Region is the largest of the six FLC regions. Laboratories in the Mid-Continent Region perform cutting-edge research for agencies such as the Department of Energy, Department of Defense, and Department of Agriculture. Academic institutions as well as industry are also FLC partners.
"Debra epitomizes what it means to go above and beyond the call when it comes to supporting technology transfer at Ames Laboratory," said Ames Laboratory Director Adam Schwartz. "I'd like to take this opportunity to also thank Debra for her 24 years of service to the Ames Laboratory as she prepares for retirement later this year."
Covey's award was announced at the FLC Mid-Continent and Far West regional meeting September 14 in Albuquerque, New Mexico.
###
Ames Laboratory is a U.S. Department of Energy Office of Science national laboratory operated by Iowa State University. Ames Laboratory creates innovative materials, technologies and energy solutions. We use our expertise, unique capabilities and interdisciplinary collaborations to solve global problems.
DOE's Office of Science is the single largest supporter of basic research in the physical sciences in the United States, and is working to address some of the most pressing challenges of our time. For more information, please visit science.energy.gov.
---