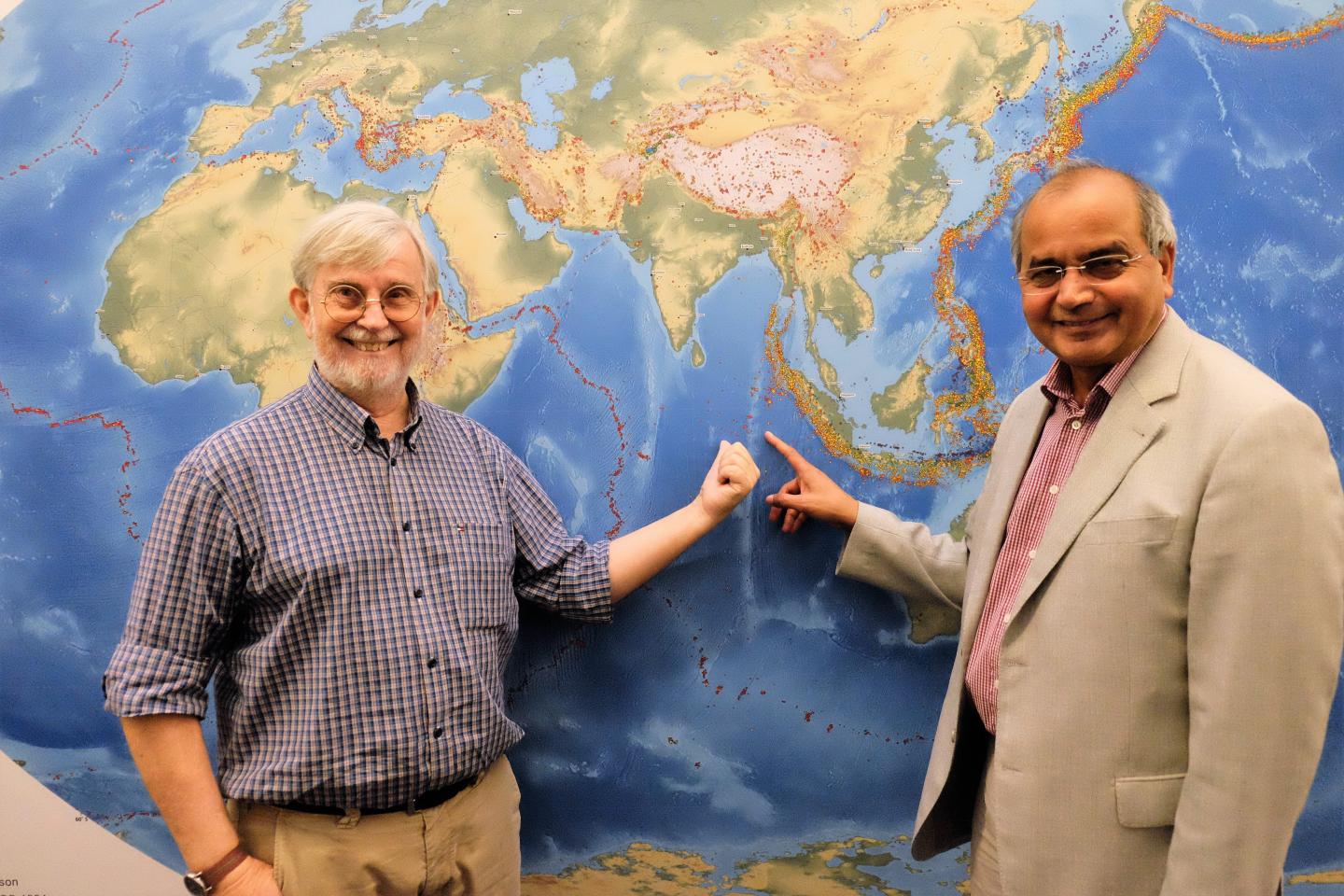 Singaporean, French and Indonesian scientists will be heading into the Indian Ocean in July to investigate the cause of the largest intraplate earthquake ever recorded in an ocean.
Nanyang Technological University, Singapore (NTU Singapore) scientists will be leading an international team to the Wharton Basin in the Indian Ocean, alongside researchers from the Institut de Physique du Globe de Paris (IPGP), France, and the Indonesian Institute of Sciences (LIPI).
The month-long expedition aims to fully understand the anatomy of the rupture patterns and faults of this magnitude-8.6 'intraplate' earthquake which occurred on 11 April 2012 off the west coast of Sumatra.
Relatively rare, an intraplate earthquake occurs in the interior of a tectonic plate (or massive irregular solid rock slabs), whereas the more common interplate earthquake occurs at the boundary between two tectonic plates.
The study also seeks to determine whether the recent large earthquakes at the Wharton Basin could herald the start of a new fault line, which happens only once every few million years.
Officially known as The MIRAGE (Marine Investigation of the Rupture Anatomy of the 2012 Great Earthquake) Expedition, it will be conducted on board the French research vessel R/V Marion Dufresne owned by the Institut Paul Emile Victor (IPEV).
The 110-metre oceanographic vessel will depart Colombo, Sri Lanka, on 1 July 2016 and make its way to the Wharton Basin located in the northeast quarter of the Indian Ocean.
Methods such as high resolution bathymetry and seismic reflections will be employed during this expedition to map the seabed and to discover the causes of both the recent and historic earthquakes in the area.
The international scientific team consists of more than 20 scientists and students from all three research institutes, in addition to the crew on board the R/V Marion Dufresne.
Professor Paul Tapponnier, a world-renowned French earthquake expert from NTU Singapore's Earth Observatory of Singapore (EOS) and one of the main scientists in the project, said, "With the Asian region a hotbed of tectonic activity, it is important for us to research and discover which earthquakes can lead to tsunamis and why, which can better prepare scientists and policymakers about the natural disasters that communities will be facing."
"Just this year alone, the west coast of Sumatra has seen two large earthquakes with magnitudes measuring 6.6 and 7.8. They are so strong that the tremors are felt even in Singapore, where there is no known tectonic activity."
The team's expedition to the Wharton Basin follows an earlier one in June last year to the Mentawai Gap, west of the city of Padang in Sumatra.
The expedition mapped out the section of the seabed that has not seen an earthquake in the last 200 years but is expected to rupture imminently, as adjoining sections along the same fault have already ruptured.
The data will allow scientists to get a better understanding of the targeted section of the 200-kilometre-long Mentawai Gap that is expected to lead to one or more major earthquakes.
Named the Mentawai Gap -- Tsunami Earthquake Risk Assessment (MEGA-TERA), it was conducted on board the Schmidt Ocean Institute's research vessel Falkor in June last year.
During the month-long voyage, the team of international scientists obtained 17,597 square km of high-resolution bathymetry along with 2,665 km of seismic reflection profiling.
The seabed imagery and data from Mentawai Gap will be compared to the Wharton Basin where the Great Earthquake happened, so as to analyse the differences between intraplate and interplate earthquakes and to see if there are any causal links between the two.
Professor Satish Singh, a visiting professor at EOS and a marine geophysicist from IPGP in France, will be leading this voyage.
"One of the biggest mysteries of the plate tectonics is 'why and how a plate deforms away from the plate boundaries and produces giant earthquakes" said Prof Singh, who has been on over 26 ocean expeditions to understand underwater earthquakes.
"Like the last expedition, we will be using advanced deep-sea mapping technologies to study the seafloor at depths of 5,000 metres or more, so as to see if we can detect any discernible patterns or scars of previous earthquakes in the area, will give us a more accurate history of past earthquakes in the Wharton Basin."
Dr Nugroho Hananto from LIPI's Research Centre for Geotechnology will be co-leading the expedition.
All information and data obtained from the Indian ocean expeditions, such as the high-resolution maps of the ocean seabed, are shared publically with other scientists and research organisations around the world.
###
Media contacts:
Lester Kok
Manager
Corporate Communications Office
Nanyang Technological University
Email: lesterkok@ntu.edu.sg
About Nanyang Technological University, Singapore
A research-intensive public university, Nanyang Technological University, Singapore (NTU Singapore) has 33,500 undergraduate and postgraduate students in the colleges of Engineering, Business, Science, Humanities, Arts, & Social Sciences, and its Interdisciplinary Graduate School. It has a new medical school, the Lee Kong Chian School of Medicine, set up jointly with Imperial College London.
NTU is also home to world-class autonomous institutes - the National Institute of Education, S Rajaratnam School of International Studies, Earth Observatory of Singapore, and Singapore Centre on Environmental Life Sciences Engineering - and various leading research centres such as the Nanyang Environment & Water Research Institute (NEWRI), Energy Research Institute @ NTU (ERI@N) and the Institute on Asian Consumer Insight (ACI). Ranked 13th in the world, NTU has also been ranked the world's top young university for the last two years running. The University's main campus has been named one of the Top 15 Most Beautiful in the World. NTU also has a campus in Novena, Singapore's medical district.
For more information, visit http://www.ntu.edu.sg
About Earth Observatory of Singapore (EOS)
The Earth Observatory of Singapore (EOS) is Singapore's main hub for conducting research on geohazards, focusing on tectonics, volcanoes, and climate change in and around Southeast Asia. The Observatory is committed to acquiring knowledge of these natural hazards, passing this information on to affected communities by contributing to forecasts of such natural phenomena and helping them adapt to these environmental challenges. The Earth Observatory of Singapore, an autonomous institute of Nanyang Technological University, is a Research Centre of Excellence located on the campus of the University.
About Institut de Physique du Globe de Paris (IPGP)
IPGP is a graduate university with research, teaching and observational missions. It has about 500 members, one third research and teaching, one third technical and administrative, one third post-docs, visitors and doctoral students. IPGP is a CNRS unit (UMR 7154) with several partners, heads a graduate school together with University Paris Diderot and Ecole Normale Supérieure, and is a founding member of the Pôle de Recherche et d'Enseignement Supérieur (PRES) Sorbonne Paris Cité. IPGP has thirteen research groups in most aspects of the geosciences and three observatory systems (volcanologic, seismic and magnetic). The first of these is responsible for monitoring active volcanoes on French territory on the islands of Réunion, Martinique and Guadeloupe, and is also jointly (with University of the West Indies) in charge of the management of the Montserrat Volcano Observatory since April 2008.
The institute conducts research in a wide variety of geosciences. In partnership with the University Denis Diderot, Reunion Island University and Ecole Normal Superior, the IPGP offers different research topics for doctorate studies; in addition it also offers a master level degree in Earth Sciences. The courses place emphasis on obtaining a solid base in physics, chemistry, mathematics, and geosciences (with possible specialization in Geophysics, Geochemistry or Quantitative Geosciences). Importance of individual and independent work is emphasized as well as participation in internships at research laboratories, but also within industry is encouraged. The research is conducted within fourteen different groups: Geological fluids and dynamics, Early and present geo-biosphere, Water geochemistry, Geochemistry and Cosmochemistry, Gravimetry and Geodesy, Geology of volcanic systems, Geomagnetism, Experimental Geophysics, Paleomagnetism, Physical Chemistry of Geological fluids, Planetary and Space Sciences, Seismology, Lithosphere Tectonics and Mechanics, and Marine Geosciences.
For more information, please visit http://www.ipgp.fr/fr.
About the Indonesian Institute of Sciences (LIPI)
Lembaga Ilmu Pengetahuan Indonesia (LIPI, Indonesian Institute of Sciences) is a government institute with a main duty to conduct government activities in scientific researches, including basic science, inter and multi-disciplinary researches. LIPI was officially established on 23 August 1967. However, its history can be traced by Presidential Act no. 128/1967 following a letter of People Representative Assembly (MPRS) no. 18/B/1967 concerning the merging of National Research Institute (LEMRENAS) and Indonesian Council of Science (MIPI). In following the development of national capacity in science and technology, LIPI main duties and functions have transformed many times. The last transformation took place in 2013 through Presidential Regulation no. 3/2013.
LIPI envisioned to become a world class institute in research, science development and utilization. The goals are to produce novelty, breakthrough and invention in science, and to increase added value and sustainability of Indonesian resources. For more information, please visit http://www.lipi.go.id.
---