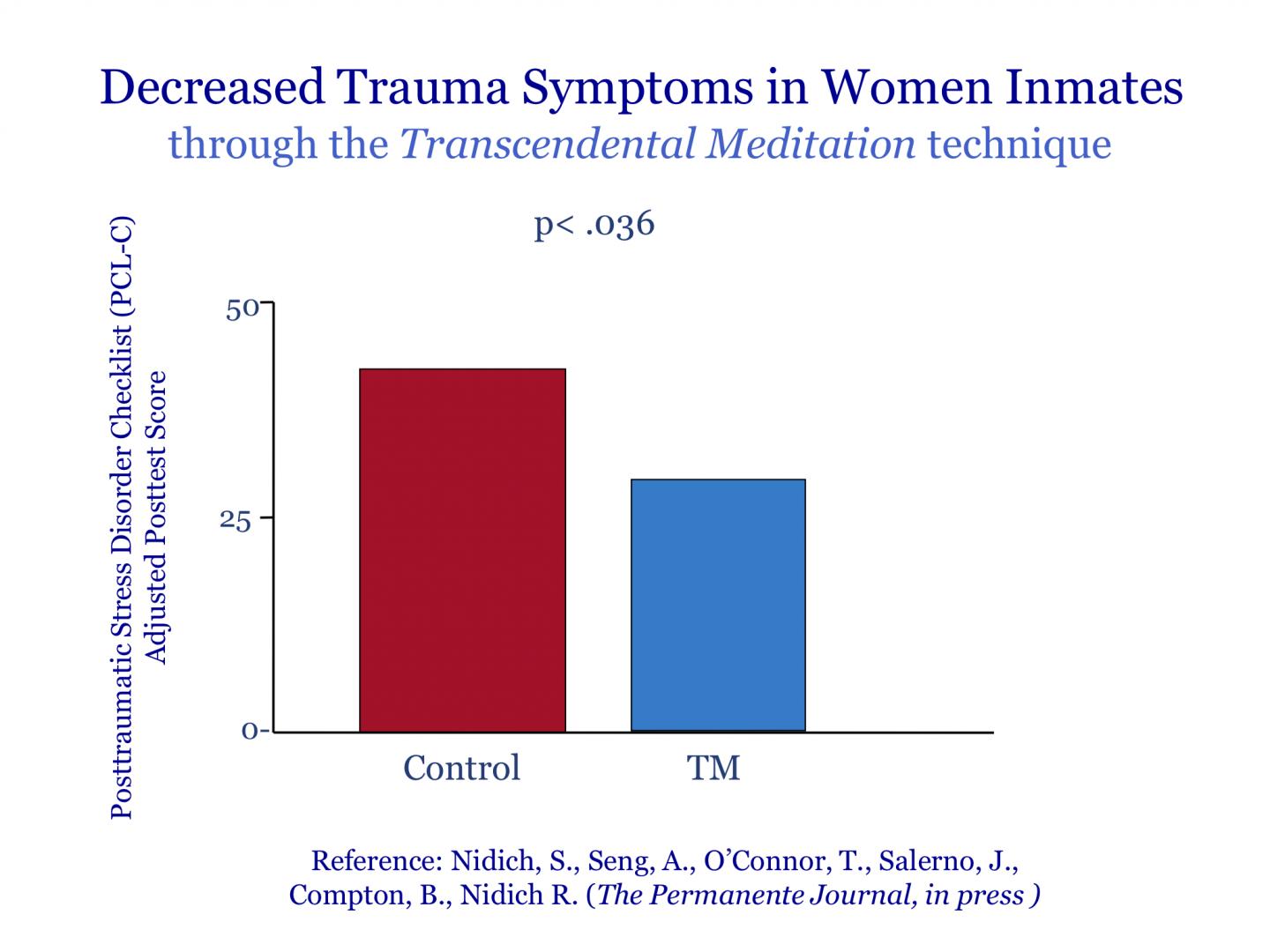 A new randomized controlled study published in The Permanente Journal has found that the Transcendental Meditation program significantly reduces trauma symptoms in female prisoner inmates. This is the first stress study focused specifically on female prison inmates with high levels of trauma symptoms. This newly published study with women inmates at the Coffee Creek Correctional Facility in Wilsonville, Oregon follows an earlier published randomized study of male inmates, showing reduced stress and trauma symptoms through the Transcendental Meditation technique.
Women have become the fastest growing population in U.S. prisons, nearly double the rate of increasing male incarcerations. Along with the increasing confinement of female offenders, researchers have found that women carry the burden of proportionally higher amounts of traumatic experiences, with higher rates of mental/emotional trauma and sexual abuse than men. High levels of trauma contribute to poor lifestyle choices, psychological and physical comorbidities, and increased risk for recidivism. Further research has shown an association between traumatic stress exposure and various forms of cancer in a predominantly female population.
Significant reduction in trauma
The results showed that after four months of practicing the Transcendental Meditation technique, the women inmates in the meditation group had significant reductions in total trauma symptoms, including intrusive thoughts and hyperarousal compared with controls. Trauma symptoms were measured using the Posttraumatic Stress Disorder Checklist-Civilian (PCL-C).
'This study is a valuable addition to the research literature in women's mental health, showing a natural and effortless alternative approach to reducing trauma symptoms," said lead author Dr. Sanford Nidich, director of the Center for Social and Emotional Health at Maharishi University of Management. "It further replicates an earlier randomized controlled trial with Transcendental Meditation (TM) in male prison inmates suffering from high levels of trauma symptoms. Previous studies have shown reduced trauma in other populations, including veterans and African refugees with the TM program."
How Transcendental Meditation reduces stress
The inmates in the current study were taught Transcendental Meditation by certified teachers, and practiced this simple meditation technique 20 minutes twice a day. Unlike most other meditations, Transcendental Meditation is easy to practice because it doesn't require concentration or focus or consciously attending to one's thoughts and sensations. Instead, a very simple procedure allows the person's mind to settle down to quieter states in a very natural way.
Many studies spanning decades have shown that these periods of allowing the mind to transcend to quieter levels have very specific effects on the body -- effects that are the opposite of the body's hyperaroused state known as the flight-or-fight response. The system involved in this arousal, the hypothalamic-pituitary-adrenal axis, is significantly decreased in its activity. Studies have shown that the physiologies of people who practice Transcendental Meditation naturally don't react as sharply to stressful stimuli.
Meditating in prison cells
The subjects in the study were encouraged to practice Transcendental Meditation individually in their prison cells twice daily and encouraged to attend 30-40 minute group meditation sessions, supervised by a Transcendental Meditation teacher, twice a week over the four-month study period.
The subjects in the control group continued with their usual daily schedule and were given the option to learn the Transcendental Meditation program at the end of the study.
Comments from the subjects
Those practicing Transcendental Meditation said they felt a lot better -- less stressed along with a greater sense of inner freedom and resilience.
"It has been difficult to find peace and happiness in such an environment (prison).... ," one subject said. "Meditating twice a day has helped lessen my stress levels, allowed me to connect to and center myself at deeper levels, and to retreat, reflect, and problem solve.... Meditating helps facilitate my mental clarity, while at the same time calming me. TM has not only helped me mentally, my physical health has also improved. My blood pressure has gone down and my sleep, though I have insomnia, is deeper and more relaxed. I feel more energized."
In one case, an inmate who had been suffering from severe post-traumatic stress disorder (PTSD) experienced significant relief.
"Before I learned TM I was waking up several times a week with night terrors -- literally screaming. I would only sleep a few hours per night because I was so frightened of my dreams. I had horrible flashbacks, nightmares, and severe PTSD. Almost immediately I saw the beneficial effects of TM.... I am able to fully focus throughout the day and have an inner peace and understanding..."
And another inmate discovered an inner freedom along with improved relationships with others.
"I feel so open and have gained such a deep sense of surrender to my life and the feelings surrounding my incarceration. I no longer feel imprisoned. I now feel my freedom from the inside of me. My relationships have blossomed and grown so much since I began using TM."
Consistent with previous research on prisoners
Transcendental Meditation has been implemented in other prison settings for the purpose of studying other mental health and behavioral factors. At La Tuna federal penitentiary near El Paso, Texas, findings suggested that Transcendental Meditation reduces obsessive-compulsive behavior, decreases social introversion, and increases positive social relations. A study at Folsom State Prison in California found a reduction in anxiety and neuroticism, as well as improved sleep.
Research in several prisons, including Folsom State Prison and San Quentin State Prison in California and Walpole State Prison in Massachusetts. found reduced rates of recidivism, ranging from 33% to 47%.
Expanding preventive medicine to include mind-body approaches
In addition to the study on TM, the January 2017 issue of The Permanente Journal includes a companion editorial by Charles Elder, MD, MPH, FACP, titled, "Mind-Body Training for At-Risk Populations: Preventative Medicine at its Best."
According to Charles Elder, MD, Kaiser Permanente, Northwest, "A principle advantage of the TM technique is a time-tested, standardized intervention protocol.... Once taught the Transcendental Meditation technique, an individual can use the skill for the duration of his or her life, as a stress management tool, providing ongoing benefits across a range of domains. In addition to helping the inmate cope with the stress of incarceration, there is a range of additional 'side benefits,' ranging from reduced recidivism to improved cardiovascular health."
###
The study was funded by the David Lynch Foundation.
Nidich S, Seng A, Compton B, O'Connor T, Salerno JW, Nidich R. Transcendental Meditation and reduced trauma symptoms in female inmates: A randomized controlled study. Perm J 2017;21:16-008. DOI: https://doi.org/10.7812/TPP/16-008.
About the Transcendental Meditation Technique
Transcendental Meditation® (TM®) is a simple, natural technique practiced 20 minutes twice each day while sitting comfortably with the eyes closed. The TM technique is easy to learn and enjoyable to practice, and is not a religion, philosophy, or lifestyle. Unlike other forms of meditation, TM practice involves no concentration, no control of the mind, no contemplation, no monitoring of thoughts. It automatically and effortlessly allows the active thinking mind to settle down to a state of deep inner calm. For more information visit http://www.tm.org.
---
Journal
The Permanente Journal