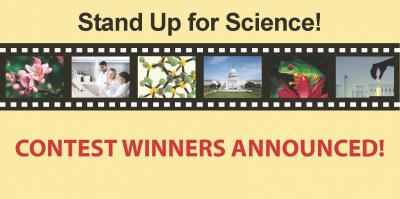 The Federation of American Societies for Experimental Biology (FASEB) announced today the winners of its second Stand Up for Science Video Competition. Contest entrants created short videos to demonstrate the importance of the federal government's investment in biomedical and biological science.
Grand Prize: The winning video, "Funding Basic Science to Revolutionize Medicine," illustrated the impact of the federal government's support for basic science on improving health and spurring subsequent discoveries in biomedical science. The $5,000 grand prize will be awarded to the group of six graduate students from the University of California, San Francisco.
Additional Winners: Kayla Briet, a high school student from La Mirada, California earned the runner-up prize for her video entitled, "Stay Curious." Westley Wadsworth of Houston, Texas, and Eric Harris of Salt Lake City, Utah, each received honorable mentions for their videos, "Funding and Impact of the NIH" and "Unexpected Innovation."
"We were extremely pleased with the caliber and content of the winning videos," stated FASEB President Margaret K. Offermann, MD, PhD. "Biological research improves our lives. The winning videos demonstrate how federal funding makes this critical research possible."
###
---