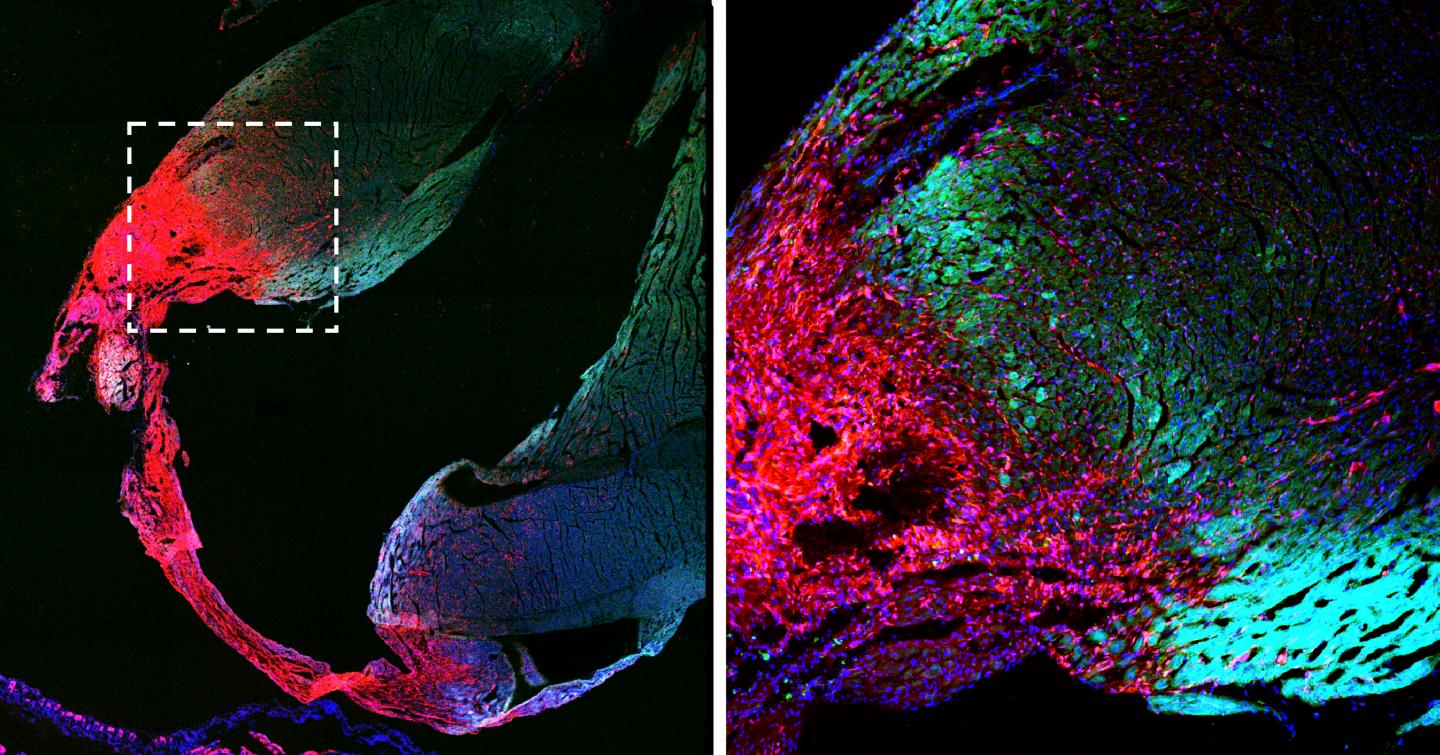 During a myocardial infarction, commonly known as a heart attack, the blood supply to part of the heart muscle is cut off. As a consequence, part of the heart muscle dies. Because the heart is a pump that maintains the blood circulation through our vessels, this is obviously a life-threatening situation. Most tissues of animals and humans contain stem cells that come to the rescue upon tissue damage: they rapidly produce large numbers of 'daughter cells' in order to replace lost tissue cells.
For two decades researchers and clinicians have searched for cardiac stem cells, stem cells that should reside in the heart muscle and that could repair the heart muscle after a myocardial infarction. Multiple research groups have claimed the definitive identification of cardiac stem cells, yet none of these claims have held up. See for instance the following recent press release: "US governments halts heart stem-cell study". The existence of cardiac stem cells and their significance for adult hearts remains therefore heavily debated.
To solve this debate, researchers from the Hubrecht Institute in Utrecht, the Amsterdam University Medical Center, the École Normale Supérieure (ENS) de Lyon and the Francis Crick Institute London, led by Hans Clevers, focused on the broadest and most direct definition of stem cell function in the mouse heart: the ability of a cell to replace lost tissue by cell division. In the heart, this means that any cell that can produce new heart muscle cells after a heart attack would be termed a cardiac stem cell. The authors generated a 'cell-by-cell' map of all dividing cardiac cells before and after a myocardial infarction using advanced molecular and genetic technologies.
The study establishes that many types of cells divide upon damage of the heart, but that none of these are capable of generating new heart muscle. In fact, many of the 'false leads' of past studies can now be explained: cells that were previously named cardiac stem cells now turn out to produce blood vessels or immune cells, but never heart muscle. Thus, the sobering conclusion is drawn that heart stem cells do not exist. In other words, heart muscle that is lost due to a heart attack cannot be replaced. This finding -while disappointing- settles a long-standing controversy.
The authors make a second important observation. Connective tissue cells (also known as fibroblasts) that are intermingled with heart muscle cells respond vigorously to a myocardial infarction by undergoing multiple cell divisions. In doing so, they produce scar tissue that replaces the lost cardiac muscle. While this scar tissue contains no muscle and thus does not contribute to the pump function of the heart, the fibrotic scar 'holds together' the infarcted area. Indeed, when the formation of the scar tissue is blocked, the mice succumb to acute cardiac rupture. Thus, while scar formation is generally seen as a negative outcome of myocardial infarction, the authors stress the importance of the formation of scar tissue for maintaining the integrity of the heart.
###
Publication: Profiling proliferative cells and their progeny in damaged murine hearts
Kai Kretzschmar*, Yorick Post* (* = equal contribution), Marie Bannier-Hélaouët, Andrea Mattiotti, Jarno Drost, Onur Basak, Vivian S. W. Li, Maaike van den Born, Quinn D. Gunst, Danielle Versteeg, Lieneke Kooijman, Stefan van der Elst, Johan H. van Es, Eva van Rooij, Maurice J. B. van den Hoff, and Hans Clevers (2018).
Proceedings of the National Academy of Sciences (PNAS)
Prof. dr. Hans Clevers is group leader at the Hubrecht Institute, professor of Molecular Genetics at the University Medical Center Utrecht and Utrecht University and Oncode Investigator.
About the Hubrecht Institute
The Hubrecht Institute is a research institute focused on developmental and stem cell biology. It encompasses 24 research groups that perform fundamental and multidisciplinary research, both in healthy systems and disease models. The Hubrecht Institute is a research institute of the Royal Netherlands Academy of Arts and Sciences (KNAW), situated on the Utrecht Science Park 'De Uithof'. Since 2008, the institute is affiliated with the University Medical Center Utrecht, advancing the translation of research to the clinic. The Hubrecht Institute has a partnership with the European Molecular Biology Laboratory (EMBL). For more information, visit http://www.hubrecht.eu.
About the KNAW
The Royal Netherlands Academy of Arts and Sciences is the forum, conscience, and voice of the arts and sciences in the Netherlands. It promotes quality in science and scholarship and strives to ensure that Dutch scholars and scientists contribute to cultural, social and economic progress. As a research organisation, the Academy is responsible for a group of fifteen outstanding national research institutes. For more information visit https://www.knaw.nl/en?set_language=en.
About University Medical Center Utrecht
University Medical Center Utrecht (UMC Utrecht) belongs to the largest public healthcare institutions in the Netherlands and is an internationally leading healthcare provider, medical school and research institute that is exciting for its people, attractive to talent and embodies a culture of teamwork, innovation, sustainability and a competitive spirit. As a patient-centered organization, its 11,000 employees are dedicated to prevent disease, improve healthcare, develop new treatment methods and refine existing ones, with quality and patient safety as cornerstones. For more information, visit http://www.umcutrecht.nl.
About the École normale supérieure de Lyon
The École normale supérieure de Lyon (ENS de Lyon) is a highly selective grande école located in Lyon, France. It is one out of four Écoles normales supérieures, training researchers and professors in the sciences and the humanities. For more information, visit http://www.ens-lyon.fr/en/.
About the Francis Crick Institute
The Francis Crick Institute is dedicated to understanding the fundamental biology underlying health and disease. The Institute's work is helping to understand why disease develops and to translate discoveries into new ways to prevent, diagnose and treat illnesses such as cancer, heart disease, stroke, infections and neurodegenerative diseases. An independent organisation, the Crick's founding partners are the Medical Research Council (MRC), Cancer Research UK, Wellcome, UCL, Imperial College London and King's College London. The Crick was formed in 2015, and in 2016 we moved into a brand new state-of-the-art building in central London which brings together 1500 scientists and support staff working collaboratively across disciplines, making it the biggest biomedical research facility under a single roof in Europe. For more information, visit https://www.crick.ac.uk/.
---
Journal
Proceedings of the National Academy of Sciences