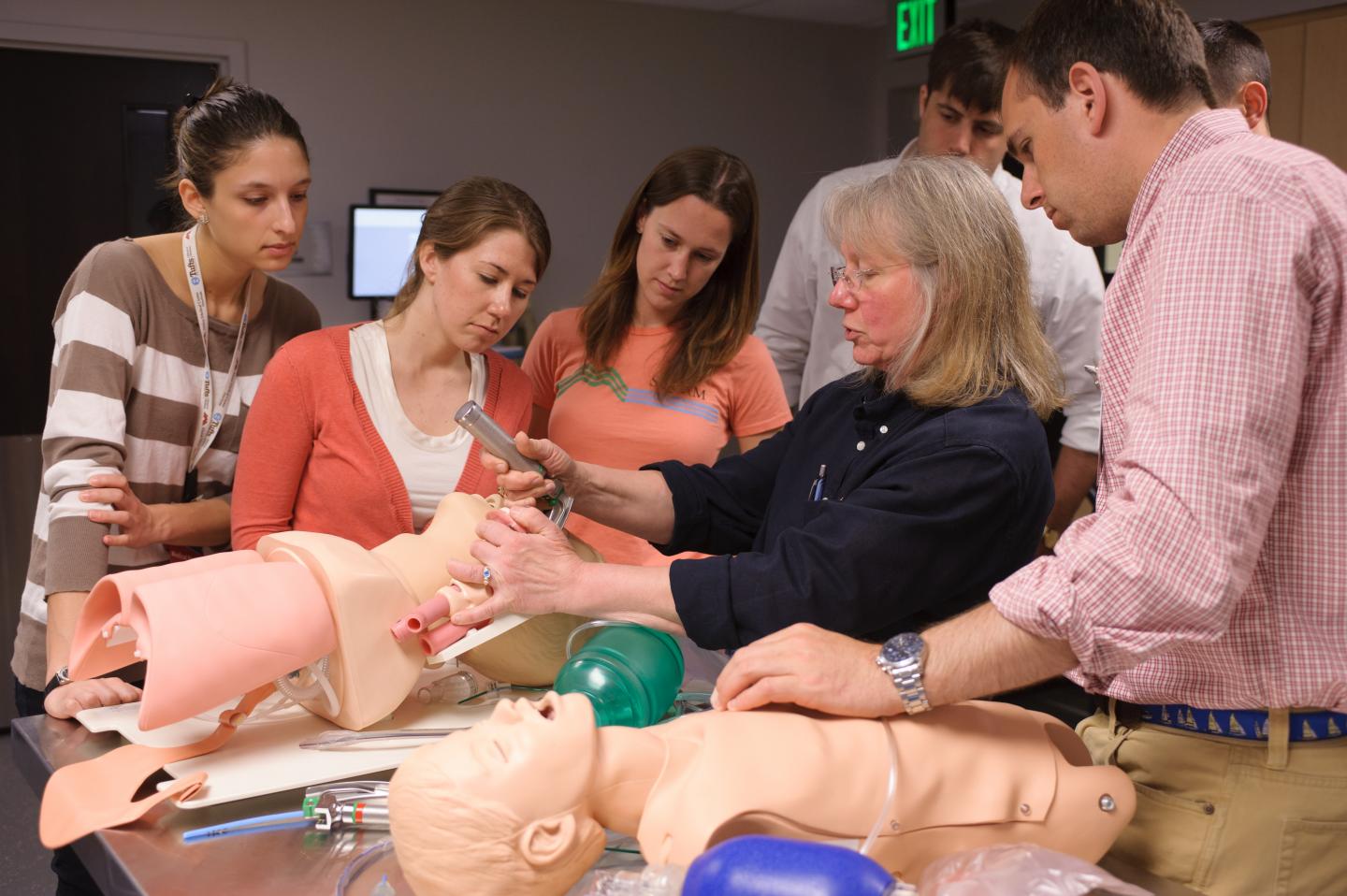 BOSTON and PORTLAND, Maine (July 25, 2018)--Tufts University School of Medicine and Maine Medical Center (MMC) have signed a 10-year agreement that continues their partnership to provide academic and clinical training to medical students, many of whom will go on to practice medicine in Maine. The new agreement begins August 1.
"When we began our agreement with Tufts a decade ago, we had a shared vision of addressing Maine's physician shortage, giving Maine students equal opportunity to pursue quality medical education and developing an innovative curriculum focused on community-based education. We're proud of the progress we've made, and through our expanded agreement we are looking forward to finding new and better ways of educating tomorrow's health providers," said Maine Medical Center President and Chief Executive Officer Rich Petersen.
In 2008, Tufts School of Medicine and Maine Medical Center partnered to create the Maine Track program. Under the agreement, Tufts, MMC, and affiliated community hospital partners provide academic and clinical training to medical students in the program. MMC and private donors also provide about $2 million in annual financial support for student scholarships, some of which are endowed. More than 200 students have graduated from the program since 2013, with roughly a quarter of those (59) pursuing residencies at Maine Medical Center and another quarter (61) at other New England hospitals.
The agreement continues what has become a successful medical education story and allows for the future expansion of the Maine Track cohort size, which is currently capped at 40. Additionally, the agreement increases the amount of time medical students will spend at MMC in Portland as part of their training. Previously, students spent the vast majority of the first two years in Boston and the majority of the third and fourth years at locations throughout Maine. Under the new agreement, students will spend their entire second year at Maine Medical Center.
"Our new program design will give students greater exposure to the clinical environment, make them more familiar with MMC, significantly improve their educational experience and ideally increase the number of graduates who choose to practice medicine in Maine," said Bob Bing-You, M.D., vice president of Medical Education at MMC and interim Academic Dean.
The new program design, which will go into effect during the fall of 2019, comes as Tufts is revising its medical education curriculum, which will also go into effect in fall of 2019. The new curriculum at Tufts emphasizes the four-year integration of basic science, clinical medicine, the science of health care delivery, and personal professional development.
"The Tufts faculty at Maine Medical Center and at community hospitals throughout the state have distinguished themselves as educators, receiving accolades and awards from Tufts for their outstanding work," said Harris A. Berman, M.D., dean of Tufts University School of Medicine. "The Maine Track partnership is providing transformative medical education that is contributing to the health of Maine's citizens in both rural and urban settings."
Maine Track was built on a simple idea: The best way to make our communities healthier is to make it easier for Mainers themselves to become doctors. The program provides scholarships as well as a top-notch environment for academic and clinical training in Maine, which reduces two critical barriers for students who want to practice medicine throughout the state.
Dr. Bing-You credits not only Maine Medical Center and Tufts with a share of the success of the Maine Track program, but also private donors who have supported student scholarships, rural hospital sites and their faculty and MMC's recently retired Senior Vice President, Chief Academic Officer and Academic Dean of the Maine Track program, Peter Bates, M.D.
"The quality of the network we have created to support medical students is really reflected in the number of graduates who choose to stay in Maine and practice medicine here. I'm excited about what's going to come over the next decade," Dr. Bing-You said.
###
About Maine Medical Center
Maine Medical Center (MMC), recognized as a Best Regional Hospital by U.S. News and World Report for 2017-2018, is a complete health care resource for the people of Greater Portland and the entire state, as well as northern New England. Incorporated in 1868, MMC is the state's largest medical center, licensed for 637 beds and employing nearly 8,700 people. MMC's unique role as both a community hospital and a referral center requires an unparalleled depth and breadth of services, including an active educational program and a world-class biomedical research center. As a nonprofit institution, Maine Medical Center provides nearly 23 percent of all the charity care delivered in Maine. MMC is a member of the MaineHealth system, a growing family of health care services in northern New England. For more information, visit http://www.mmc.org.
About Tufts University School of Medicine
Tufts University School of Medicine is an international leader in medical and population health education and advanced research. It emphasizes rigorous fundamentals in a dynamic learning environment to educate physicians, scientists, and public health professionals to become leaders in their fields. The School of Medicine is renowned for excellence in education in general medicine, the biomedical sciences, and public health, as well as for research at the cellular, molecular, and population health level. It is affiliated with more than 20 teaching hospitals and health care facilities. Tufts University School of Medicine undertakes research that is consistently rated among the highest in the nation for its effect on the advancement of medical and prevention science.
---