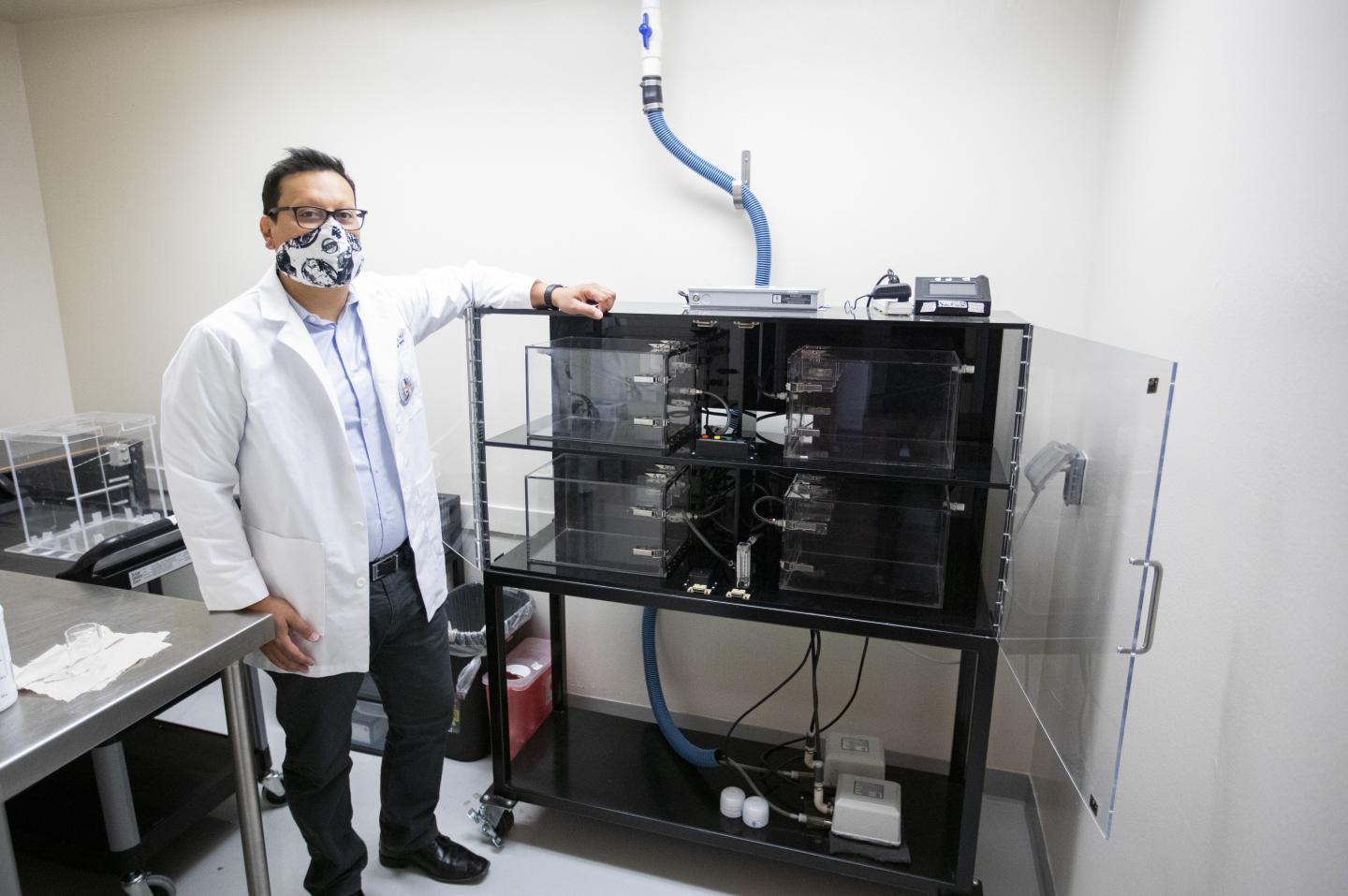 EL PASO, Texas - With more than 3 million high school students and 550,000 middle school students using e-cigarettes in the United States in 2020, vaping among adolescents continues to be a public health crisis throughout the nation.
Although vaping has been linked to lung disease and other serious health problems, research is underway at The University of Texas at El Paso's School of Pharmacy to better understand the psychobiological consequences of vaping, particularly in teens whose brains are still developing and are more sensitive to the rewarding effects of nicotine products.
With support from a nearly $340,000 grant from the National Institute on Drug Abuse (NIDA) at the National Institutes of Health (NIH), Ian Mendez, Ph.D., UTEP assistant professor of pharmacy, is developing an animal model that mimics real life exposure to e-cigarettes in order to investigate the effects of nicotine vapor exposure on adolescent behavior.
Mendez said he plans to examine nicotinic receptor levels in the brain to see how those receptors correlate with making impulsive and risky choices and if those correlations change with repeated nicotine vapor exposure.
"E-cigarette use by adolescents has become a national epidemic," Mendez said. "People assume e-cigarettes are safer because they have fewer toxins than traditional cigarettes, but they still have nicotine in them. There's also not a lot of data on how nicotine vapor affects the brain and behavior, particularly in adolescents who seem to have brains that are more malleable and more sensitive to drugs."
According to the American Cancer Society's position statement on electronic cigarettes, many e-cigarettes sold in the U.S. contain far more nicotine than e-cigarettes sold elsewhere, which increases the risk of addiction and harm to the developing brains of adolescents and young adults.
Over the next three years, UTEP researchers will measure nicotine metabolite levels in blood plasma following exposure to e-cigarette nicotine vapors and observe withdrawal symptoms. They are particularly interested in studying sex differences in the effects of nicotine vapor.
Once the project is finished, Mendez said other scientists could use his data to support their own nicotine vapor research.
###
Mendez joined the UTEP faculty in 2017. He earned a Ph.D. in Experimental Psychology from Texas A&M University and has over 15 years of experience working in cellular and behavioral neuroscience. For more information on his research, visit utep.edu/mendezlab.
The University of Texas at El Paso is one of the largest and most successful Hispanic-serving institutions in the country, with a student body that is 83% Hispanic. It enrolls nearly 25,000 students in 166 bachelor's, master's and doctoral programs in 10 colleges and schools. With more than $100 million in total annual research expenditures, UTEP is ranked in the top 5% of research institutions nationally and fifth in Texas for federal research expenditures at public universities.
---