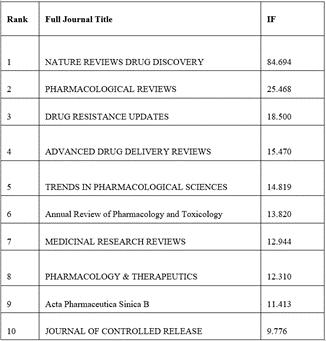 Acta Pharmaceutica Sinica B (APSB) is delighted to announce that the Impact Factor (IF) of the journal is now 11.413 in 2020 according to the latest Clarivate Journal Citation Reports*. APSB ranks No. 9 (Q1 quartile) of the 275 journals in the Pharmacology and Pharmacy category.
The Scopus 2020 CiteScore for APSB is 12.5, ranking No. 1, for the third year, of the 67 journals in the Category of General Pharmacology, Toxicology and Pharmaceutics.
Acta Pharmaceutica Sinica B would like to express sincere thanks to all the authors, reviewers, editors, and readers for their contribution to this result. The journal will continue to thrive with your consistent support.
APSB welcomes high quality submissions from the international pharmaceutical community!
*As noted by Clarivate, certain quartile information and other content for APSB are currently incorrect in the Journal Citation Reports; we look forward to this being updated in the JCR October 2020 reload.
###
The Journal of the Institute of Materia Medica, the Chinese Academy of Medical Sciences and the Chinese Pharmaceutical Association.
For more information please visit https://www.journals.elsevier.com/acta-pharmaceutica-sinica-b/
Editorial Board: https://www.journals.elsevier.com/acta-pharmaceutica-sinica-b/editorial-board
APSB is available on ScienceDirect (https://www.sciencedirect.com/journal/acta-pharmaceutica-sinica-b).
Submissions to APSB may be made using Editorial Manager® (https://www.editorialmanager.com/apsb/default.aspx).
CiteScore: 12.5
Impact Factor: 11.413
ISSN 2211-3835
---