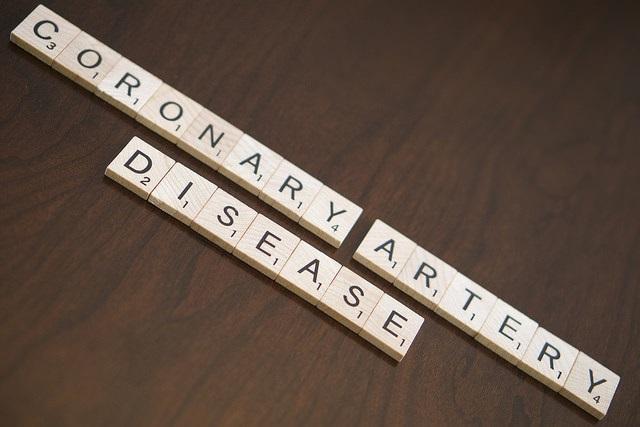 Coronary artery disease may have persisted in human populations because the genes that cause this late-striking disease also contribute to greater numbers of children, reports Dr Sean Byars of The University of Melbourne and Associate Professor Michael Inouye of the Baker Heart and Diabetes Institute, Australia, in a study published June 22, 2017 in PLOS Genetics.
Coronary artery disease, a condition where plaque builds up gradually in the arteries that feed the heart, is one of the leading causes of death worldwide, and may have plagued humans for thousands of years. One of the big questions surrounding the disease is why natural selection has not removed genes for this common and costly disease. In a new study, researchers used genetic information from the 1000 Genomes database and the International HapMap3 project, along with lifetime reproductive data from the Framingham Heart Study, to identify genetic variation linked to the disease that natural selection had also modified recently.
They showed that these same genetic variations also contribute in multiple ways to greater male and female reproductive success, which appears to represent an evolutionary trade-off between early-life reproductive benefits that compensate for later-life disease costs.
The findings offer an answer to the question of why natural selection cannot weed out genes associated with coronary artery disease - parents pass them on to their offspring before experiencing advanced symptoms and death. The study also provides a novel approach for detecting the influence of natural selection on traits caused by the cumulative effects of multiple genes, which in the past, has been far more difficult to uncover than for disorders linked to a single gene.
###
In your coverage please use this URL to provide access to the freely available article in PLOS Genetics: http://journals.plos.org/plosgenetics/article?id=10.1371/journal.pgen.1006328
Citation: Byars SG, Huang QQ, Gray L-A, Bakshi A, Ripatti S, Abraham G, et al. (2017) Genetic loci associated with coronary artery disease harbor evidence of selection and antagonistic pleiotropy. PLoS Genet 13(6): e1006328. https://doi.org/10.1371/journal.pgen.1006328
Funding: This study was supported by the National Health and Medical Research Council (NHMRC) of Australia (grant no. 1062227) and the National Heart Foundation of Australia. MI was supported by a Career Development Fellowship co-funded by the NHMRC and the National Heart Foundation of Australia (no. 1061435). GA was supported by an NHMRC Peter Doherty Early Career Fellowship (no.1090462). SR was supported by the Academy of Finland Center of Excellence in Complex Disease Genetics (Grant No 213506 and 129680), Academy of Finland (Grant No 251217 and 285380), the Finnish Foundation for Cardiovascular Research, the Sigrid Juselius Foundation, Biocentrum Helsinki and the European Union's Seventh Framework Programme (FP7/2007-2013) under grant agreement No 201413 (ENGAGE) and 261433 (BioSHaRE-EU), and Horizon 2020 Research and Innovation Programme under grant agreement No 692145 (ePerMed). The Framingham Heart Study is conducted and supported by the National Heart, Lung, and Blood Institute (NHLBI) in collaboration with Boston University (Contract No. N01-HC-25195 and HHSN268201500001I). This manuscript was not prepared in collaboration with investigators of the Framingham Heart Study and does not necessarily reflect the opinions or views of the Framingham Heart Study, Boston University, or NHLBI. Funding for SHARe Affymetrix genotyping was provided by NHLBI Contract N02-HL-64278. SHARe Illumina genotyping was provided under an agreement between Illumina and Boston University. The funders had no role in study design, data collection and analysis, decision to publish, or preparation of the manuscript.
Competing Interests: The authors have declared that no competing interests exist.
---