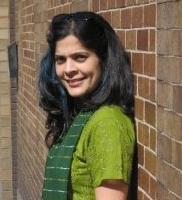 AMHERST, Mass. - Green building expert Simi Hoque at the University of Massachusetts Amherst recently received a five-year, $508,714 National Science Foundation CAREER award to develop an integrated planning tool that will measure, evaluate and predict the impacts of energy, water and land use, waste management and transportation systems at an urban scale.
She intends it to help planners and policymakers guide growth and development in a coordinated, sustainable way.
Hoque, an assistant professor in the building and construction technology program, points out that cities today account for almost two-thirds of the world's primary energy demand, a figure projected to increase to three-quarters by 2030. "The current urban outlook demands a comprehensive understanding of urban sustainability policies to address climate change and energy security," she says.
"We want to create a tool that will integrate analysis of the systems that describe an urban area, in part so unintended consequences can be detected early," she adds. Some projects do not work as planned because they're adopted based on anecdotal evidence or on some other city's experience, for example. "We think it happens regularly," she notes. "The neighboring town built a green roof and it was a great success for storm water management, so let's build more green roofs in our town. But that city and this one may not be the same at all."
Hoque has dubbed the new approach the Integrated Urban Metabolism Analytical Tool (IUMAT). She and two doctoral students, Nariman Mostafavi in environmental conservation and Soroush Farzinmoghdam in landscape architecture and regional planning, will develop IUMAT and test it in collaboration with research faculty in civil engineering and urban planning at UMass Amherst.
They will also enlist the Town of Amherst's Conservation Commission and the Pioneer Valley Planning Commission in testing, and later the National Center for Smart Growth at the University of Maryland, from where it eventually may be tested in a larger city.
For IUMAT, the researchers will compile and analyze data from many sources and develop statistical methods to identify relationships between energy, water and land use variables, for example. If planners want to try to lower vehicle emissions, for example, the tool might help to model and predict the impact of widening a road, adding commuter parking or changing a bus route.
"We will dovetail it with existing tools like Landsat maps, GIS and others, so users won't have to learn a whole new system. We want it to be user-friendly right away," Hoque says.
The green building expert, who teaches courses in environmental control systems and sustainable design principles and conducts research in building energy modeling and optimization, will develop a new interdisciplinary team-based undergraduate course where students will evaluate the effectiveness of real-world sustainable urban programs, including IUMAT. UMass Amherst students may also have research opportunities to evaluate sustainability initiatives in campus buildings and facilities.
She and other colleagues also plan to promote greater understanding of urban development through workshops and internships on urban sustainability and science, technology engineering and mathematics (STEM) subjects for middle and high school girls in collaboration with Project Eureka! It is a five-year commitment by the UMass Amherst College of Natural Sciences with Girls, Inc. of Holyoke that each summer brings 30-90 middle and high school girls to campus to learn about STEM.
NSF's Faculty Early Career Development (CAREER) program offers its highest award in support of junior faculty who exemplify the role of teacher-scholars through outstanding research, excellent education and the integration of education and research in the context of the mission of their organizations.
###
---