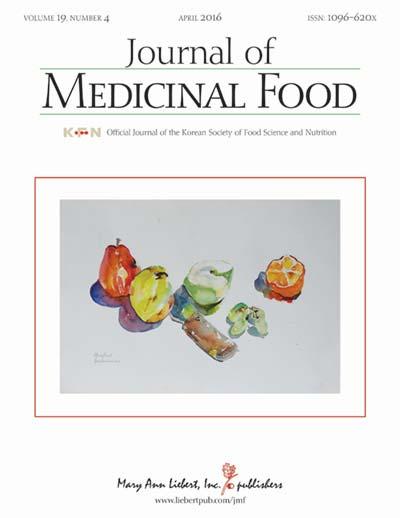 New Rochelle, NY, April 28, 2016--A new study shows that black raspberry extract can significantly lower a key measure of arterial stiffness-an indicator of cardiovascular disease. Black raspberry intake was also associated with increased levels of circulating endothelial progenitor cells (EPCs), which help repair and regenerate damaged arteries, according to the study published in Journal of Medicinal Food, a peer-reviewed journal from Mary Ann Liebert, Inc., publishers. The article is available free on the Journal of Medicinal Food website until May 28, 2016.
Han Saem Jeong, Sohyeon Kim, and coauthors from Korea University Anam Hospital (Seoul) and Gochang Black Raspberry Research Institute (Korea), describe the results of a randomized controlled trial in which they compared two groups of patients with metabolic syndrome. One group received 750 mg/day of black raspberry extract, and the other received a placebo for 12 weeks.
In the article "Black Raspberry Extract Increased Circulating Endothelial Progenitor Cells and Improved Arterial Stiffness in Patients with Metabolic Syndrome: A Randomized Controlled Trial," the researchers present the changes recorded in the radial augmentation index (a measure of arterial stiffness), blood pressure, circulating EPCs, and various markers of inflammation for the two groups of patients.
###
About the Journal
Journal of Medicinal Food is an authoritative, peer-reviewed, multidisciplinary journal published monthly online with open access options and in print. Led by Editors-in-Chief Sampath Parthasarathy, MBA, PhD, Florida Hospital Chair in Cardiovascular Sciences and Interim Associate Dean, College of Medicine, University of Central Florida, and Yangha Kim, PhD, Ewha Womans University, Seoul, South Korea, the Journal publishes original scientific research on the bioactive substances of functional and medicinal foods, nutraceuticals, herbal substances, and other natural products. The Journal explores the chemistry and biochemistry of these substances, as well as the methods for their extraction and analysis, the use of biomarkers and other methods to assay their biological roles, and the development of bioactive substances for commercial use. Tables of content and a sample issue may be viewed on the Journal of Medicinal Food website.
About the Publisher
Mary Ann Liebert, Inc., publishers is a privately held, fully integrated media company known for establishing authoritative peer-reviewed journals in many promising areas of science and biomedical research, including The Journal of Alternative and Complementary Medicine and Cannabis and Cannabinoid Research. Its biotechnology trade magazine, GEN (Genetic Engineering & Biotechnology News), was the first in its field and is today the industry's most widely read publication worldwide. A complete list of the firm's 80 journals, books, and newsmagazines is available on the Mary Ann Liebert, Inc., publishers website.
---
Journal
Journal of Medicinal Food