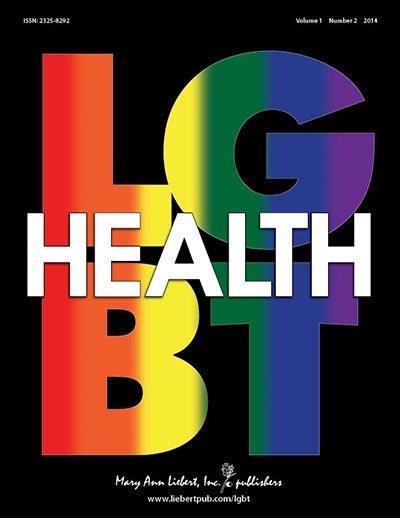 New Rochelle, NY, June 11, 2014—Men who have sex with men (MSM) account for more than 60% of HIV infections in the U.S. and 78% of new infections in men. Antiretroviral therapy can control HIV infection and suppress viral load, but mental health and substance abuse problems common among MSM can interfere with medication adherence. How conditions such as depression and alcohol and drug abuse can affect anti-HIV therapy and the success of various interventions are explored in an article published in LGBT Health, a peer-reviewed journal from Mary Ann Liebert, Inc., publishers. The article is available free on the LGBT Health website.
Jaclyn White, MPH, Janna Gordon, and Matthew Mimiaga, ScD, MPH, Fenway Health, Massachusetts General Hospital/Harvard Medical School, and Harvard School of Public Health, Boston, MA, review the mental health problems and specific substances that pose the greatest threat to medication adherence among MSM. Targeted interventions can improve MSM's psychosocial problems while also helping them adhere to their antiretroviral drug regimens. Effective strategies identified through rigorous clinical trials must be translated into clinical practice, suggest the authors in the article "The Role of Substance Use and Mental Health Problems in Medication Adherence among HIV-Infected MSM."
"For people living with HIV, the importance of adherence to antiretroviral therapy cannot be over-emphasized," says Editor-in-Chief William Byne, MD, PhD, Icahn School of Medicine at Mount Sinai, New York, NY. "It is essential to preventing both the manifestations of infection in the individual and the sexual transmission of the virus to others. In this article, White and colleagues show the importance of addressing mental health and substance use in antiretroviral adherence interventions for MSM."
###
About the Journal
Spanning a broad array of disciplines LGBT Health, published quarterly online with Open Access options and in print, brings together the LGBT research, health care, and advocacy communities to address current challenges and improve the health, well-being, and clinical outcomes of LGBT persons. The Journal publishes original research, review articles, clinical reports, case studies, legal and policy perspectives, and much more. Complete tables of content and a sample issue may be viewed on the LGBT Health website.
About the Publisher
Mary Ann Liebert, Inc., publishers is a privately held, fully integrated media company known for establishing authoritative medical and biomedical peer-reviewed journals, including AIDS Patient Care and STDs, AIDS Research and Human Retroviruses, Journal of Women's Health, Journal of Men's Health, and Population Health Management. Mary Ann Liebert, Inc., publishers pioneered the first journal on AIDS in 1983. Its biotechnology trade magazine, Genetic Engineering & Biotechnology News (GEN), was the first in its field and is today the industry's most widely read publication worldwide. A complete list of the firm's more than 80 journals, newsmagazines, and books is available on the Mary Ann Liebert, Inc., publishers website.
---