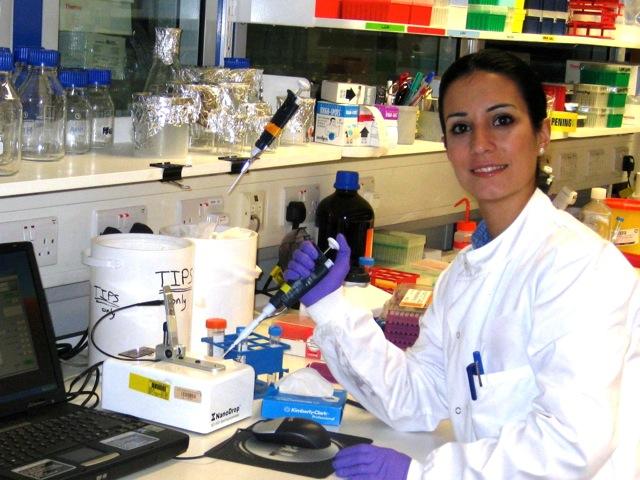 The Prostate Cancer Foundation (PCF) today announced its 2017 Young Investigator (YI) Awards, which support early career scientists who are focused on accelerating the delivery of life-extending and life-saving therapies for men living with prostate cancer. Elena Castro, member of the Prostate Cancer Clinical Research Unit at the Spanish National Cancer Research Centre (CNIO), is the only researcher outside the US awarded this year.
Her project focuses on how mutations in DNA damage repair (DDR) genes contribute to the progression of advanced prostate cancers and their impact on patient survival and treatment responses. Once completed, this project will provide data for developing the most appropriate therapeutic strategies for patients with DNA repair gene defects.
"The PCF YIA program supports the next generation of prostate cancer researchers. Many of previous awardees, including my mentors, are today´s world research leaders in the field", says Castro. "I am very honored to receive this award, which means a great boost to my early career and provides me with founding to continue my research on the impact of DDR in the clinical outcomes and response to treatments of prostate cancer patients. I hope my research has a real impact on these patients lives by allowing better management strategies".
The YI Awards provide three years of funding - a total of $3.6 million in 2017 - to future research leaders who are dedicated to driving the critical research needed to ultimately defeat prostate cancer. Since 2007, PCF has invested over $47 million to support 223 young investigators.
"Over the years, YI Awardees' research has led to advancements in new treatments and vastly improved our understanding of precision medicine, bringing us closer than ever to a cure," said Howard Soule, PhD, chief science officer and executive vice president of PCF. "We are proud to support this year's young investigators who are leading projects that will continue to help accelerate the breakthrough discoveries needed to not only further advance therapies, but ultimately defeat prostate cancer once and for all."
The 2017 YI Awardees were selected from a pool of 123 applications from 75 institutions in 12 countries. As part of the YI program, awardees must be within six years of completing professional scientific training programs and be under the guidance of least one mentor. Each award is matched dollar-for-dollar by the investigator's institution.
Castro, who joined the CNIO in January 2013, has received several awards for her research in prostate cancer including an ESMO Research Fellowship (2010-2011), four ASCO merit awards (2011, 2012 and 2013), and the ESMO best fellowship project award (2016).
This is the second Young Investigator Award received by researchers at the Prostate Cancer Clinical Research Unit - in 2014, David Olmos, head of the unit, received this distinction - becoming the only research group outside the US , Canada and the UK to have won this award twice, since the PCF program began in 2008.
###
---