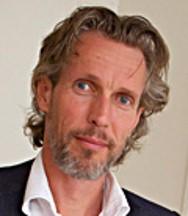 Amsterdam, NL, January 14, 2020 - The Journal of Parkinson's Disease (JPD) is pleased to announce the appointment of Prof. Bastiaan (Bas) R. Bloem, MD, PhD, as the journal's new Co-Editor-in-Chief. Bas joins Patrik Brundin, MD, PhD, who along with now Editor Emeritus J. William (Bill) Langston, MD, has led the journal since its inauguration in 2011.
Bas is a consultant neurologist and the director of the Center of Expertise for Parkinson & Movement Disorders at the Radboud University Medical Centre, Nijmegen, The Netherlands, and holds the position of professor of neurology with a special interest in movement disorders. He received his medical degree (with honors) at Leiden University Medical Centre (LUMC) in 1993 and obtained his PhD in 1994. He trained as a neurologist at LUMC from 1994 to 2000 and received additional training as a movement disorders specialist during subsequent fellowships at The Parkinson's Institute, Sunnyvale, CA, USA, and the Institute of Neurology, Queen Square, London, UK.
Bas serves on the editorial boards of several national and international scholarly journals including JPD and has published over 700 publications, including more than 600 peer-reviewed international papers. "I am proud to have been involved with JPD since its first issue and am extremely pleased to take on this new role, working alongside longtime colleague Patrik Brundin and an exceptional editorial board that brings together prominent researchers and clinicians from the global Parkinson's disease community," commented Bas.
In 2002, Bas founded and became medical director of the Centre of Expertise for Parkinson & Movement Disorders of the Radboud university medical Centre in Nijmegen, the Netherlands, which has been recognized as a center of excellence for Parkinson's disease (PD) by the Parkinson's Foundation. Together with Marten Munneke, he developed ParkinsonNet, an innovative healthcare concept that now consists of 70 professional regional networks for PD patients throughout The Netherlands. Because of the evidence-based quality improvement and significant cost reduction, ParkinsonNet has received multiple awards including the Value-Based Health Care Prize.
Throughout his distinguished career Bas has served in many leadership roles. He is past president of the International Society for Gait and Postural Research. From 2009-2012, he was a member of the European Section Executive Committee of the Movement Disorder Society (MDS), from 2013-2017, a member of the International Executive Committee of the MDS and is currently secretary of the MDS. Since 2017, he has served on the Executive Scientific Advisory Board of The Michael J. Fox Foundation for Parkinson's Research.
Among the many honors awarded to Bas are the 2018 election as member of the Koninklijke Hollandsche Maatschappij der Wetenschappen (the Royal Holland Society of Sciences and Humanities), the oldest scientific society in the Netherlands; the 2018 Tom Isaacs award in recognition of his longstanding achievements in PD; and his election in 2019 as Fellow of the Royal College of Physicians of Edinburgh.
Bas has three main research interests: clinical presentation of falls and axial motor disability in neurodegenerative disorders; cerebral compensatory mechanisms, especially in the field of gait and balance; and healthcare innovation, aiming to develop and scientifically evaluate patient-centered collaborative care.
"I would like to officially welcome Bas to his new position", commented Co-Editor-in-Chief Patrik Brundin, MD, PhD, Director, Center for Neurodegenerative Science, Van Andel Research Institute, Grand Rapids, MI, USA. "Bas and I wish to thank Bill Langston for his ten outstanding years as one of the founding fathers and Co-Editor-in-Chief of the journal. It gives us great pleasure to announce that Bill will not leave the journal behind, but will stay on board as Editor-in-Chief Emeritus, so we can keep counting on his senior advice for years to come, as we move collectively into the future of Parkinson's care and research. His contributions and support in establishing the journal have been invaluable and have secured the journal a place as a leading translational publication for PD research, with an impact factor quickly on the rise. It is no exaggeration to say that JPD would not stand where it does today without him."
###
---