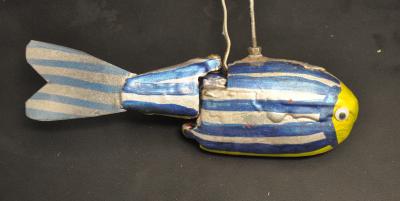 NEW YORK, November 20, 2012 – Researchers at the Polytechnic Institute of New York University (NYU-Poly) have published findings that further illuminate the emerging field of ethorobotics — the study of bioinspired robots interacting with live animal counterparts.
Maurizio Porfiri, associate professor of mechanical and aerospace engineering at NYU-Poly, doctoral candidates Vladislav Kopman and Jeffrey Laut and research scholar Giovanni Polverino studied the role of real-time feedback in attracting or repelling live zebrafish in the presence of a robotic fish.
Their findings, published in the Journal of the Royal Society Interface, show that zebrafish demonstrate increased attraction to robots that are able to modulate their tail motions in accordance with the live fishes' behavior.
The researchers deployed image-based tracking software to analyze the movement of the live zebrafish and provide real-time feedback to the robot. Porfiri and his colleagues found that zebrafish were most attracted to the robotic member when its tail beating motion replicated the behavior of "informed fish" attempting to lead "naive fish". When the robotic fish increased its tail beat frequency as a live fish approached, the zebrafish were likeliest to spend time near the robot.
This study shows the effectiveness of real-time visual feedback in efforts to use robots to influence live animal behavior. The findings may have particular application in wildlife conservation, where robotic members may be utilized to steer live animal or marine groups from dangerous conditions.
###
About Polytechnic Institute of New York University
Polytechnic Institute of New York University (formerly Polytechnic University), an affiliated institute of New York University, is a comprehensive school of engineering, applied sciences, technology and research, and is rooted in a 158-year tradition of invention, innovation and entrepreneurship: i2e. The institution, founded in 1854, is the nation's second-oldest private engineering school. In addition to its main campus in New York City at MetroTech Center in downtown Brooklyn, it also offers programs at sites throughout the region, around the globe and remotely through NYUe-Poly. NYU-Poly is an integral part of NYU Abu Dhabi, NYU Shanghai and the NYU Center for Urban Science and Progress (CUSP) in downtown Brooklyn. For more information, visit www.poly.edu.
---
Journal
Journal of The Royal Society Interface