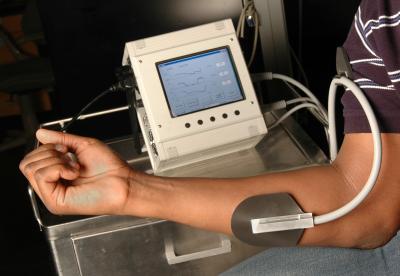 A novel medical device in development may give providers a better measure than traditional means in gauging just how well a severely injured patient is faring, especially during long evacuation flights.
"It is not uncommon for injured soldiers in Iraq to be considered stable … only to destabilize during transport (to Germany or the United States)," said Dr. Babs Soller of the University of Massachusetts Medical School. "Our device should help alert the caregiver of impending problems."
Developed by a team at the medical school, the device is a noninvasive sensor that caregivers could use to monitor oxygen and acid levels in muscles -- two known indicators of circulatory shock, a life-threatening condition that can occur after a patient loses a lot of blood. To detect shock, medical providers currently depend on the tried, true and inadequate markers of blood pressure and heart rate.
Soller is a spectroscopist, a scientist who studies the interaction between light and matter. Her device works by letting providers see how much oxygen a patient's tissues are getting because when blood flow to the muscle starts to decrease, it's an indicator that blood flow to the internal organs has also decreased.
"These changes happen earlier in shock than changes in the heart's ability to pump blood, which is what is measured with blood pressure and heart rate," said Soller,
Her device is based on the physiological fact that when oxygen supply decreases to a critical level, tissues start producing lactic acid. This acid production decreases the pH of the tissue, causing changes in tissue spectra, which Soller is adept at measuring. Since embarking on this project almost a decade ago, she and her colleagues have developed hardware, software and algorithms to calculate muscle pH, oxygen and hematocrit from near infrared spectra readings.
"These parameters together allow us to investigate how well oxygen is being delivered to tissue and if the available oxygen is adequate to meet the cell's energy requirements," Soller said.
"Blood samples have also been used in medical settings to determine oxygen levels, but those samples aren't ideal for predicting shock," said Dr. Vic Convertino, a research physiologist with the U.S. Army Institute of Surgical Research whose job includes developing tools that help medics make better decisions.
"When you take a blood sample, it usually represents a mixture of contents coming from all the tissues, so the change that you measure may not be nearly as large as that being produced in the tissues. It may not give as critical a signal early on," he said. "Eventually content changes in the blood will catch up to that in the tissue, but by then the patient may really be in trouble. Getting information at the tissue level, noninvasively, is the novel part of Dr. Soller's technology."
Soller's research endeavors were funded, in part, by a grant from the DoD's Peer Reviewed Medical Research Program. Congress created the program in 1999 to promote research in health issues the military faces. Since its inception through 2005, the program has spent almost $300 million to fund nearly 200 projects in a range of medical topics, including combat casualty care and technology and infectious disease research.
With four patents issued and three patents pending, the sensor system is currently being put through its paces at Soller's school, NASA Johnson Space Center in Houston and the Institute of Surgical Research in San Antonio. In developing the sensor, Soller's team addressed variables like skin pigmentation and fat while considering what the military would need in the device, like stable output that's not interrupted during a medical evacuation.
Though it's user friendly, Soller said she wants to make future versions of the sensor lighter and more portable for the military. A system for hospital use is being developed by Nimbis Medical, which has rights to Soller's patents.
"Right now the device consists of a pad that holds the sensor in place over the area of tissue or muscle that you are making the measurement from and has a long fiber optic cable that goes to the monitor," Convertino said. "Obviously all of that mass is not conducive to being on the battlefield and being carried around by a medic. I think what we would all like to see is a device that is miniaturized and lighter, to be a plug and play type thing, so that it becomes an integral part of the other medical monitors that are available, particularly in emergency vehicles during transport of the casualty."
Convertino said early tests of the system at the Institute of Surgical Research have gone well. Earlier this year 10 people volunteered to have the lower part of their body placed in a lower body negative pressure chamber with an airtight seal formed around their waist. Researchers then vacuumed the air from the chamber, which sucked the blood away from their hearts and mimicked what happens during hemorrhage.
"We can reduce the blood flow to the heart and brain progressively by decreasing the negative pressure and produce an effect on the cardiovascular system almost like a continuous bleed," Convertino said. "Eventually a person will develop symptoms much like an individual going into shock and may eventually become unconscious. We take individuals right to the point where they get symptomatic, and then turn the negative pressure off so that the blood returns immediately to the head and heart and they're fine."
Preliminary data from the chamber tests arrived April 18, and looked promising, Convertino said. "Dr. Soller's device is doing what we think it was supposed to do," he said. Another researcher at the institute, Dr. Andriy Batchinsky, will soon begin collecting data on trauma and burn patients at the Army Burn Center at Brooke Army Medical Center. This summer, researchers from Virginia Commonwealth University will test the sensor to ensure that what Soller believes she's measuring is actually what's being measured.
"It is incredibly exciting to create a noninvasive instrument that we can then give to a physiologist or physician to use in their work," Soller said. "A noninvasive device lets them easily explore new methods of providing better care for patients. We look forward to the day when it will actually be used to help care for patients."
###
For more information on the DoD's Peer Reviewed Medical Research Program, go to http://cdmrp.army.milprmrpdefault.htm.
The Peer Reviewed Medical Research Program is one of the Congressionally Directed Medical Research Programs directed by Colonel Janet R. Harris. The Peer Reviewed Medical Research Program is an administrative funding agent for the U.S. Army Medical Research and Materiel Command. The command is the Army's medical materiel developer, with lead agency responsibility for medical research, development and acquisition. The command's expertise in these critical areas helps establish and maintain the capabilities required by the Army to fight and win on the battlefield.
---