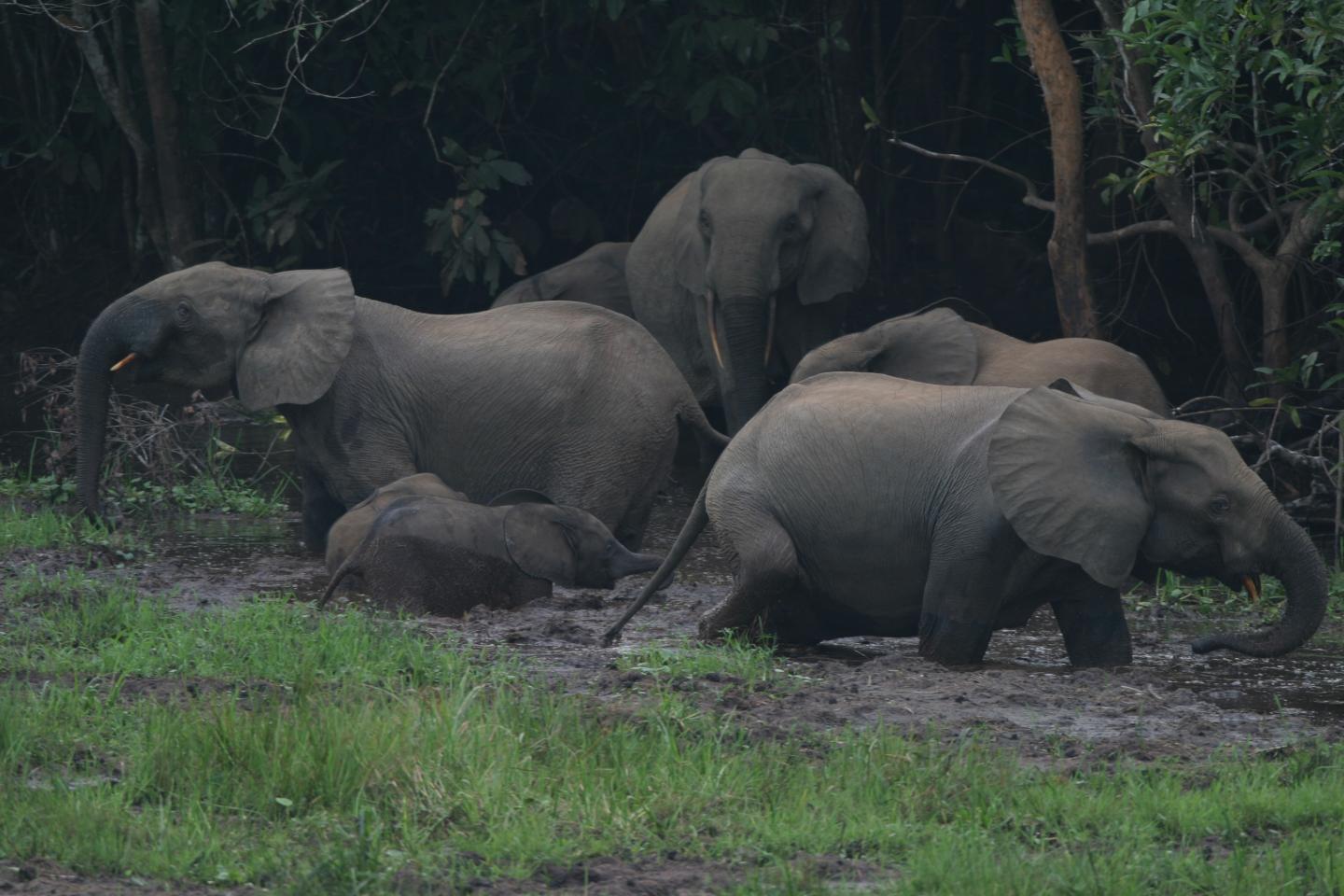 A newly published book focused on promoting research and conservation methods and strategies for the African forest elephant arrives at a crucial time for this species, which is being decimated by poaching, habitat loss, and other threats, according to authors from the Wildlife Conservation Society (WCS) and other organizations.
The new book--titled "Studying Forest Elephants"--provides scientists, wildlife managers, park rangers, and government officials with a "How To" manual for initiating studies on the needs of forest elephants and detecting threats to their existence.
"Since 2002, more than 65 percent of the world's forest elephants have been wiped out, almost exclusively by poaching," said Dr. Thomas Breuer, WCS scientist and co-editor. "We implore all scientists interested in saving this animal to build on the lessons presented here to ensure a future for these magnificent rainforest giants."
"Forest elephants are key architects of the ecosystems they inhabit, and we still have much to learn about them at a time when they are disappearing," said Vicki Fishlock, editor and resident scientist for the Amboseli Trust for Elephants. "The best observation conditions for studying elephants are at forest clearings, or bais, where elephants maintain their social relationships and obtain minerals. Unfortunately, this is also where they are most vulnerable to poachers."
The book is written by the leading experts in several disciplines, and begins with a history of bai research in the region, reviews our current knowledge about forest elephants and identifies important areas for further study. Subsequent chapters provide guidance on how to identify study sites and establish the necessary infrastructure, and then expand into detailed areas of study including census methods, behavior, genetics and acoustic monitoring.
Protecting forest elephants requires cooperation between all agencies. The book covers assessment of wildlife and human activity, advice on organizing protection activities and a monitoring framework for assessing threats to populations. It also provides guidance on how to disseminate information to guide conservation actions.
"We want to guide conservation scientists how to understand the needs of forest elephants, without compromising elephant safety. Careful, noninvasive studies can provide the information to improve elephant protection in a rapidly changing world," said WCS Conservation Scientist Dr. Fiona Maisels, one of the book's authors.
Subsidized copies of the book will be available to conservation professionals in range states, and can be obtained by contacting the editors.
The authors of "Studying Forest Elephants" are: Vicki Fishlock of the Amboseli Trust for Elephants (vfishlock@elephanttrust.org); Thomas Breuer of the Wildlife Conservation Society (tbreuer@wcs.org); Steve Blake of Washington University in St. Louis, USA ; Nicolas Bout of Aweley, Wildlife and People; Lori Eggert of the University of Missouri, USA; Bernard Fouda of World Wildlife Fund; Kelly Greenway of the University of Kent, UK; Clement Inkamba-Nkulu of the Wildlife Conservation Society; Fiona Maisels of the Wildlife Conservation Society and the University of Stirling, UK; Franck Barrel Mavinga of the Wildlife Conservation Society; Julia Metsio Sienne (Carl von Ossietzky University, Germany); Ludovic Momont (Natural History Museum, Paris, France); Brice Mowawa of the Congolese Ministère de L'Économie Forestière et du Développement Durable; Stephanie Schuttler of the North Carolina Museum of Natural Sciences, USA; Andrea Turkalo of the Wildlife Conservation Society; George Wittemyer of Colorado State University, USA; and Peter H. Wrege of Cornell University, USA.
###
The book was the product of a workshop funded by the U.S. Fish and Wildlife Service. The book's publication was supported by Rettet die Elefanten Afrikas e.V., Neuer Sportverlag, the International Fund for Animal Welfare, and msk media Werbeagentur.
Link to Purchase Book (text on purchase page is in German--the book text is written in English):
http://www.reaev.de/shop/schreibtisch-buecher-bilder--multimedia/buecher/elefanten-buecher/studying-forest-elephants.php
Wildlife Conservation Society (WCS) saves wildlife and wild places worldwide through science, conservation action, education, and inspiring people to value nature. To achieve our mission, WCS, based at the Bronx Zoo, harnesses the power of its Global Conservation Program in nearly 60 nations and in all the world's oceans and its five wildlife parks in New York City, visited by 4 million people annually. WCS combines its expertise in the field, zoos, and aquarium to achieve its conservation mission. Visit: newsroom.wcs.org Follow: @WCSNewsroom. For more information: 347-840-1242.
96 Elephants
WCS is leading global efforts to save Africa's elephants and end the current poaching and ivory trafficking crisis. In September 2013, WCS launched its 96 Elephants campaign to amplify and support the Clinton Global Initiative (CGI) "Partnership to Save Africa's Elephants" by stopping the killing, stopping the trafficking, and stopping the demand. The WCS campaign focuses on: securing effective moratoria on sales of ivory; bolstering elephant protection; and educating the public about the link between ivory consumption and the elephant poaching crisis. http://www.96elephants.org
---