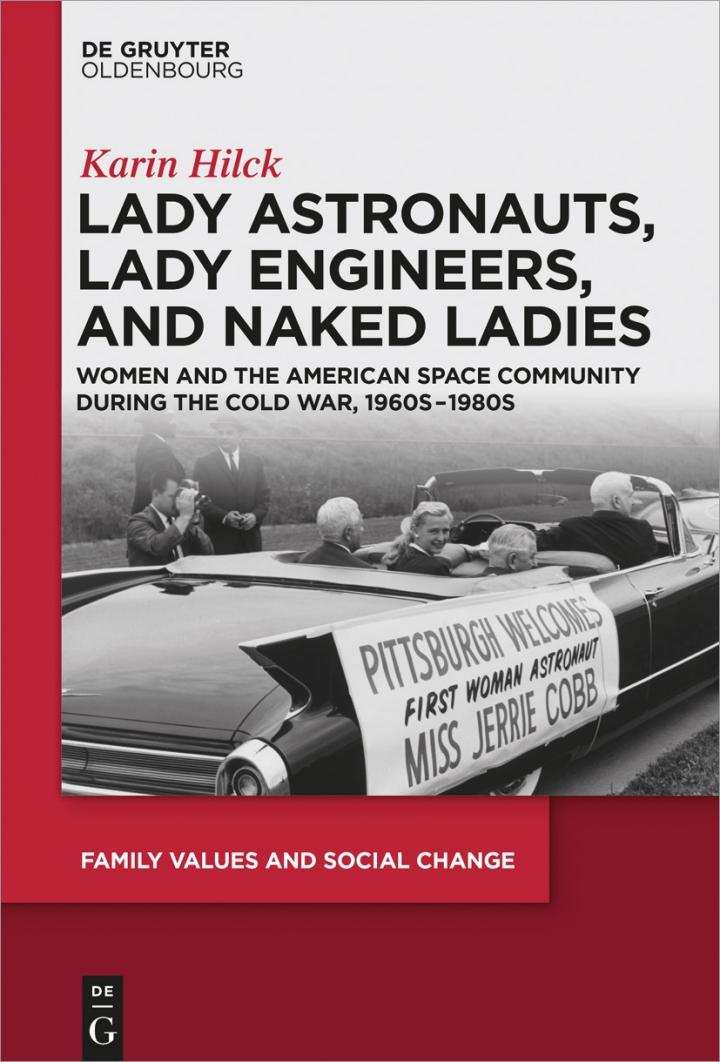 The book Lady Astronauts, Lady Engineers, and Naked Ladies, by Karin Hilck, is the fifth book published by De Gruyter in its series "Family Values and Social Change". It is a gender history of the American space community and by extension a social history of American society during the Cold War.
In order to expand and differentiate the prevalent postwar narrative about gender relations and cultural structures in the United States, the book analyzes several different groups of women interacting in different social spaces within the space community. It examines the several layers of female participation and agency in the community as well as the gender and race-based obstacles and hurdles that prospective female astronauts, scientists, engineers, artists, administrators, writers, hostesses, secretaries, and wives had to face at NASA and in the space industry.
In each chapter, a different social space within the community is analyzed. The spaces where women lived and worked are researched from a media, individual, and institutional angle, ultimately revealing the differing gender philosophies communicated in both the public sphere and the workplace by government and space community officials. While women were publicly encouraged to participate in the American space effort to beat the Soviet Union in the race to the moon, they were also confronted with gender-based barriers that were integral to the structures of the space community; just as they were an intrinsic component of all societal structures in the United States in the 1960s.
Female space workers, who were often perceived as disrupters of the prevalent social order in the space community and discriminated by some of their male colleagues and bosses on a personal basis, still managed to assert themselves. They molded pockets of agency in the space community workspaces without the facilitation of regulations on the part of NASA that might have provided them with easier access or more agency. Thus, the space community, a place of technological innovation, was not necessarily also a place of social innovation, but a community with a government agency at its center that mainly mirrored the current (changing) social order, conventions, and policies in the 1960s as well as in the 1970s and 1980s.
The women presented in this book were instrumental in advancing and consolidating the social transformation that happened within the space community and the United States and therefore make intriguing subjects of research. This systematic analysis of the connection between gender, space, and the Cold War adds a new dimension to space history as well as expands the discourse in American history about gender relations and the opportunities of women in the twentieth century.
###
---