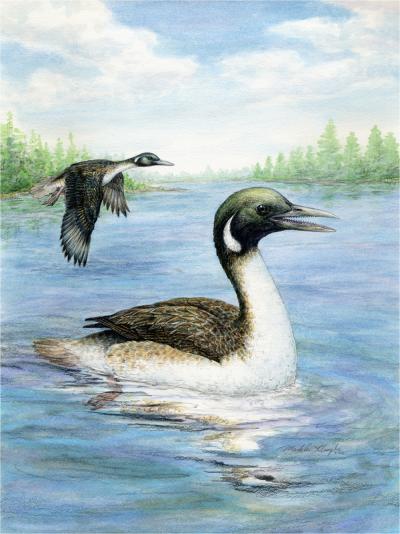 Special Note:
AAAS and
Science
plan an embargoed press conference on this research, for reporters only, at 10:30 am Eastern Time Thursday, June 15 at AAAS, 12th and H Streets, NW, Washington, DC. To RSVP, email
SciPak@aaas.org
, or call (202) 326-6440. All information will remain embargoed for 2:00 pm ET Thursday, June 15, 2006.
This press release is also available in Chinese.
If it flapped its wings, dove like a duck, and lived in China about 110 million years ago, it must be Gansus yumenensis, one of the oldest members of the lineage leading to modern birds. Spectacular new fossil specimens of the loon-like ancient bird, reported in the June 16, 2006, issue of the journal Science, help fill in the avian family tree and suggest that today's birds may have gotten their start in aquatic environments.
The five well-preserved fossils of Gansus described in Science include nearly complete skeletons consisting of three-dimensional, mostly uncrushed bones. Several of the specimens are so exquisitely preserved that the carbonized remains of feathers and even webbing in the foot can be seen clearly.
Details in the hind legs and feet of Gansus indicate that the bird was probably a foot-propelled diver like today's grebes, loons, and many ducks, although they may not have been as good at diving as their modern counterparts, according to Hai-lu You of the Chinese Academy of Geological Sciences and his colleagues.
Gansus belongs to a lineage of birds called the Ornithurae, which includes all modern birds (Neornithes) and their immediate fossil ancestors. Gansus is not a member of the Neornithes, but it is the oldest known ornithuran, the Science authors report. Ornithuran birds probably arose in the Early Cretaceous, sometime between 140 and 110 million years ago.
The new fossils were discovered by You and his team near the town of Changma, about 2,000 kilometers west of Beijing, where the first Gansus fossil (a partial hind leg) was found in 1981. Most of the nearly 50 bird specimens found so far at the site appear to be Gansus, the researchers say, which would make it the oldest known fossil locality dominated by ornithuran birds.
Ornithuran fossils "are relatively rare in the Cretaceous, which is part of what makes Gansus so exciting," says co-author Matthew Lamanna of Carnegie Museum of Natural History.
Gansus was not alone in its water-loving ways; several other ancient ornithuran birds also show adaptations to an aquatic lifestyle, a fact that jumped out at the researchers as they sought out Gansus' place in the bird family tree.
"When we mapped ecology onto our evolutionary tree, a pattern became apparent that species leading up to modern birds are mostly aquatic," Lamanna says.
However, some early members of the modern bird group probably made a quick reversal to land living, according to the researchers, who note that modern terrestrial bird groups such as the ostrich and chicken family have deep roots all the way back to the Cretaceous.
The Gansus discoveries offer a rare glimpse of an important period in bird evolution, according to the Science authors. Ornithurans arrived on the evolutionary scene when another type of ancient bird, called enantiornitheans, ruled the skies. Enantiornitheans--called "opposite birds" because their shoulder joint is reversed compared to that of modern birds--disappeared along with all non-avian dinosaurs at the end of the Cretaceous, leaving no descendants.
Opposite birds dominate earlier fossil sites, such as the famous deposits in Liaoning Province (northeast of Beijing) that yielded the first "feathered dinosaur" specimens a decade ago. The Liaoning deposits are only a few million years older than those at Changma, so the Changma finds might help researchers understand how and why ornithurans rose to dominance over opposite birds.
The switch may have had something to do with environmental changes, "but it's hard to answer this question just based on bird fossils. We need more information on the paleoclimate," You says.
The Gansus fossils are preserved in rocks that were deposited in an ancient lake, a fact that accounts for the "very, very beautiful preservation" of the specimens, according to You.
"Soft tissues cannot be preserved normally, but a lake environment, compared to a river, is kind of quiet," You explains. "Extremely fine sediment can be deposited yearly and soft parts can be preserved."
To find the fossils, the paleontologists split open countless slabs of mudstone from the lake "like turning the pages of a book," Lamanna says, noting that the repetitive process is "sort of like playing the lottery."
You began work at the Changma site after finishing his doctorate at the University of Pennsylvania, where he met Lamanna and Science co-authors Jerald Harris of Dixie State College, St. George, Utah, and Peter Dodson of the University of Pennsylvania. You started his doctoral work in paleontology at Penn in 1996, the same year that the Liaoning feathered dinosaurs made big news. "So I missed all that," You jokes. However, he noticed that the rocks in the Changma region looked very similar to those at the Liaoning site, which kept him interested in the area.
Lamanna says the Changma site, with its abundance of well-preserved fossils, "might eventually be mentioned in the same breath as the feathered dinosaur quarries of Liaoning."
"Thanks to Liaoning, we have a good idea of what was going on with land ecosystems around 125 million years ago, but not as much insight into what happened shortly after that, so Changma may be very significant in that regard," he says. "It may represent not only the next chapter in bird evolution, but the next phase in the evolution of a lot of different types of organisms."
The Science paper, "A Nearly Modern, Amphibious Bird from the Early Cretaceous of Northwestern China," was authored by Hai-lu You, Shu-an Ji, Jun-chang Lu, Chong-xi Yuan, and Qiang Ji of the Chinese Academy of Geological Sciences; with Matthew C. Lamanna of Carnegie Museum of Natural History; Jerald D. Harris of Dixie State College, St. George, Utah; Luis M. Chiappe and Jingmai O'Connor of the Natural History Museum of Los Angeles County, California; Da-qing Li of the 3rd Geology & Mineral Research Exploration Academy of Gansu Province; Xing Zhang of the Provincial Museum of Gansu Province; Kenneth J. Lacovara of Drexel University; and Peter Dodson of the University of Pennsylvania.
###
Click here to download video.
Broadcast-quality Betacam-SP video, based on The Science Channel's special feature, "Rise of the Feathered Dragons" (to air Monday, 19 June at 9:00 pm US Eastern Time), is available upon request. Contact Joshua Weinberg of Discovery Channel/The Science Channel at +1-240-662-5274 (phone), +1-240-328-3988 (cell), joshua_weinberg@discovery.com (email); or Andy Scafetta at +1-240-662-5519 (phone), andrew_scafetta@discovery.com (email).
"A Nearly Modern, Amphibious Bird from the Early Cretaceous of Northwestern China" by H. You et al.
The study was supported by the Discovery Channel, the Science Channel, the Carnegie Museum of Natural History, Dixie State College, Chinese Geological Survey of the Ministry of Land and Resources of China, and the Gansu Bureau of Geology and Mineral Resources.
The American Association for the Advancement of Science (AAAS) is the world's largest general scientific society, and publisher of the journal, Science (www.sciencemag.org). AAAS was founded in 1848, and serves 262 affiliated societies and academies of science, reaching 10 million individuals. Science has the largest paid circulation of any peer-reviewed general science journal in the world, with an estimated total readership of 1 million. The non-profit AAAS (www.aaas.org) is open to all and fulfills its mission to "advance science and serve society" through initiatives in science policy; international programs; science education; and more. For the latest research news, log onto EurekAlert!, www.eurekalert.org, the premier science-news Web site, a service of AAAS.
---