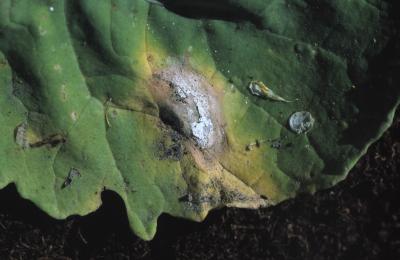 SALT LAKE CITY, March 23, 2009 — Exploiting a little-known punch/counterpunch strategy in the ongoing battle between disease-causing fungi and crop plants, scientists in Canada are reporting development of a new class of "green" fungicides that could provide a safer, more environmentally-friendly alternative to conventional fungicides. They will report on the first pesticides to capitalize on this unique defensive strategy here today at the 237th National Meeting of the American Chemical Society.
Developed with sustainable agriculture in mind, the new fungicides — called "paldoxins" — could still do the work of conventional pesticides, helping to protect corn, wheat and other crops. These crops increasingly are used not just for food, but to make biofuels. The new fungicides also could help fight the growing problem of resistance, in which plant pests shrug off fungicides, the researchers suggest.
Most fungicides today are made based on chemicals that can kill potentially beneficial organisms and have other adverse environmental effects. The new materials are more selective, stopping fungi that cause plant diseases without harming other organisms. They work in a unique way, disrupting a key chemical signalling pathway that the fungi use to breakdown a plant's normal defenses. As a result, the plants boost their natural defenses and overcome fungal attack without harming people and the environment, the researchers say.
"Conventional fungicides kill constantly," explains study leader Soledade Pedras, Ph.D., a professor of chemistry at the University of Saskatchewan in Canada. "Our products only attack the fungus when it's misbehaving or attacking the plant. And for that reason, they're much safer."
Researchers have known for years that many plants have a defense mechanism that involves production of natural chemicals, called phytoalexins, to kill disease-causing fungi. The fungus, however, fights back. It releases enzymes that detoxify, or destroy, the phytoalexin, leaving the plant vulnerable to the fungi's attack.
To take advantage of that punch-counterpunch strategy, Pedras and her colleagues proposed the development of new anti-fungal agents to block the fungi's destruction of phytoalexins. They termed these new agents paldoxins, short for phytoalexin detoxification inhibitors.
Pedras discovered those agents after screening broccoli, cauliflower, mustard greens and other plants in the so-called "crucifer family." They discovered the most powerful phytoalexin in a flowering plant called camelina or "false flax." In laboratory tests, camelina phytoalexins blocked detoxifying enzymes produced by a wide variety of fungi.
"We found that many fungi couldn't degrade this chemical," says Pedras. "So that's what we used to design synthetic versions that were even stronger than the original."
The researchers now have developed six different synthetic versions of the paldoxins, which are essentially potent inhibitors of fungal enzymes.
The researchers have successfully tested the synthetic paldoxins in the lab on several crucifer plants, including rapeseed plants and mustard greens. Pedras' group plan field tests of their new fungicides on other important crop varieties. In the future, a similar strategy will be applied to grasses such as wheat, rye, and oat. These grassy plants tend to be more difficult to protect with fungicides than broccoli and related veggies, the researchers say.
If studies continue to show promise, the paldoxins could be marketed quickly, within a few years, Pedras says. The new fungicides could be applied like conventional pesticides.
###
The Natural Sciences and Engineering Research Council of Canada and the University of Saskatchewan funded the study.
The American Chemical Society is a nonprofit organization chartered by the U.S. Congress. With more than 154,000 members, ACS is the world's largest scientific society and a global leader in providing access to chemistry-related research through its multiple databases, peer-reviewed journals and scientific conferences. Its main offices are in Washington, D.C., and Columbus, Ohio.
---