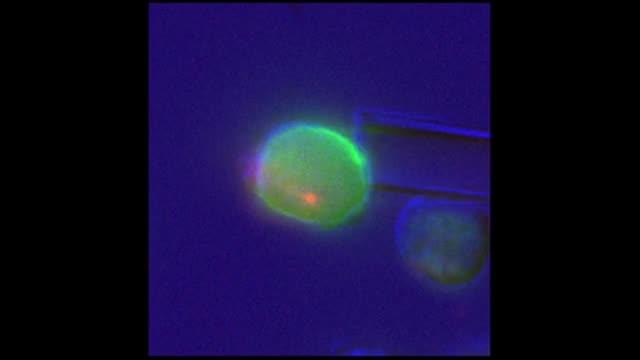 Driven by accelerating advances in super-resolution imaging, fluorescent tagging, and Big Data manipulation, cell biologists are living in the Golden Age of Cell Movies. ASCB's Celldance Studios today releases three new exciting examples in its 2015 Celldance award videos, made by cell scientists themselves telling their own cell research stories and featuring eye-popping live cell imaging.
Francis Collins, the Director of the National Institutes of Health, called the 2014 Celldance videos "microscopic blockbusters." With the release of the Celldance 2015 productions, ASCB hopes to continue the tradition of scale (microscopic) and impact (big). The ASCB's Public Information Committee, a.k.a. Celldance Studios, solicited proposals from ASCB member labs, selected three for video production grants of $1,000 each, and provided postproduction services. Celldance 2015 videos were made by ASCB members in the labs of Douglas Robinson at John Hopkins University in Baltimore, John Condeelis at Albert Einstein College of Medicine in New York, and Satyajit Mayor at the National Centre for the Biological Sciences (NCBS) in India.
All three Celldance videos are available to stream or download for non-profit enjoyment by the news media, educators, the web, and the curious world. So with a very small bowl of popcorn, get ready for this year's Celldance micro blockbusters to unfold.
"Spying on Cancer Cell Invasion," Edison Leung with Allison Harney, John Condeelis lab, Albert Einstein College of Medicine
ASCB Celldance 2015 - Leung
Edison Leung says his cancer research lab makes movies of all genres--horror, action, thriller, and war--all shot inside cancer tumors. Working alongside Allison Harney in the Einstein lab of John Condeelis, Leung's Celldance video shows metastasizing cancer cells, helped by the body's own immune cells called macrophages, break through a blood vessel wall and escape to form new tumors. Through live cell imaging, Leung's video captures the moment the cancer cell and the macrophage work as a team to break through the vessel wall of a mouse. A nano burst of blood spills out as the cancer cell rushes past. It is terrifying. It is thrilling. It is cancer metastasis, live.
"At the Cell's Edge," Satyajit Mayor, National Centre for Biological Science
ASCB Celldance 2015 Mayor
"Namaste," says a young scientist, in welcome to the laboratory of Satyajit Mayor at the National Centre for Biological Sciences in India. Yet the focus of the Mayor lab in Bangalore is near to hand--the dynamic cell membrane that encircles all living cells. It holds things in, holds things out, and holds everything in cells together. The graduate students and postdoctoral researchers in the Mayor lab give a detailed account of their exploration of the churning lipids and proteins on the cell surface. Illustrated by startling live cell videos, high-tech simulations, and low-tech white boards, "At the Cell's Edge" paints the cell membrane as a restless nano-scale seascape.
"Shape Shifting Cells," Douglas Robinson, Johns Hopkins University
ASCB Celldance 2015 Robinson
The Robinson lab video starts with a basic question--why are cancer cells softer than normal cells? It ends with a potential drug that can turn hardness against pancreatic cancer cells. Their cell story walks us through the stages of discovery--the shape and hardness of cells, cell cannibalism where the soft (cancer) eat the hard (normal), an amoeba model to see the proteins that stiffen cells, and the identification of 4HAP, a small protein that sticks it to pancreatic cancer cells. Throughout, the video is a visual extravaganza of high-resolution microscopy, mathematical representations, animation, and live action.
###
Media contact: John Fleischman, jfleischman@ascb.org
---