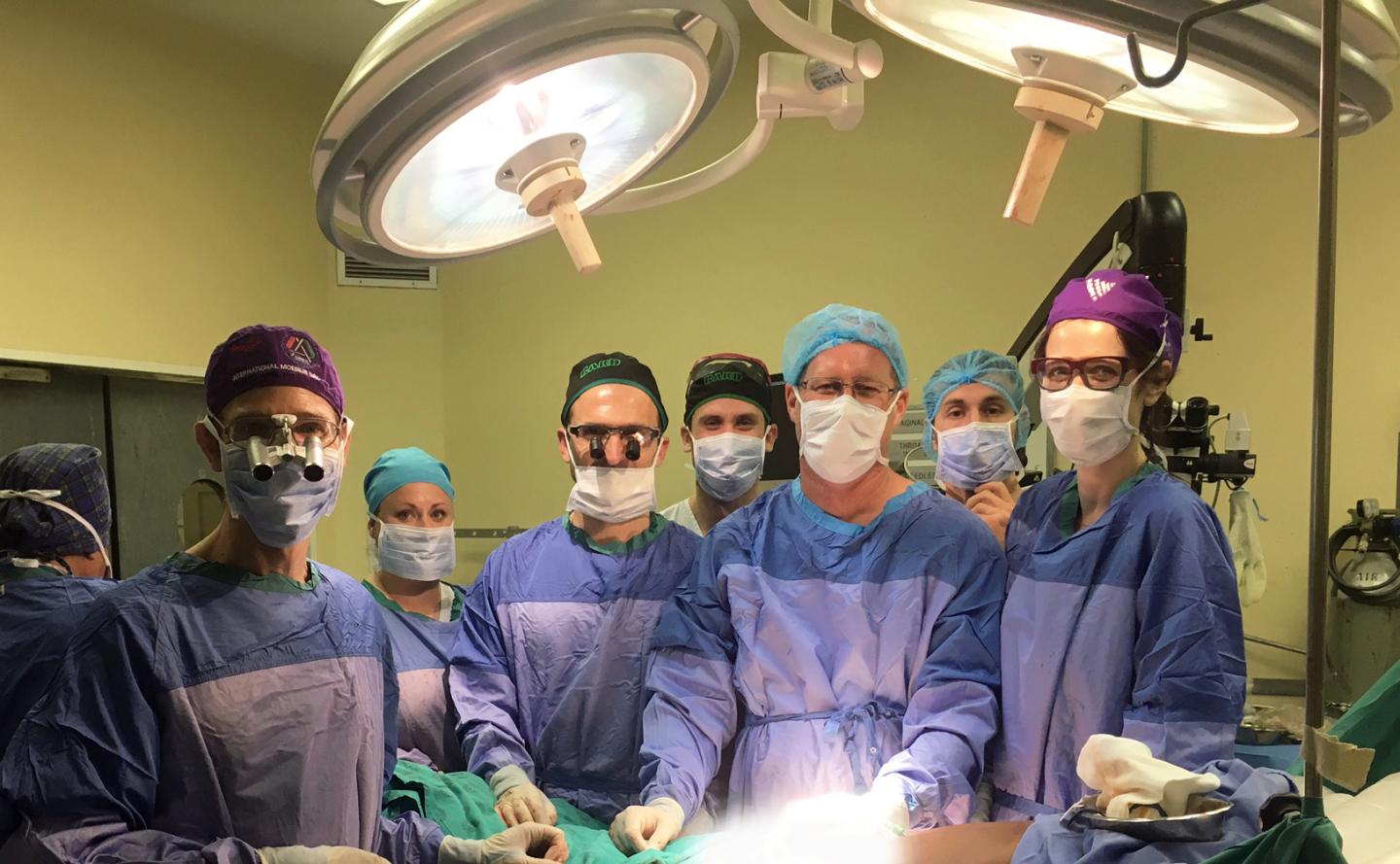 A team from Stellenbosch University (SU) and the Tygerberg Academic Hospital has recently performed a second penis transplant, making it the first medical centre in the world to successfully perform this procedure twice.
Prof André van der Merwe, Head of the Division of Urology at SU's Faculty of Medicine and Health Sciences (FMHS), led the marathon operation of nine and a half hours performed on 21 April at Tygerberg Hospital in Cape Town, South Africa. The recipient was a 40 year old male who had lost his penis 17 years ago due to complications after a traditional circumcision. His identity is being protected for ethical reasons.
"He is certainly one of the happiest patients we have seen in our ward. He is doing remarkably well. There are no signs of rejection and all the reconnected structures seem to be healing well," says Van der Merwe. The patient is expected to regain all urinary and reproductive functions of the organ within six months of the transplant. A colour discrepancy between the recipient and the donor organ will be corrected with medical tattooing between six to eight months after the operation.
"The success of this procedure in the hands of our transplant team is testimony to the high level of skill and expertise that exists in the public health sector in South Africa," says Prof Jimmy Volmink, Dean of the FMHS. "Also of considerable pride is the team's ability to balance compassionate and ethical patient care on the one hand, with a concern for the efficient use of scarce resources on the other."
"This is a remarkable, ground-breaking procedure. I would like to congratulate the Tygerberg Hospital and the SU surgeons for doing such a sterling job. Traditional circumcision has claimed many young lives in South Africa. For this patient, life will never be the same again," said Dr Nomafrench Mbombo, Western Cape health minister.
"Patients describe a penis transplant as 'receiving a new life'. For these men the penis defines manhood and the loss of this organ causes tremendous emotional and psychological distress," says Dr Amir Zarrabi of the FMHS's Division of Urology, who was a member of the transplant team. "I usually see cases of partial or total amputations in July and December - the period when traditional circumcisions are performed."
"We are thrilled on behalf of the patient and the change it will make in his life," says Dr Alexander Zühlke, who heads the FMHS's Division of Plastic and Reconstructive Surgery. "It is also a great achievement to be part of the team that has performed two successful penis transplants."
The team consisted of Van der Merwe, Zühlke, Prof Rafique Moosa, head of the FMHS's Department of Medicine, Zarrabi and Dr Zamira Keyser of Tygerberg Hospital. They were assisted by transplant coordinators, anaesthetists, theatre nurses, a psychologist, an ethicist and other support staff.
In December 2014 Van der Merwe and his team performed the world's first successful penis transplant and more than two years later "the patient is doing extremely well, both physically and mentally", says Van der Merwe. "He is living a normal life. His urinary and sexual functions have returned to normal, and he has virtually forgotten that he had a transplant."
Penile mutilation is more common in South Africa than elsewhere in the world due to complications of circumcisions performed as part of a traditional rite of passage on young men in certain cultures. There is no formal record of the yearly number of penile amputations due to traditional circumcisions, but one study reported up to 55 cases in the Eastern Cape alone. Experts estimate that as many as 250 partial and total amputations take place country-wide every year, with suicides also being reported.
"At Stellenbosch University and Tygerberg Hospital we are committed to finding cost-effective solutions to help these men," says Van der Merwe. The procedure was part of a proof of concept study to develop a cost-effective penile transplant procedure that could be performed in a typical theatre setting in a South African public sector hospital. By applying lessons learnt from the first transplant, Van der Merwe and his team were able to significantly cut the costs of the second procedure.
The biggest challenge to this SU study is organ donation. "I think the lack of penis transplants across the world since we performed the first one in 2014, is mostly due to a lack of donors. It might be easier to donate organs that you cannot see, like a kidney, than something like a hand or a penis," says Van der Merwe.
"We are extremely grateful to the donor's family who so generously donated not only the penis, but also the kidneys, skin and corneas of their beloved son. Through this donation they are changing the lives of many patients."
The world's first successful penile transplant was performed by Van der Merwe and his team at Tygerberg Hospital in Cape Town on 11 December 2014.
The second was done a year and a half later, on 16 May 2016, at the Massachusetts General Hospital in Boston in the United States of America.
Visit http://www.sun.ac.za/transplant for more information, video, photos and graphics
FACT SHEET
Technical details of the transplant
The entire penis was carefully dissected from the donor to keep blood vessels, nerves and other connecting structures intact. These were marked and connected to the recipient's correlating tissue during the transplant.
It is a complex procedure known as a composite tissue transplant, during which different types of tissue (nerves, blood vessels, muscle etc.) are cross-connected between the recipient and the donor organ.
The surgeons connected three blood vessels (each between 1 and 2 mm in diameter) to ensure sufficient blood flow to the transplanted organ; two dorsal nerves (also between 1 and 2 mm in diameter) to restore sensation; the urethra, which enables the recipient to urinate through the penis; as well as the corpus cavernosum (cavernous body of the penis), which will allow the patient to obtain an erection.
"The diverse presentation of the blood vessels and nerves makes the operation very challenging and means each case is unique. All these structures need to be treated with the utmost delicacy and respect in order to be connected perfectly to ensure good circulation and function in the long term," says Zühlke.
Micro-surgery was used to connect small blood vessels and nerves. The patient has since returned for a minor procedure to remove a small piece of dead tissue on the skin edges.
Immunosuppression
Through a process called an immune response, the body naturally rejects any foreign object inserted into or attached to it. During an organ transplant, this immune response has to be suppressed to prevent the body from rejecting the transplanted organ. An immune response can only be avoided in cases where the patient's own tissue, or that of an identical twin, is used.
"Transplants where several types of tissue are involved (muscles, nerves, blood vessels, etc.) require stronger immunosuppression treatment than transplants of organs involving fewer cells, such as kidneys," explains Moosa.
The immunosuppression medication used during penis transplants, although not usually used as a first-line treatment, is available in state facilities and is generally used after kidney transplants.
Although the dosage is reduced as time goes on, transplant patients have to take immunosuppression medication for the rest of their lives - even if they have made a full recovery.
Ethical considerations
Permission for the study was granted by SU's Health Research Ethics Committee (HREC) in 2011 and the transplant team has been in close consultation with ethicists and the HREC throughout the design and conduct of the study.
According to Dr Nicola Barsdorf, Head of Health Research Ethics at the FMHS, the research team adequately addressed the important ethical issue of therapeutic misconception (the risk that a research participant may not fully understand that this treatment is only experimental).
"The patient was repeatedly counselled over an extended period of time about the potential benefits and risks of the procedure. He had a clear understanding about the experimental nature of the transplant and provided his informed consent after multiple, comprehensive discussions about the voluntary nature of his participation," explains Barsdorf.
According to Barsdorf, careful consideration during the planning phase of the study allowed them to anticipate potential pitfalls, including:
- Therapeutic misconception refers to a participant's failure to fully understand the difference between research and treatment. It can include an overestimation of clinical benefit from an experimental intervention, as well as underestimation of potential risk of harm. To minimise the risk of therapeutic misconception the research team implemented a rigorous informed consent process. The recipient was counselled over a period of two years, during which his understanding of the risks involved were assessed and truly informed and voluntary consent to the experimental procedure was promoted.

- The ethicist's inputs spelled out risk mitigation steps for the emotional, social, psychological (as well as physical) risks that research participants might experience. The recipient was selected based on these inputs. A number of participants were eligible for scientific reasons, but at substantially higher risk of physical and psychological harm.
Psychological aspects
All patients considered for the study have to undergo extensive psychological evaluation to determine whether they are mentally fit to receive a transplant. Organ transplantation could have a negative psychological effect if patients can't associate with the organ.
Medical tattooing
Advancements in technology have expanded the age old custom of tattooing for medical purposes. Micro-dermal pigmentation is currently used to improve the appearance of individuals with medically-related physical imperfections.
Nipple and areola reconstruction by means of tattooing after a mastectomy is probably the most well-known application of this procedure. It goes a long way to help women regain their confidence and improve their self-image.
Reconstructive medical tattooing can also camouflage the appearance of ugly scars due to accidents, burn wounds and surgery. Furthermore, it is used to camouflage vitiligo (patches of white skin), using flesh-coloured pigments, or to help restore the appearance of missing hair lost due to disease (cancer or alopecia) or trauma.
According to Zühlke medical tattooing can also be applied in the case of penis transplants if there is a colour discrepancy between the donor and the recipient.
This should be performed by a tattoo artist who has specialised in medical tattooing. Although there is no experience with such a procedure, since the current transplant is only the third case in the world and tattooing has not been necessary in the other two cases, it would typically be performed from six months onwards after the operation and more than one session would probably be necessary.
Other penile replacement options
Current surgical options for patients include penis reconstruction involving free tissue transfer. During this procedure skin and soft tissue ("flap") is taken from the arm, reconstructed into a penis and attached to the body. A prosthesis can also be implanted to allow sexual intercourse, but it is expensive and complications may develop.
###
---
Journal
Journal of Materials Science