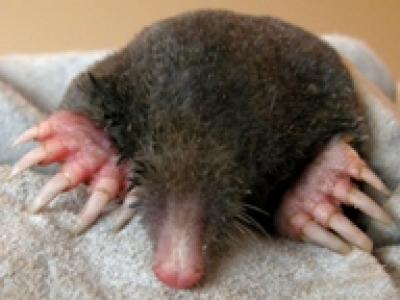 The family of small insectivores, Talpidae, includes the moles, shrew moles, and aquatic desmans. New research published in BioMed Central's open access journal EvoDevo has found that the enlargement of moles' digging front paws, compared to their feet, is controlled by altered timing of expression of the gene SOX9.
Fossorial (digging) moles are closely related to shrews, however adaption to burrowing underground has given them specialized strong forelegs, and large, broad hands with a rotated palm. Moles also have an extra digit-like structure in both hands and feet (Os falciforme), which presumably helps with digging.
SOX genes are transcription factors and consequently, when they bind to DNA, they regulate the expression of other genes. SOX9 is specifically involved in chondrocyte (cartilage) differentiation and is also involved in the development of the Os falciforme.
When a multinational team of researchers compared the timing and pattern of SOX9 expression during development of the hands and feet of the Iberian mole (Talpa occidentalis), shrew (Cryptotis parva), and mouse (Mus musculus) they realized that there was a difference in timing of SOX9 expression between the species. SOX9 is expressed at the same time during embryo development in front and hind paws for both mice and shrews but occurs sooner in the hands of moles than their developing feet.
Dr Constanze Bickelmann, from the Paleontological Institute and Museum, University of Zurich, explained, "This difference in timing of expression of a gene is called transcriptional heterochrony. It is an extreme example of adaption to an ecological niche, in this case digging, which has selected for animals with bigger front paws, who were better diggers and so on."
Since moles evolutionary split from shrews about 70 million years ago, this selection process has led to a slow, but profound, change to the expression of a protein found in nearly all animal species.
###
Media Contact
Dr Hilary Glover
Scientific Press Officer, BioMed Central
Tel: +44 (0) 20 3192 2370
Mob: +44 (0) 778 698 1967
Email: hilary.glover@biomedcentral.com
Notes to Editors
Transcriptional heterochrony in talpid mole autopods Constanze Bickelmann, Christian Mitgutsch, Michael K Richardson, Rafael Jiménez, Merijn AG de Bakker and Marcelo R Sánchez-Villagra

EvoDevo (in press)

Please name the journal in any story you write. If you are writing for the web, please link to the article. All articles are available free of charge, according to BioMed Central's open access policy.

Article citation and URL available on request on the day of publication.

EvoDevo publishes articles on a broad range of topics associated with the translation of genotype to phenotype in a phylogenetic context. Understanding the history of life, the evolution of novelty and the generation of form, whether through embryogenesis, budding, or regeneration are amongst the greatest challenges in biology. We support the understanding of these processes through the many complementary approaches that characterize the field of evo-devo.

All articles published by EvoDevo are made freely and permanently accessible online immediately upon publication, without subscription charges or registration barriers.

BioMed Central (http://www.biomedcentral.com/) is an STM (Science, Technology and Medicine) publisher which has pioneered the open access publishing model. All peer-reviewed research articles published by BioMed Central are made immediately and freely accessible online, and are licensed to allow redistribution and reuse. BioMed Central is part of Springer Science+Business Media, a leading global publisher in the STM sector. @BioMedCentral
---