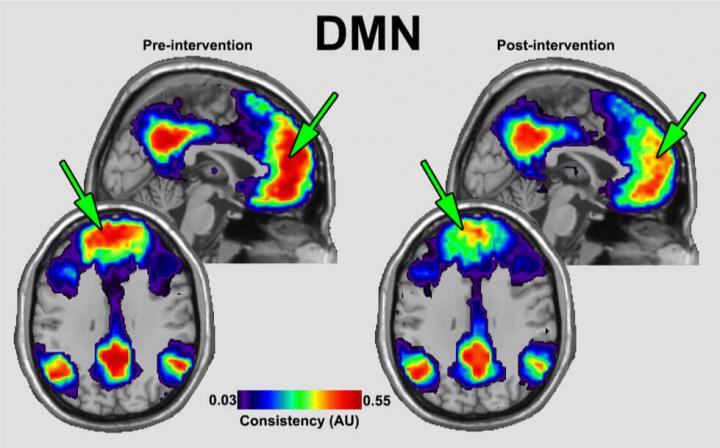 (Scottsdale, Ariz. - November 21, 2018) A new clinical study conducted by Wake Forest School of Medicine shows that use of a new non-invasive technology from the creators of Cereset not only reduces symptoms of military-related traumatic stress but also improves brain function.
Cereset® is the global technology leader in brain self-restoration and optimization with franchise facilities across the United States. The clinical study, conducted by the Department of Neurology at the Wake Forest School of Medicine in Winston-Salem, North Carolina used Cereset's underlyingHIRREM® technology. Study participants showed significantly different network connectivity on MRI brain scans after using HIRREM. This was in addition to previously reported significant reductions in symptoms of post-traumatic stress, insomnia, depression and anxiety, with reduced symptoms lasting at least 6-months.
This is the first study using functional MRI (fMRI) brain imagery to demonstrate such changes with use of a noninvasive intervention for PTSD, which also reduced symptoms, and showed benefits persisting for six months. The full clinical investigative study was published in the Journal of Neuroimaging on October 10, 2018.
Led by Dr. Charles H. Tegeler, McKinney-Avant Professor of Neurology, of Wake Forest School of Medicine, the study was conducted over a 12-day period with active duty and veteran U.S. military personnel with symptoms of post-traumatic stress.
"Post-traumatic stress disorder affects millions of individuals around the world, not just the military participants studied in this clinical trial," said Dr. Charles Tegeler, Neurologist at Wake Forest School of Medicine and lead researcher and co-author of this paper. "After a 12-day process, fMRI scans of the brain showed significant changes in connectivity that are consistent with the observed reduction in PTSD symptoms. The fact that this technology is non-invasive, is a non-pharmacological intervention, and does not require that the recipients 'do anything' other than let the brain repair itself, is very exciting."
Cereset's patented BrainEcho™ technology uses sensors to detect brain rhythms and proprietary algorithms that correlate those rhythms with musical tones played back to the client. The brain hears itself then naturally rebalances and repairs itself without outside intervention, stimulus or medication.
"There have been several studies in the past proving the benefits of Cereset's technology and its promoting more restful sleep, but this is the most conclusive study to date related to PTSD and our military," said Lee Gerdes, Founder of Cereset and creator of the HIRREM technology. "Not only did symptoms improve, and the brain scans change significantly after Cereset, the benefits persisted for six months following Cereset. Over the past 15 years, more than 130,000 people have used our technology to reduce stress and improve restful sleep. I'm thrilled that this new study further validates the technology as safe and effective, exposing it to even more people seeking natural, non-pharmaceutical solutions."
###
For more information about Cereset and franchise opportunities visit cereset.com
About Cereset:
Cereset™ is a wellness company that helps clients relax their brains to manage stress, restore hope and achieve restful sleep through its patented BrainEcho™ technology. Cereset empowers the brain to reset itself as it hears and "sees" its own reflection. The global technology leader in non-invasive brain self-restoration and optimization, Cereset enables the brain to fully relax and naturally rebalance itself from the inside out. There is no outside intervention, stimulus or medication of any kind - the brain does its own work while the client naps or relaxes quietly in a comfortable chair. To schedule an appointment at a Cereset office, or to learn more visit cereset.com
---
Journal
Journal of Neuroimaging