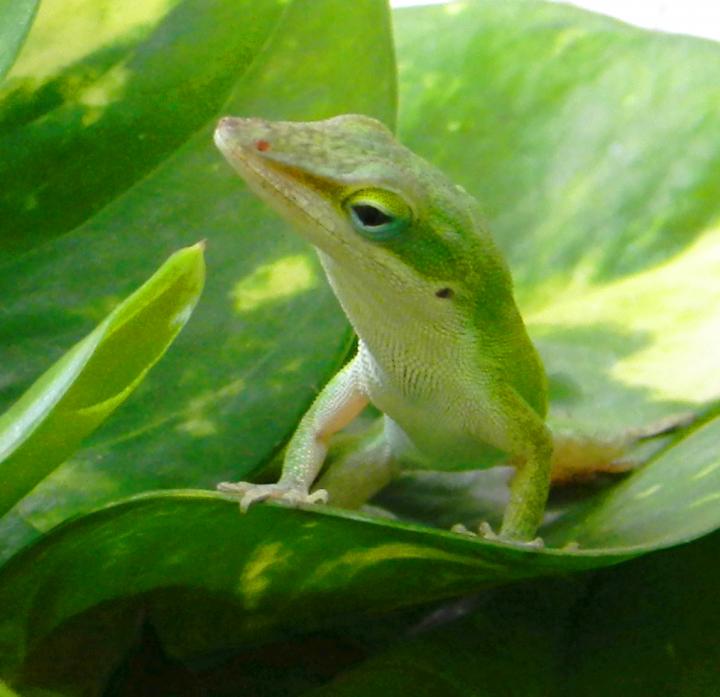 TEMPE, Ariz. -- May 5, 2016 -- Any kid who pulls on a lizard tail knows it can drop off to avoid capture, but how they regrow a new tail remains a mystery. Now, researchers at the Translational Genomics Research Institute (TGen) and Arizona State University (ASU) have identified tiny RNA switches, known as microRNAs, which may hold the keys to regenerating muscles, cartilage and spinal columns.
In a study published today in the scientific journal BMC Genomics, ASU and TGen scientists for the first time identified three microRNAs -- which turn genes on and off -- that are associated with the regeneration of tails in the green anole lizard, Anolis carolinensis.
Using next-generation genomic and computer analysis, this interdisciplinary team of scientists hope their findings, following nearly 6 years of research, will help lead to discoveries of new therapeutic approaches to switch on regeneration genes in humans.
"Since microRNAs are able to control a large number of genes at the same time, like an orchestra conductor leading the musicians, we hypothesized that they had to play a role in regeneration," said senior author Dr. Kenro Kusumi, a Professor in ASU's School of Life Sciences and Associate Dean in the College of Liberal Arts and Sciences, and an adjunct faculty member at TGen. "Our earlier work found that hundreds of genes are involved in regeneration, and we are very excited to study these three new microRNAs."
Dr. Elizabeth Hutchins, a Post-Doctoral Fellow in TGen's Neurogenomics Division, and co-lead author of the study, said she hopes this investigation eventually enables such things as regenerating cartilage in knees, repairing spinal cords in accident victims, and reproducing the muscles of injured war veterans.
"It is the translational nature of this work -- how it could eventually be applied to people -- that led to my interest in this study," said Dr. Hutchins, who graduated from ASU's Molecular and Cellular Biology Program. "For example, we currently don't have the ability to regrow knee cartilage, which would really help someone like my grandmother."
"This work highlights the importance of tiny RNA molecules in the tissue regeneration process, and showed for the first time an asymmetric microRNA distribution in different portions of the regenerating lizard tails," said Dr. Marco Mangone, a co-author and Assistant Professor with ASU's School of Life Sciences and Biodesign Institute. "It seems like microRNAs may play an active role in this process, and are potentially able to shape the regenerating lizard tail like playdough."
The research team also included: Dr. Justin Wolter of ASU's Biodesign Institute and School of Life Sciences; and Dr. Walter Eckalbar at the University of California, San Francisco.
###
This research was funded by grants from the National Institutes of Health and the Arizona Biomedical Research Commission.
About TGen
Translational Genomics Research Institute (TGen) is a Phoenix, Arizona-based non-profit organization dedicated to conducting groundbreaking research with life changing results. TGen is focused on helping patients with neurological disorders, cancer, and diabetes, through cutting edge translational research (the process of rapidly moving research towards patient benefit). TGen physicians and scientists work to unravel the genetic components of both common and rare complex diseases in adults and children. Working with collaborators in the scientific and medical communities literally worldwide, TGen makes a substantial contribution to help our patients through efficiency and effectiveness of the translational process. For more information, visit: http://www.tgen.org. Follow TGen on Facebook, LinkedIn and Twitter @TGen.
About ASU
ASU's School of Life Sciences is an academic unit of the College of Liberal Arts and Sciences.
Arizona State University is the largest public research university in the United States under a single administration, with total student enrollment of more than 70,000 in metropolitan Phoenix, the nation's sixth-largest city. ASU is creating a new model for American higher education, an unprecedented combination of academic excellence, entrepreneurial energy and broad access. This New American University is a single, unified institution comprising four differentiated campuses positively impacting the economic, social, cultural and environmental health of the communities it serves. Its research is inspired by real-world application, blurring the boundaries that traditionally separate academic disciplines. ASU champions intellectual and cultural diversity, and welcomes students from all 50 states and more than 120 nations.
MEDIA CONTACTS:
TGen
Steve Yozwiak
602-343-8704
syozwiak@tgen.org
ASU School of Life Sciences
Sandy Leander
480-965-9865
Sandra.Leander@asu.edu
---