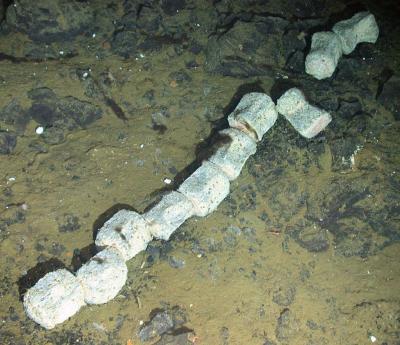 Marine biologists have, for the first time, found a whale skeleton on the ocean floor near Antarctica, giving new insights into life in the sea depths. The discovery was made almost a mile below the surface in an undersea crater and includes the find of at least nine new species of deep-sea organisms thriving on the bones.
The research, involving the University of Southampton, Natural History Museum, British Antarctic Survey, National Oceanography Centre (NOC) and Oxford University, is published today in Deep-Sea Research II: Topical Studies in Oceanography.
"The planet's largest animals are also a part of the ecology of the very deep ocean, providing a rich habitat of food and shelter for deep sea animals for many years after their death," says Diva Amon, lead author of the paper based at University of Southampton Ocean and Earth Science (which is based at NOC) and the Natural History Museum. "Examining the remains of this southern Minke whale gives insight into how nutrients are recycled in the ocean, which may be a globally important process in our oceans."
Worldwide, only six natural whale skeletons have ever been found on the seafloor. Scientists have previously studied whale carcasses, known as a 'whale fall', by sinking bones and whole carcasses. Despite large populations of whales in the Antarctic, whale falls have not been studied in this region until now.
"At the moment, the only way to find a whale fall is to navigate right over one with an underwater vehicle," says co-author Dr Jon Copley of University of Southampton Ocean and Earth Science. Exploring an undersea crater near the South Sandwich Islands gave scientists just that chance encounter. "We were just finishing a dive with the UK's remotely operated vehicle, Isis, when we glimpsed a row of pale-coloured blocks in the distance, which turned out to be whale vertebrae on the seabed," continues Dr Copley.
When a whale dies and sinks to the ocean floor, scavengers quickly strip its flesh. Over time, other organisms then colonise the skeleton and gradually use up its remaining nutrients. Bacteria break down the fats stored in whale bones, for example, and in turn provide food for other marine life. Other animals commonly known as zombie worms can also digest whale bone.
"One of the great remaining mysteries of deep ocean biology is how these tiny invertebrates can spread between the isolated habitats these whale carcasses provide on the seafloor," says co-author Dr Adrian Glover at the Natural History Museum. 'Our discovery fills important gaps in this knowledge.'
The team surveyed the whale skeleton using high-definition cameras to examine the deep-sea animals living on the bones and collected samples to analyse ashore. Researchers think that the skeleton may have been on the seafloor for several decades. Samples also revealed several new species of deep-sea creatures thriving on the whale's remains, including a 'bone-eating zombie worm' known as Osedax burrowing into the bones and a new species of isopod crustacean, similar to woodlice, crawling over the skeleton. There were also limpets identical to those living at nearby deep-sea volcanic vents.
###
Notes for editors:
1. The full reference: Amon DJ, Glover AG, Wilkund H, Marsh L, Linse K, Rogers AD & Copley JT (2013) The discovery of a natural whale fall in the Antarctic deep sea. Deep-Sea Research II: Topical Studies in Oceanography, published online at http://www.journals.elsevier.com/deep-sea-research-part-ii-topical-studies-in-oceanography
2. There are a number of images and videos of the new species and the whale skeleton available. To access these resources, please visit http://www.dropbox.com and "Sign in" (top right) as follows:
Email: antarcticwhalefall@yahoo.com
Password: caldera
Please note that you do not need to install Dropbox software or be invited to "share" the folder to access these resources, which can be downloaded directly via any web browser using the login details above. Please refer to the README.txt file in the folder for descriptions of photos, video shot list, and copyright / credit information for media use.
3. The whale skeleton was discovered during RRS James Cook Voyage 42 in January 2010, for which the Principal Scientist was Prof Alex Rogers of Oxford University. The expedition was part of the CheSsSo (Chemosynthetic Ecosystems of the Southern Ocean) research programme, funded by the UK Natural Environment Research Council and led by Prof Paul Tyler at University of Southampton Ocean and Earth Science.
4. Diva Amon is a PhD student at the Graduate School of the National Oceanography Centre Southampton (University of Southampton) and Natural History Museum, co-supervised by Dr Jon Copley at the University of Southampton and Dr Adrian Glover at the Natural History Museum.
5. Funding for the research is provided by the Graduate School of the National Oceanography Centre Southampton, University of Southampton and the Leslie M. and Judy A. Crouch Educational Trust.
6. The University of Southampton is a leading UK teaching and research institution with a global reputation for leading-edge research and scholarship across a wide range of subjects in engineering, science, social sciences, health and humanities. http://www.southampton.ac.uk
7. The Natural History Museum is an award-winning tourist attraction and also a world-leading science research centre. Through its collections and scientific expertise, the Museum works to help understand and maintain the richness and diversity of our planet, with groundbreaking partnerships in more than 70 countries. For more information please go to http://www.nhm.ac.uk
8. The National Oceanography Centre (NOC) is the UK's leading institution for integrated coastal and deep ocean research. NOC operates the Royal Research Ships James Cook and Discovery and develops technology for coastal and deep ocean research. Working with its partners NOC provides long-term marine science capability including: sustained ocean observing, mapping and surveying, data management and scientific advice.
NOC operates at two sites, Southampton and Liverpool, with the headquarters based in Southampton. http://www.noc.ac.uk
For further information please contact:
Catherine Beswick, Media and Communications Officer, National Oceanography Centre, Tel: 023 8059 8490, email: catherine.beswick@noc.ac.uk
Glenn Harris, Media Relations, University of Southampton, Tel: 023 8059 3212 email: G.Harris@soton.ac.uk
The Natural History Museum Press Office, Tel: 020 7942 5654, email: press@nhm.ac.uk
---