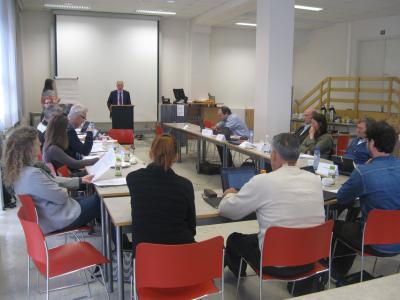 When talking about effectiveness of arguments used in biodiversity protection issues, the framing and context seem to be of primary importance. This was the main outcome of the first stakeholder meeting of the EU FP7 project BESAFE, which took place on 23-24 May 2013 in Brussels, Belgium.
The one day meeting was attended by representatives of the main groups of stakeholders - DG Environment, RSPB (Royal Society for the Protection of Birds), ETC Biodiversity (European Topic Center Biodiversity), ECAF (European Conservation Agriculture Federation), BfN (Bundesamt für Naturschutz - German Federal Agency for Nature Conservation), INBO (Research Institute for Nature and Forest), Manchester University, UNEP, TripleEEE consultancy, county administrations and other.
The main target of the meeting was to perform a reality check on of the project's ideas and work to date, and to get qualified recommendations regarding the outcomes with usefulness to the stakeholders in mind. As the BESAFE project has an iterative approach, it aims to learn by doing and get as much feedback from the stakeholders as it can get.
In biodiversity protection, the context and framing of arguments differ enormously from case to case. This characteristic was acknowledged during the meeting, as well as the difficulties faced when trying to avoid subjective interpretations of the arguments leading to differences in the assessment of their effectiveness. The stakeholders indicated that in their experience arguments convincing people of the benefits for them, making them realise they have a share and therefore a willing to take responsibility, are the most effective ones. Being well informed about the interests and drivers of parties involved in the decision making is therefore crucial for effective argumentation. Since there are usually multiple parties involved, isolated arguments are not likely to be successful whereas using a wider range may extend their appeal to more stakeholders. A good prioritisation of arguments will however be needed.
The BESAFE project aims to create a web tool by which users are guided and assisted in their choice of effective arguments for their particular case. It was however agreed that the definition of the specific target groups should be a starting point. It should be kept in mind that each target group has a different trajectory and needs a different language to guide it quickly and efficiently to the information it requires.
BESAFE will include the recommendations from this workshop in its further work and invites interested stakeholders to express their interest in participating in the second stakeholder meeting which will be held in April 2014.
###
---