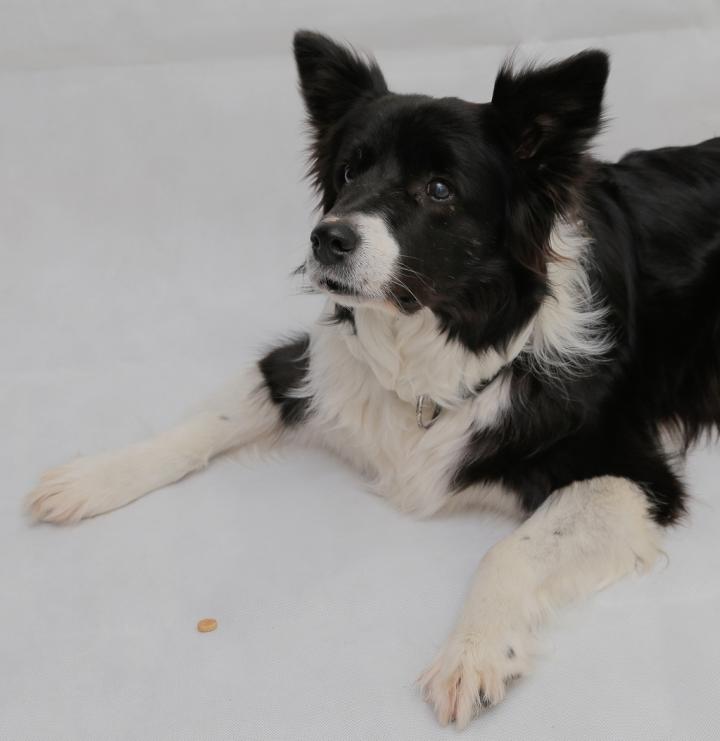 Inhibitory control may be an indicator of a dog's ability to solve a problem, according to a study published February 10, 2016 in the open-access journal PLOS ONE by Corsin Müller from the University of Veterinary Medicine Vienna and colleagues.
Playing with objects may help dogs learn about their environment, similar to how it helps human infants. Scientists think dogs' inhibitory control, or the ability to inhibit or regulate attentional or emotional responses, may play a role in their individual differences in physical problem-solving task performance. The authors of this study investigated the effects of pet dogs' experiences interacting with the physical environment and their individual differences in inhibitory control on their physical problem-solving ability. A cohort of ~40 pet Border Collie dogs were assigned to three different conditions, and tested in an intensive series of inhibitory control tasks, such as wait-for-treat, and cognitive measures, such as size constancy over a period of 18 months.
The authors found that differences in previous object-related experiences do not explain variability in performance in problem solving tasks. Depending on the cognitive task, inhibitory control had a positive or a negative effect on performance and turned out to be the best predictors of individual performance in the different tasks. The authors think that dogs likely do not transfer knowledge about physical rules from one physical problem-solving task to another, but rather approach each task as a novel problem. In addition, individual performance in these tasks may be influenced by the subject's level of inhibitory control. The authors suggest that studying the interplay between inhibitory control and problem-solving performance may make an important contribution to our understanding of individual and species differences in physical problem-solving performance.
###
In your coverage please use this URL to provide access to the freely available paper: http://dx.plos.org/10.1371/journal.pone.0147753
Citation: Müller CA, Riemer S, Virányi Z, Huber L, Range F (2016) Inhibitory Control, but Not Prolonged Object-Related Experience Appears to Affect Physical Problem-Solving Performance of Pet Dogs. PLoS ONE 11(2): e0147753. doi:10.1371/journal.pone.0147753
Multimedia available at: https://www.youtube.com/watch?v=YWThTJmMDxc&list=PL_O2Hm19V2gG-mAM65H6QfYDHUa9-5yfF&index=1
Funding: This work was funded by the Austrian Science Fund (http://www.fwf.ac.at/) grant P21418 to LH and FR. In addition, SR received support from the DK CogCom Program (FWF Doctoral Programs W1234), LH and ZV from the Vienna Science and Technology Fund (http://www.wwtf.at/) grants CS11-005 and CS11-026, and the Clever Dog Lab from Royal Canin and a private sponsor. The funders had no role in study design, data collection and analysis, decision to publish, or preparation of the manuscript.
Competing Interests: The authors have declared that no competing interests exist.
---