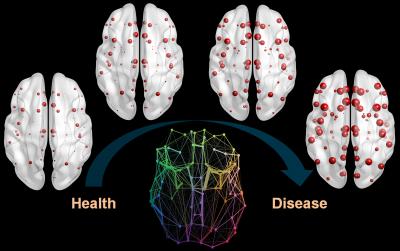 Researchers from the Montreal Neurological Institute have used a model inspired by patterns of epidemic disease spreading to map how misfolded proteins propagate within the brain.
Proteins which fail to configure correctly (misfolded proteins) are associated with aging and several human neurodegenerative diseases, such as Alzheimer's. In research published in this week's PLOS Computational Biology, Yasser Iturria Medina and colleagues analyze over 700 individual Amyloid-beta proteins imaging datasets to conclude that the propagation of these misfolded proteins, associated with Alzheimer's disease progression, can be mathematically described by the interaction between infection-like agents (the misfolded proteins) and the brain's defense response.
The authors' model relies on the striking similarity between intra-brain pathology propagation processes and the spread of human infectious diseases. They demonstrate that the brain's connections between cells play a similar role in misfolded protein dynamics as global air-traffic routes play for the international spreading of diseases such as the 2009 H1N1 pandemic. The researchers also identified genetic and demographic factors that influence this phenomenon in healthy aging and Alzheimer's disease progression.
The authors said: "The epidemic spreading theory constitutes a general framework for intra-brain region-to-region transference mechanisms in health and disease. Our next goal is to uncover how other pathologic factors, such as vascular dysregulation, interact with misfolded protein propagation in causing dementia. Identifying aberrant individual clearance levels as a major factor in Amyloid-beta proteins accumulation, as opposed to increased production levels, could imply a turning point for the development of therapeutic strategies in Alzheimer's disease."
###
Image Caption: The human brain´s structural connectome (below, center) modulates the propagation of toxic Amyloid-beta proteins, from non-binding (above, left) to advanced deposition patterns (above, right) associated with healthy and diseased brain states respectively. In the Amyloid-beta deposition images (above, from left to right) node sizes are proportional to the associated Amyloid-beta burden.
Image Credit: Iturria-Medina et al.
Image Link: http://www.plos.org/wp-content/uploads/2014/11/20-Nov-Medina.tif
All works published in PLOS Computational Biology are Open Access, which means that all content is immediately and freely available. Use this URL in your coverage to provide readers access to the paper upon publication: http://www.ploscompbiol.org/article/info:doi/10.1371/journal.pcbi.1003956
Contact: Yasser Iturria-Medina & Dr. Alan C. Evans
Address: Montreal,
Quebec H3A 2B4
CANADA
Phone: 15143986447 & 15143988926
Email: iturria.medina@gmail.com & alan@bic.mni.mcgill.ca
Citation: Iturria-Medina Y, Sotero RC, Toussaint PJ, Evans AC, the Alzheimer's Disease Neuroimaging Initiative (2014) Epidemic Spreading Model to Characterize Misfolded Proteins Propagation in Aging and Associated Neurodegenerative Disorders. PLoS Comput Biol 10(11): e1003956. doi:10.1371/journal.pcbi.1003956
Funding: Data collection and sharing for this project was funded by the Alzheimer's Disease Neuroimaging Initiative (ADNI) (National Institutes of Health Grant U01 AG024904) and DOD ADNI (Department of Defense award number W81XWH-12-2-0012). ADNI is funded by the National Institute on Aging, the National Institute of Biomedical Imaging and Bioengineering, and through generous contributions from the following: Alzheimer's Association; Alzheimer's Drug Discovery Foundation; BioClinica, Inc.; Biogen Idec Inc.; Bristol-Myers Squibb Company; Eisai Inc.; Elan Pharmaceuticals, Inc.; Eli Lilly and Company; F. Hoffmann-La Roche Ltd and its affiliated company Genentech, Inc.; GE Healthcare; Innogenetics, N.V.; IXICO Ltd.; Janssen Alzheimer Immunotherapy Research & Development, LLC.; Johnson & Johnson Pharmaceutical Research & Development LLC.; Medpace, Inc.; Merck & Co., Inc.; Meso Scale Diagnostics, LLC.; NeuroRx Research; Novartis Pharmaceuticals Corporation; Pfizer Inc.; Piramal Imaging; Servier; Synarc Inc.; and Takeda Pharmaceutical Company. The Canadian Institutes of Health Research is providing funds to support ADNI clinical sites in Canada. Private sector contributions are facilitated by the Foundation for the National Institutes of Health. The grantee organization is the Northern California Institute for Research and Education, and the study is coordinated by the Alzheimer's Disease Cooperative Study at the University of California, San Diego. ADNI data are disseminated by the Laboratory for Neuro Imaging at the University of Southern California. Data used in preparation of this article were obtained from the Alzheimer's Disease Neuroimaging Initiative (ADNI) database (adni.loni.usc.edu). As such, the investigators within the ADNI contributed to the design and implementation of ADNI and/or provided data but did not participate in analysis or writing of this report. The funders had no role in study design, data collection and analysis, decision to publish, or preparation of the manuscript.
Competing Interests: The authors have declared that no competing interests exist.
About PLOS Computational Biology
PLOS Computational Biology features works of exceptional significance that further our understanding of living systems at all scales through the application of computational methods. All works published in PLOS Computational Biology are Open Access. All content is immediately available and subject only to the condition that the original authorship and source are properly attributed. Copyright is retained. For more information follow @PLOSCompBiol on Twitter or contact ploscompbiol@plos.org.
About PLOS
PLOS is a nonprofit publisher and advocacy organization founded to accelerate progress in science and medicine by leading a transformation in research communication. For more information, visit http://www.plos.org.
---
Journal
PLoS Computational Biology