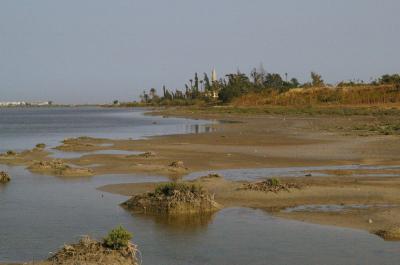 Climate change may have driven the collapse of once-flourishing Eastern Mediterranean civilizations towards the end of the 13th century BC, according to research published August 14 in the open access journal PLOS ONE by David Kaniewski from the University of Paul Sabatier, Toulouse, France and colleagues from other institutions.
Ancient civilizations flourished in regions of the Eastern Mediterranean such as Greece, Syria and neighboring areas, but suffered severe crises that led to their collapse during the late Bronze Age. Here, researchers studied pollen grains derived from sediments of an ancient lake in the region to uncover a history of environmental changes that likely drove this crisis. Shifts in carbon isotopes in the Eastern Mediterranean and in local plant species suggest that this lake was once a flourishing harbor that gradually dried into a land-locked salt lake. As a result, crop failures led to famines, repeated invasions by migrants from neighboring regions and eventually, the political and economic collapse of the Eastern Mediterranean civilizations at the end of the late Bronze Age.
Combining this data with archeological evidence from cuneiform tablets and correspondence between kings, the researchers suggest that the late Bronze Age crisis was a complex, single event comprised of climate change-induced drought, famines, sea-borne invasions and political struggles, rather than a series of unrelated events. They conclude that this event underlines the sensitivity of these agriculture-based societies to climate, and demystifies the crisis that led to their end.
###
Citation: Kaniewski D, Van Campo E, Guiot J, Le Burel S, Otto T, et al. (2013) Environmental Roots of the Late Bronze Age Crisis. PLoS ONE 8(8): e71004.doi:10.1371/journal.pone.0071004
Financial Disclosure: This research was funded by the Geological Survey of Belgium, the Universite´ Paul Sabatier - Toulouse 3, and the PAI PVI/34 (Belspo) project. This work is also a contribution to the Labex OT-Med (ANR-11-LABX-0061) funded by the « Investissements d'Avenir», French Government program of the French National Research Agency(ANR) through the A-Midex project (ANR-11-IDEX-0001-02). The funders had no role in study design, data collection and analysis, decision to publish, or preparation of the manuscript.
Competing Interest Statement: The authors have declared that no competing interests exist.
PLEASE LINK TO THE SCIENTIFIC ARTICLE IN ONLINE VERSIONS OF YOUR REPORT (URL goes live after the embargo ends): http://dx.plos.org/10.1371/journal.pone.0071004
Disclaimer: This press release refers to upcoming articles in PLOS ONE. The releases have been provided by the article authors and/or journal staff. Any opinions expressed in these are the personal views of the contributors, and do not necessarily represent the views or policies of PLOS. PLOS expressly disclaims any and all warranties and liability in connection with the information found in the release and article and your use of such information.
About PLOS ONE: PLOS ONE is the first journal of primary research from all areas of science to employ a combination of peer review and post-publication rating and commenting, to maximize the impact of every report it publishes. PLOS ONE is published by the Public Library of Science (PLOS), the open-access publisher whose goal is to make the world's scientific and medical literature a public resource.
All works published in PLOS ONE are Open Access. Everything is immediately available—to read, download, redistribute, include in databases and otherwise use—without cost to anyone, anywhere, subject only to the condition that the original authors and source are properly attributed. For more information about PLOS ONE relevant to journalists, bloggers and press officers, including details of our press release process and our embargo policy, see the everyONE blog at http://everyone.plos.org/media.
---