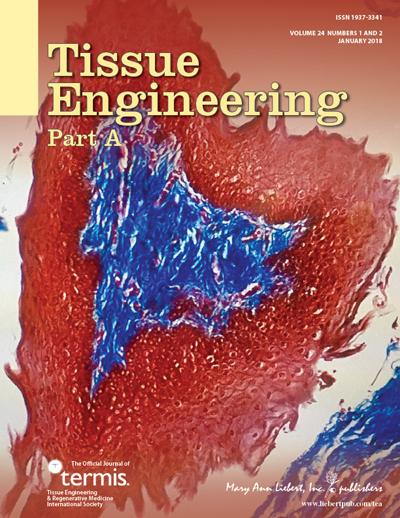 New Rochelle, NY, January 16, 2018--A new study describes novel probes that enable non-invasive, non-destructive, direct monitoring of the differentiation of mesenchymal stem cells (MSCs) in real-time during the formation of engineered cartilage to replace damaged or diseased tissue. These molecular probes make it possible to assess the quality of the cartilaginous tissue and its suitability for implantation as it is forming, and to make modifications to enhance the multi-step process of MSC differentiation into chondrocytes "on the go," as described in a study published in Tissue Engineering, Part A, peer-reviewed journal from Mary Ann Liebert, Inc., publishers. The article is available free on the Tissue Engineering (http://online.liebertpub.com/doi/full/10.1089/ten.tea.2017.0125) website until February 16, 2018.
Coauthors Diego Correa, MD, PhD, Case Western Reserve University (Cleveland, OH) and University of Miami, Miller School of Medicine (FL), and Rodrigo Somoza, PhD and Arnold Caplan, PhD, Case Western Reserve University report the significant advantages of these new molecular probes for improving the design and fabrication of engineered cartilage in the article entitled "Nondestructive/Noninvasive Imaging Evaluation of Cellular Differentiation Progression During In Vitro Mesenchymal Stem Cell-Derived Chondrogenesis." The researchers describe how they used promoters of well-established biomarkers of MSC differentiation to form chondrocytes (the cells that comprise cartilage) to develop the probes, and how the probes can be used to assess chondrogenesis in the laboratory as well as the differentiation of bone cells (osteogenesis) in the body.
Research reported in this publication was supported by the National Institutes of Health under Award Numbers1R01EB020367 and 1P41EB021911. The content is solely the responsibility of the authors and does not necessarily represent the official views of the National Institutes of Health.
###
About the Journal
Tissue Engineering is an authoritative peer-reviewed journal published monthly online and in print in three parts: Part A, the flagship journal published 24 times per year; Part B: Reviews, published bimonthly, and Part C: Methods, published 12 times per year. Led by Co-Editors-in-Chief Antonios G. Mikos, PhD, Louis Calder Professor at Rice University, Houston, TX, and John P. Fisher, PhD, Fischell Family Distinguished Professor & Department Chair, University of Maryland, the Journal brings together scientific and medical experts in the fields of biomedical engineering, material science, molecular and cellular biology, and genetic engineering. Leadership of Tissue Engineering Parts B (Reviews) and Part C (Methods) is provided by Katja Schenke-Layland, MSc, PhD, University Women's Hospital at Eberhard Karls University Tübingen, and John P. Fisher, PhD, University of Maryland. Complete tables of content and a sample issue may be viewed online at the Tissue Engineering website. Tissue Engineering is the official journal of the Tissue Engineering & Regenerative Medicine International Society (TERMIS). Complete tables of content and a sample issue may be viewed on the Tissue Engineering website.
About the Publisher
Mary Ann Liebert, Inc., publishers is a privately held, fully integrated media company known for establishing authoritative peer-reviewed journals in many promising areas of science and biomedical research, including Stem Cells and Development, Human Gene Therapy, and Advances in Wound Care. Its biotechnology trade magazine, GEN (Genetic Engineering & Biotechnology News) was the first in its field and is today the industry's most widely read publication worldwide. A complete list of the firm's 80 journals, books, and newsmagazines is available on the Mary Ann Liebert, Inc., publishers website.
---