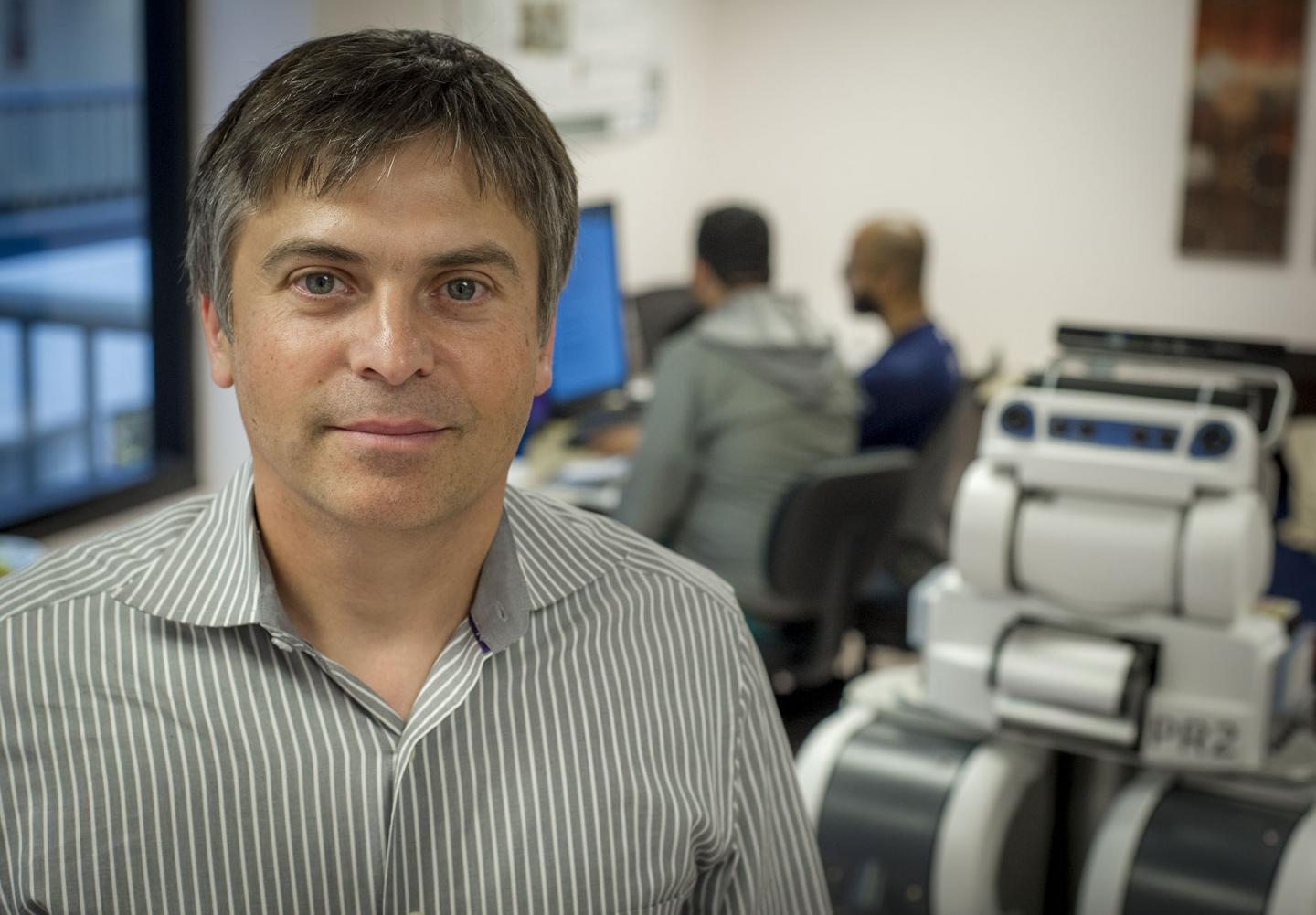 A University of Texas at Arlington electrical engineer is building a robotic nurse to help nurses and other healthcare providers perform the more routine duties that must be done daily such as sitting with a patient that is trying to get out of bed and walking a patient.
Dan Popa, an associate professor in the Electrical Engineering Department, won a $999,946 National Science Foundation Partnerships for Innovation: Building Innovation Capacity grant titled "Adaptive Robotic Nursing Assistants for Physical Tasks in Hospital Environments."
Popa will work with the UT Arlington College of Nursing and Health Innovation, Texas Health Resources and the UT Arlington Research Institute on the three-year project.
With nearly 3 million registered nurses employed in the United States, nurses make up the largest pool of healthcare providers in the country.
Deborah Behan, a clinical associate professor in the UT Arlington College of Nursing and Health Innovation, and Patricia Newcomb, a Texas Health Resources nurse scientist, are collaborating with Popa and the College of Engineering.
Behan said nurses spend an inordinate amount of time just sitting with patients who are in danger of falling and hurting themselves.
"We have to make sure patients are monitored or don't get out of bed without help," said Behan, who also is a nurse scientist for Texas Health Resources. "Why not have robots perform those tasks? The robot could alert the nurse if an emergency is about to occur."
Sara Nerlove, NSF program director, said that developing smart human-centered systems in healthcare has the potential to offer more efficient, effective and personalized care, with benefits for patients and health-care providers.
"What we learn in medical settings -- for example, about robot-human interactions -- could have implications for many other settings, ranging from factories to homes," Nerlove said.
Mickey McCabe, executive director at the UT Arlington Research Institute, said this collaboration among colleges and UTARI speaks volumes about where the research world is going.
"You have to hear from nurses in the field about what they do, what is needed and what can be done before attempting to build a robot that would help nurses with tasks," McCabe said. "Engineering can answer practical questions about how we care for patients. Dr. Popa's robot will help meet those challenges. UTARI provides the equipment and collaborative lab space for the ideas to merge."
The design process will take a year and will involve close collaboration with two robotics companies - RE2 Inc. in Pittsburgh, Pa., and Qinetic-North America in Waltham, Mass. The testing phase of the project will take place at the UT Arlington Research Institute and UTA's Smart Hospital. Once this phase is complete, the robot eventually will be tested in Texas Health Resources hospitals.
"We believe there is a big market for this kind of robot to assist nurses," Popa said. "The robot isn't designed to replace nurses, just to help make them more productive."
Behan said helping nurses lift patients would address the injuries nurses sustain in the workplace.
"There are many times nurses injure their backs from lifting patients," Behan said. "I would imagine that those injuries would decline if a robot could assist a patient in walking or to help prevent falling."
Popa's work will be based on the existing PR2 and DR20 robot platforms at UTARI, but part of his goal is to make a nursing robot look more like a nurse and less like a machine.
###
About The University of Texas at Arlington
The University of Texas at Arlington is a comprehensive research institution of more than 51,000 students in campus-based and online degree programs and is the second largest institution in The University of Texas System. The Chronicle of Higher Education ranked UT Arlington as one of the 20 fastest-growing public research universities in the nation in 2014. U.S. News & World Report ranks UT Arlington fifth in the nation for undergraduate diversity. The University is a Hispanic-Serving Institution and is ranked as a "Best for Vets" college by Military Times magazine. Visit http://www.uta.edu to learn more, and find UT Arlington rankings and recognition at http://www.uta.edu/uta/about/rankings.php.
About Texas Health Resources
Texas Health Resources is one of the largest faith-based, nonprofit health systems in the United States. The health system includes 25 acute care and short-stay hospitals that are owned, operated, joint-ventured or affiliated with Texas Health Resources. It includes the Texas Health Presbyterian, Texas Health Arlington Memorial, Texas Health Harris Methodist and Texas Health Huguley Hospitals, Texas Health Physicians Group, outpatient facilities, behavioral health and home health, preventive and fitness services, and an organization for medical research and education. For more information, please visit http://www.texashealth.org.
About UT Arlington Research Institute
The mission of The University of Texas at Arlington Research Institute is to bridge the gap between academic research and product development in the areas of prediction modeling of composites and advanced materials, automation, intelligent and unmanned systems, advanced manufacturing, biomedical technologies and biological microsystems. UTARI serves as host of industry symposia, consortia and events that bring partners together to further research and development. Visit http://www.uta.edu/utari/about/index.php to learn more.
---