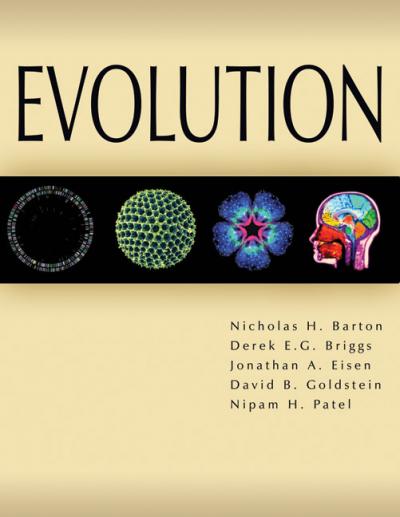 COLD SPRING HARBOR, N.Y. – In an innovative approach to the subject of evolutionary biology, a new book, Evolution, combines the contemporary fields of genetics and molecular biology with traditional evolutionary theories to provide an elegant, cohesive view of biology. The book, which was recently released by Cold Spring Harbor Laboratory Press (www.cshlpress.com), is geared toward all biologists seeking a clear, current, and comprehensive account of evolutionary principles and processes. It is a new and innovative choice of textbook for undergraduate courses in evolution.
"It is the most comprehensive book out there, with an admirable and clear presentation of the facts," wrote Trevor Price, Ph.D., in a pre-publication review of the text. "I personally learnt a great deal...the book as a whole would be useful for workers in the field as a source of reference and to give them breadth."
The branches of biology concerned with molecular events and evolutionary principles have developed independently of one another. But with recent breakthroughs in fields such as genomics, developmental biology, human genetics, and biochemistry, it has become yet more evident that evolutionary principles guide biological phenomena at all levels, and are essential to a practical understanding of these phenomena.
The authors, who are world-renowned experts from diverse biological backgrounds, illustrate how basic processes such as natural selection, optimization, and conflict occur at the molecular level as well as the organismal and ecological levels. They illuminate evolutionary principles and mechanisms with examples from across the spectrum of life—from "jumping genes" and RNA molecules, to populations of yeast and E. coli reared in the laboratory, to dung flies, lizards, and deer in their natural habitats.
"Evolutionary biology underpins all our knowledge of the living world," write the authors. "[It] is a synthesis of Darwinian natural selection and Mendelian genetics. It allows us to ask not just how life evolved, but why it is as it is: Why do organisms develop from a single cell? Why is the genetic code as it is? Why is there sexual reproduction?"
The book is divided into four sections. The first three sections detail the history of evolutionary and molecular biology, describe the origin and diversification of life over the past 3.5 billion years, and explain the fundamental mechanisms underlying evolutionary change. The final section is devoted to human evolution and diversity, merging recent insights from molecular techniques with paleontological evidence. For a complete table of contents, see http://www.cshlpress.com/link/evolutn.htm.
The supplementary Web site (www.evolution-textbook.org) will be useful to biologists who incorporate Evolution into their undergraduate- or graduate-level courses. The site includes two Web-only chapters, downloadable figures and tables from all chapters, a glossary, author notes with complete reference lists, discussion questions, chapter problems, links to useful Web sites, and other material, all of which are freely available.
###
About the book: Evolution ISBN 978-087969684-9, © 2007 Cold Spring Harbor Laboratory Press Hardcover, 833 pp., 8.5" × 11" trim size, 1200 color illus., glossary, index http://www.cshlpress.com/link/evolutn.htm, www.evolution-textbook.org
About the authors: Nicholas H. Barton's early research was on narrow zones of hybridization that subdivide many populations, with work on a variety of species, including grasshoppers, butterflies, and toads. More recently, his research, which has been mainly theoretical, is attempting to understand the influence of selection on complex traits, models of speciation, the evolution of sex and recombination, and the coalescent process. He is professor of Evolutionary Genetics at the Institute of Evolutionary Biology, University of Edinburgh.
Derek E.G. Briggs works on preservation and the evolutionary significance of exceptionally preserved fossils, including those of the Cambrian Burgess Shale of British Columbia. His current research focuses on the chemical changes that occur during the transformation from living organism to fossil. He is Frederick William Beinecke Professor of Geology and Geophysics at Yale University and Director of the Yale Institute for Biospheric Studies.
Jonathan A. Eisen uses a combination of genomic sequencing and evolutionary reconstruction methods to study the origin of novelty in microorganisms. Previously, he applied this phylogenomic approach to cultured organisms, such as those from extreme environments. Currently he is using phylogenomic methods to study microbes in their natural habitats, including symbionts living inside host cells and planktonic species in the open ocean. He is Professor in the Department of Medical Microbiology and Immunology and the Department of Evolution and Ecology at the University of California, Davis.
David B. Goldstein's principal interests include human genetic diversity, the genetics of neurological disease, population genomics, and pharmacogenetics. His laboratory currently investigates how human genetic variation influences the response to drug treatments for common neurological and cardiovascular disorders. He is Director of the Center for Population Genomics and Pharmacogenetics at the Duke University Medical Center.
Nipam H. Patel initially studied the development of several model and nonmodel species, including cows, chickens, grasshoppers, and Drosophila melanogaster. His research group studies the evolution of development, with a focus on the evolution of segmentation, neurogenesis, appendage patterning, and gene regulation. He is Professor in the Department of Molecular and Cell Biology and the Department of Integrative Biology at the University of California, Berkeley and an Investigator of the Howard Hughes Medical Institute.
About Cold Spring Harbor Laboratory Press: Cold Spring Harbor Laboratory Press is an internationally renowned publisher of books, journals, and electronic media, located on Long Island, New York. Since 1933, it has furthered the advance and spread of scientific knowledge in all areas of genetics and molecular biology, including cancer biology, plant science, bioinformatics, and neurobiology. It is a division of Cold Spring Harbor Laboratory, an innovator in life science research and the education of scientists, students, and the public. For more information, visit www.cshlpress.com.
---