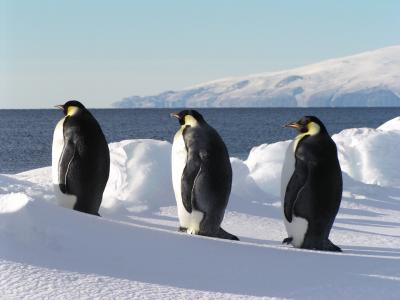 For the first time, researchers tracking the behavior of emperor penguins near the sea have identified the importance of sea ice for the penguins' feeding habits. The research, published November 21 in the open access journal PLOS ONE by Shinichi Watanabe from Fukuyama University, Japan and colleagues, Japan describes emperor penguin foraging behavior through the birds' chick-rearing season.
Unlike other species like Adelie penguins, emperor penguins spent much more time diving for food, and only used about 30% of their time at sea to take short breaks to rest on sea ice. The birds did not travel for long distances on the ice, or use it for other activities. The study also suggests that these short rest periods on sea ice may help the penguins avoid predators such as leopard seals.
Though sea ice conditions are known to affect penguin populations, the relationship between ice levels and penguins' foraging has been unclear because of the difficulties of tracking the birds at sea. Watanabe says, "The monitoring technique developed in this study will help to understand the relationship."
###
Citation: Watanabe S, Sato K, Ponganis PJ (2012) Activity Time Budget during Foraging Trips of Emperor Penguins. PLoS ONE 7(11): e50357. doi:10.1371/journal.pone.0050357
Financial Disclosure: This work was supported by NSF Grants OPP 0229638, 0538594 and 0944220, and by funds from the Japanese Society for the Promotion of Science (A19255001), and the program ''Bio-Logging Science of The University of Tokyo (UTBLS)''. The funders had no role in study design, data collection and analysis, decision to publish, or preparation of the manuscript.
Competing Interest Statement: The authors have declared that no competing interests exist.
---