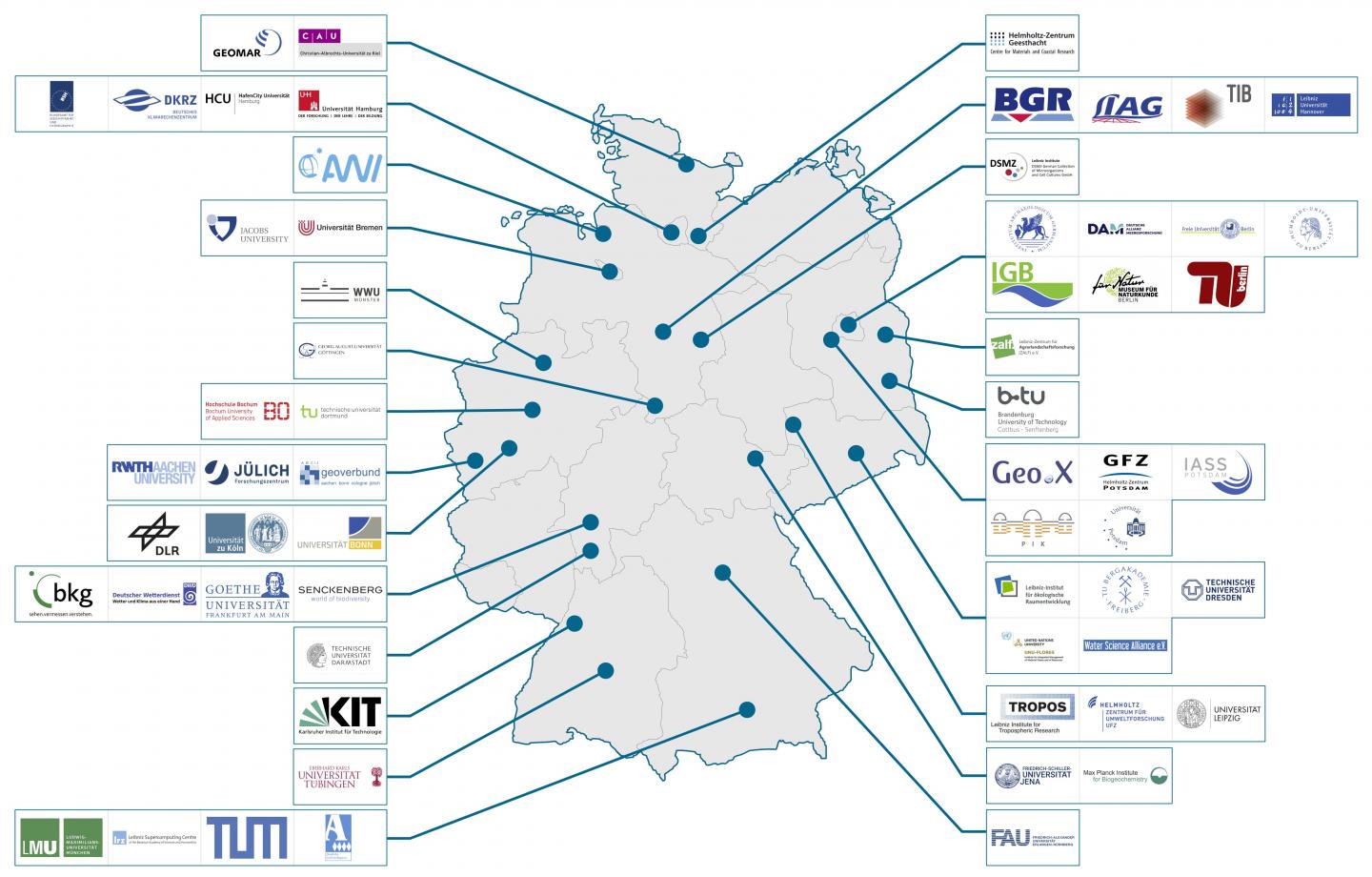 Research is becoming increasingly and more comprehensively digital. This means that digital research data, their provision and re-usability are of central importance for new scientific findings and innovations. With the establishment of the National Research Data Infrastructure (NFDI) in 2018, the federal and state governments intend to make research data more usable for national and international science in a better and sustainable way. In order to achieve this, the NFDI is to set standards in data management and ensure that research data is secured and can be further processed and reused for a variety of purposes. In the various NFDI consortia, joint solutions are to be developed by scientists at universities and research institutions in close cooperation with computing centers, libraries and archives for the subject-specific needs in research data management.
A total of 30 NFDI consortia are to receive funding of around 85 million euros per year for the next ten years. These will be selected in three funding rounds. On July 2, 2021, the GWK made the decisions for the second round of calls for proposals and has decided to fund an additional ten NFDI consortia. Thus, the GWK follows the recommendation of an international, science-guided review process, coordinated by the German Research Foundation (DFG).
TU Dresden is involved in six of the new consortia that have been recommended for funding in this second round: NFDI4Earth, NFDI4DataScience, NFDI-MatWerk, PUNCH4NFDI, FAIRmat and Text+. Together with the NFDI4Ing, NFDI4Culture, NFDI4Chem and NFDIGHGA consortia approved in the first round and launched in 2020, TU Dresden is participating in ten of the currently 19 funded NFDI consortia. Hence, Rector Prof. Ursula M. Staudinger emphasizes that "it is a great achievement for TU Dresden to play such a key role in the national and international development of innovative research data management".
NFDI4Earth: TU Dresden coordinates research data management for Earth System Sciences
The NFDI4Earth consortium is an essential component of the overall NFDI and integrates leading German institutions in Earth System Sciences. It comprises more than 50 institutions, including the Alfred Wegener Institute (Bremerhaven), the German Climate Computing Center (Hamburg), the German Research Center for Geosciences (Potsdam), the Karlsruhe Institute of Technology, the Max Planck Institute for Biogeochemistry (Jena), the Helmholtz-Centre for Environmental Research Leipzig, the Senckenberg-Leibniz Institution for Biodiversity and Earth System Research and the Universities of Leipzig, Frankfurt/Main, and Hannover. The spokesperson of the consortium for Earth System Sciences is Prof. Lars Bernard, geoinformation scientist and Chief Officer Digitization and Information Management of TU Dresden. He is joined by Prof. Wolfgang Nagel, Director of the Center for Information Services and High Performance Computing (ZIH) at TU Dresden, as co-spokesperson.
NFDI4Earth takes care of the digital needs of researchers in Earth System Sciences. A multitude of sensor and simulation data in very high spatial, temporal and thematic resolution leads to rapidly increasing data volumes. The description and assessment of Earth system processes, their interdependencies and changes therefore urgently require efficient research data management as well as more powerful collaboration environments for joint, cross-disciplinary data analysis.
Prof. Bernard explains: "NFDI4Earth connects existing research data repositories, creates cogent processes to provide quality-assured as well as easy-to integrate research data, while developing - also in an international context - the next generation of data exchange and analysis environments for the Earth System Sciences in a community-driven process. These platforms and methods form the basis for innovative and interdisciplinary research approaches that also address pressing global challenges such as climate change, water scarcity, land use change, pollution, and natural hazards."
###
Media Enquiries:
Jörg Seegert
Coordination Office NFDI4Earth
Chair of Geoinformatics TU Dresden
Email: joerg.seegert@tu-dresden.de
Prof. Lars Bernard
Spokesperson NFDI4Earth
CDIO TU Dresden
Email: cdio@tu-dresden.de
Websites:
NFDI at the DFG: https://www.dfg.de/nfdi/
NFDI4Earth: https://www.nfdi4earth.de/
PUNCH4NFDI: https://www.punch4nfdi.de/
NFDI-MatWerk: https://nfdi-matwerk.de/
FAIRmat: https://www.fair-di.eu/fairmat/fairmat_/consortium
Text+: https://www.text-plus.org/
NFDI4Ing: https://nfdi4ing.de/
NFDI4Culture: https://nfdi4culture.de/
NFDI4Chem: https://nfdi4chem.de/
NFDIGHGA: https://ghga.dkfz.de/
---