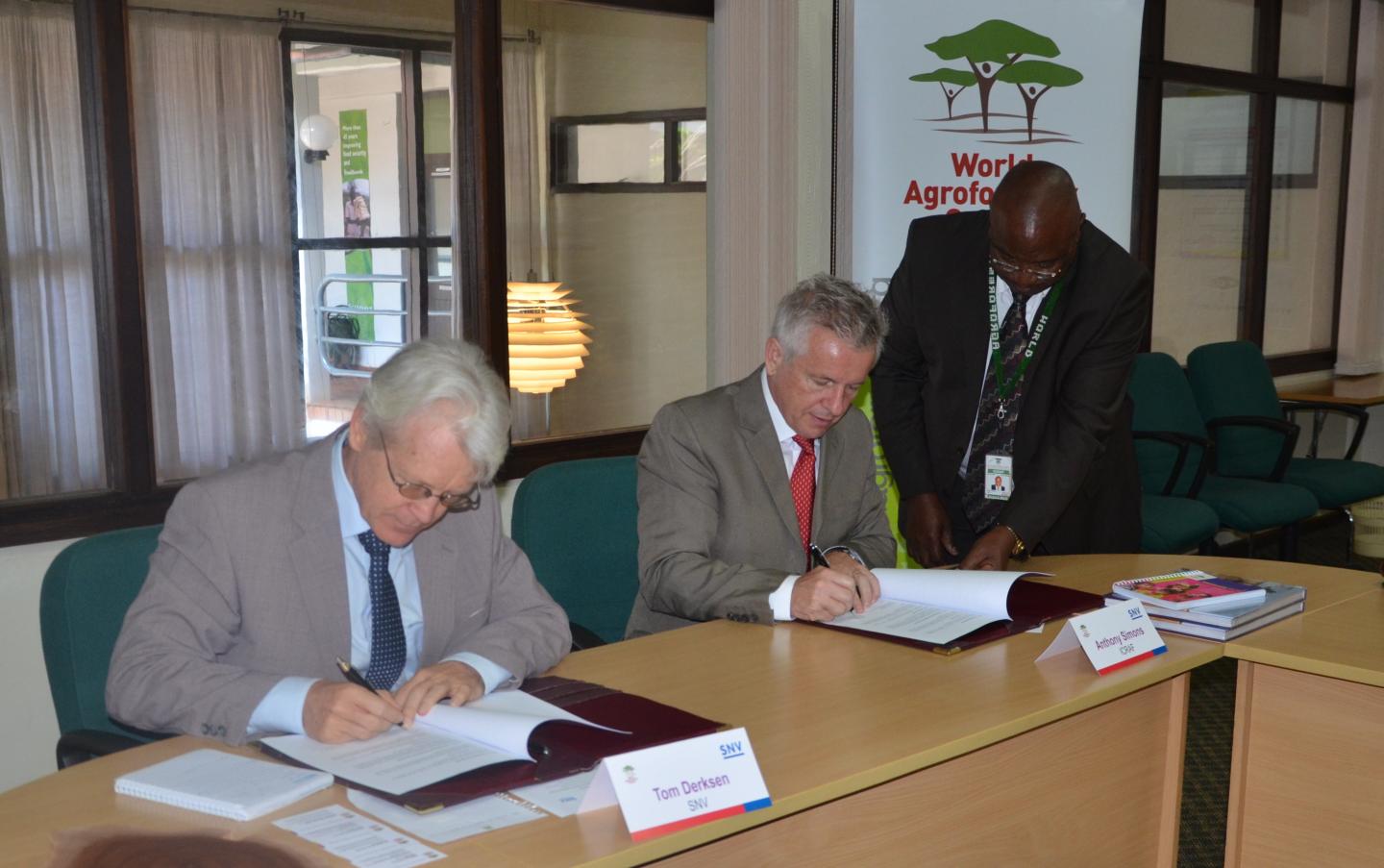 NAIROBI, 18 SEPTEMBER 2014: A new partnership between a CGIAR centre and a Dutch development organisation will help farmers create better, reliable and sustainable markets to reduce poverty. The World Agroforestry Centre (ICRAF) and SNV Netherlands Development Organisation on 17 September 2014 signed a memorandum of understanding aimed at establishing a long-term working relationship. Leveraging the two organisations' complementary key strengths—ICRAF's state-of-the-art research capacity and SNV's global reach and implementation capacity—they will work together to promote sustainable agriculture, fight hunger and malnutrition, and eliminate poverty.
At the memorandum of understanding signing ceremony at the ICRAF headquarters in Nairobi, ICRAF Director General Dr. Anthony Simons said ICRAF and SNV are "quality organisations and agents of change occupying different spaces in the research–development continuum."
"SNV is much better connected at the development 'coalface', yet very appreciative of the value of research and knowledge," said Simons.
"We want to bring more science into our work, and ICRAF is keen to reach high numbers of people, to multiply the impacts of what you do," said Dr. Tom Derksen, Managing Director for Agriculture at SNV. SNV works in 39 countries in Asia, Africa and Latin America.
"Ideas win, credibility wins. Our past success is a great indicator of what we will be doing together," said Simons.
Derksen said partnering is "the only way forward to make a dent into the complex issues our organisations are trying to solve. The issues that we are working on—agriculture, nutrition, agroforestry, climate change, poverty reduction—are really complex. They are not issues one single party can resolve; they require broader partnerships, with companies, businesses, local networks, financiers and financing organisations, research institutions, and policy makers."
One area of partnership for SNV and ICRAF is the development of an information communication technology (ICT) solution. It will help farmers make informed, market-driven choices on what to grow for more sustainable solutions , and to integrate agroforestry into their farm businesses. SNV has already started the development tool's design and development.
"This partnership between ICRAF and SNV will be fully market-driven," concluded Derksen.
###
About the World Agroforestry Centre (ICRAF)
World Agroforestry Centre (ICRAF) is a leading, international science-based research and development institution in the tropics, and a member of the Consultative Group on International Agricultural Research (CGIAR). For 30 years, the World Agroforestry Centre and its partners have worked with poor rural farmers throughout the tropics to develop innovative agroforestry-based practices that help them manage their limited resources. The Centre's vision is the transformation of lives and landscapes across the developing world through massive use of trees and agroforestry innovations. Its mission is to generate science-based knowledge about the diverse role trees play in agricultural landscapes and use its research to advance policies and practices to benefit the poor and the environment. For more information, go to http://www.worldagroforestry.org/ or follow ICRAF on Twitter @ICRAF
About SNV
SNV is a not-for-profit international development organisation. Founded in The Netherlands 50 years ago, we have built a long-term, local presence in 39 of the poorest countries in Asia, Africa and Latin America. Our global team of local and international advisors works with local partners to equip communities, businesses and organisations with the tools, knowledge and connections they need to increase their incomes and gain access to basic services – empowering them to break the cycle of poverty and guide their own development. For more information, go to http://www.snvworld.org or follow SNV on Twitter at @SNV_AGRI
---