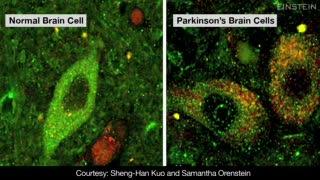 March 3, 2013— (Bronx, NY) — Researchers at Albert Einstein College of Medicine of Yeshiva University have discovered how the most common genetic mutations in familial Parkinson's disease damage brain cells. The study, which published online today in the journal Nature Neuroscience, could also open up treatment possibilities for both familial Parkinson's and the more common form of Parkinson's that is not inherited.
Parkinson's disease is a gradually progressing disorder of the nervous system that causes stiffness or slowing of movement. According to the Parkinson's Disease Foundation, as many as one million Americans are living with the disease.
The most common mutations responsible for the familial form of Parkinson's disease affect a gene called leucine-rich repeat kinase-2 (LRRK2). The mutations cause the LRRK2 gene to code for abnormal versions of the LRRK2 protein. But it hasn't been clear how LRRK2 mutations lead to the defining microscopic sign of Parkinson's: the formation of abnormal protein aggregates inside dopamine-producing nerve cells of the brain.
"Our study found that abnormal forms of LRRK2 protein disrupt an important garbage-disposal process in cells that normally digests and recycles unwanted proteins including one called alpha-synuclein – the main component of those protein aggregates that gunk up nerve cells in Parkinson's patients," said study leader Ana Maria Cuervo, M.D., Ph.D., professor of developmental and molecular biology , of anatomy and structural biology , and of medicine and the Robert and Renee Belfer Chair for the Study of Neurodegenerative Diseases at Einstein.
The name for the disrupted disposal process is chaperone-mediated autophagy (the word "autophagy" literally means "self-eating"). It involves specialized molecules that "guide" old and damaged proteins to enzyme-filled structures called lysosomes; there the proteins are digested into amino acids, which are then recycled within the cell.
"We showed that when LRRK2 inhibits chaperone-mediated autophagy, alpha-synuclein doesn't get broken down and instead accumulates to toxic levels in nerve cells," said Dr. Cuervo.
The study involved mouse neurons in tissue culture from four different animal models, neurons from the brains of patients with Parkinson's with LRRK2 mutations, and neurons derived from the skin cells of Parkinson's patients via induced pluripotent stem (iPS) cell technology. All the lines of research confirmed the researchers' discovery.
"We're now looking at ways to enhance the activity of this recycling system to see if we can prevent or delay neuronal death and disease," said Dr. Cuervo. "We've started to analyze some chemical compounds that look very promising."
Dr. Cuervo hopes that such treatments could help patients with familial as well as nonfamilial Parkinson's – the predominant form of the disease that also involves the buildup of alpha-synuclein.
Dr. Cuervo is credited with discovering chaperone-mediated autophagy. She has published extensively on autophagy and its role in numerous diseases, such as cancer and Huntington's disease , and its role in age-related conditions, including organ decline and weakened immunity. Dr. Cuervo is co-director of Einstein's Institute of Aging Research.
###
The paper is titled "Interplay of LRRK2 with chaperone-mediated autophagy." In addition to Dr. Cuervo, other Einstein contributors include Samantha J. Orenstein, a graduate student who performed most of this study as part of her Ph.D. thesis; Inmaculada Tasset, Ph.D.; Esperanza Arias, Ph.D.; and Hiroshi Koga, Ph.D., all members of Dr. Cuervo's group. Additional co-authors are: Sheng-Hang Kuo Ph.D., David Sulzer Ph.D., Etty Cortes, M.D., and Lawrence S. Honig, M.D. (Columbia University, NY); William Dauer, M.D., (University of Michigan, Ann Arbor, MI); Irene Fernandez-Carasa and Antonella Consiglio, Ph.D., (University of Barcelona, Barcelona Spain); and Angel Raya, M.D., Ph.D., (Institucio Catalana de Recerca I Estudies Avancas, Barcelona, Spain).
This work was supported by grants from the National Institute on Aging (AG031782 and AG08702), the National Institute of Neurological Disorders and Stroke (NS038370) Udall Center of Excellence both part of the National Institutes of Health; The Rainwaters Foundation, The Beatrice and Roy Backus Foundation, JPB Foundation; Parkinson's Disease Foundation; Fondazione Guido Berlucchi; Centers for Networked Biomedical Research; Ministry of Economy and Competitiveness; a Hirschl/Weill-Caulier Career Scientist Award; and a gift from Robert and Renee Belfer.
Albert Einstein College of Medicine
Albert Einstein College of Medicine of Yeshiva University is one of the nation's premier centers for research, medical education and clinical investigation. In 2012, Einstein received over $160 million in awards from the NIH for major research centers at Einstein in diabetes, cancer, liver disease, and AIDS, as well as other areas. Through its affiliation with Montefiore Medical Center, the University Hospital for Einstein, and six other hospital systems, the College of Medicine runs one of the largest residency and fellowship training programs in the medical and dental professions in the United States. For more information, please visit www.einstein.yu.edu and follow us on Twitter @EinsteinMed.
---
Journal
Nature Neuroscience