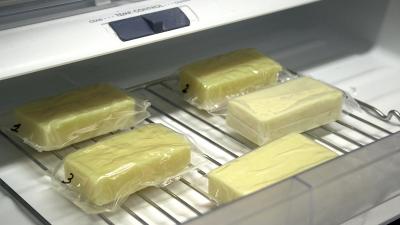 PHILADELPHIA, Aug. 21, 2016 -- At the grocery store, most foods -- meats, breads, cheeses, snacks -- come wrapped in plastic packaging. Not only does this create a lot of non-recyclable, non-biodegradable waste, but thin plastic films are not great at preventing spoilage. And some plastics are suspected of leaching potentially harmful compounds into food. To address these issues, scientists are now developing a packaging film made of milk proteins -- and it is even edible.
The researchers are presenting their work today at the 252nd National Meeting & Exposition of the American Chemical Society (ACS). ACS, the world's largest scientific society, is holding the meeting here through Thursday. It features more than 9,000 presentations on a wide range of science topics. A brand-new video on the research is available at http://bit.ly/ACSediblepackaging.
"The protein-based films are powerful oxygen blockers that help prevent food spoilage. When used in packaging, they could prevent food waste during distribution along the food chain," says research leader Peggy Tomasula, D.Sc.
And spoiled food is just one issue. Current food packaging is mainly petroleum-based, which is not sustainable. It also does not degrade, creating tons of plastic waste that sits in landfills for years.
To create an all-around better packaging solution, Tomasula and colleagues at the U.S. Department of Agriculture are developing an environmentally friendly film made of the milk protein casein. These casein-based films are up to 500 times better than plastics at keeping oxygen away from food and, because they are derived from milk, are biodegradable, sustainable and edible. Some commercially available edible packaging varieties are already on the market, but these are made of starch, which is more porous and allows oxygen to seep through its microholes. The milk-based packaging, however, has smaller pores and can thus create a tighter network that keeps oxygen out.
Although the researchers' first attempt using pure casein resulted in a strong and effective oxygen blocker, it was relatively hard to handle and would dissolve in water too quickly. They made some improvements by incorporating citrus pectin into the blend to make the packaging even stronger, as well as more resistant to humidity and high temperatures.
After a few additional improvements, this casein-based packaging looks similar to store-bought plastic wrap, but it is less stretchy and is better at blocking oxygen. The material is edible and made almost entirely of proteins. Nutritious additives such as vitamins, probiotics and nutraceuticals could be included in the future. It does not have much taste, the researchers say, but flavorings could be added.
"The coatings applications for this product are endless," says Laetitia Bonnaillie, Ph.D., co-leader of the study. "We are currently testing applications such as single-serve, edible food wrappers. For instance, individually wrapped cheese sticks use a large proportion of plastic -- we would like to fix that."
Because single-serve pouches would need to stay sanitary, they would have to be encased in a larger plastic or cardboard container for sale on store shelves to prevent them from getting wet or dirty.
In addition to being used as plastic pouches and wraps, this casein coating could be sprayed onto food, such as cereal flakes or bars. Right now, cereals keep their crunch in milk due to a sugar coating. Instead of all that sugar, manufacturers could spray on casein-protein coatings to prevent soggy cereal. The spray also could line pizza or other food boxes to keep the grease from staining the packaging, or to serve as a lamination step for paper or cardboard food boxes or plastic pouches. The U.S. Food & Drug Administration recently banned the perfluorinated substances that used to coat these containers, so casein coatings could be a safe, biodegradable alternative.
Bonnaillie says her group is currently creating prototype film samples for a small company in Texas, and the development has garnered interest among other companies, too. The group plans to keep making improvements, and she predicts this casein packaging will be on store shelves within 3 years.
A press conference on this topic will be held Monday, Aug. 22, at 11:15 a.m. Eastern time in the Pennsylvania Convention Center. Reporters may check in at Room 307 in person, or watch live on YouTube http://bit.ly/ACSlivephiladelphia. To ask questions online, sign in with a Google account.
###
The researchers acknowledge funding from the United States Department of Agriculture Agricultural Research Service.
The American Chemical Society is a nonprofit organization chartered by the U.S. Congress. With nearly 157,000 members, ACS is the world's largest scientific society and a global leader in providing access to chemistry-related research through its multiple databases, peer-reviewed journals and scientific conferences. Its main offices are in Washington, D.C., and Columbus, Ohio.
To automatically receive news releases from the American Chemical Society, contact newsroom@acs.org.
Note to journalists: Please report that this research is being presented at a meeting of the American Chemical Society.
Title
Advances in food packaging films from milk proteins
Abstract
Most commercial petroleum-based food packaging films are poor oxygen barriers, do not biodegrade, and some are suspected to even leach compounds into the food product. For instance, three-perfluorinated coatings were banned from convenience food packaging earlier this year. These shortcomings are a problem particularly with high-fat foods, which may solvate leached compounds faster and tend to oxidize. Packaging films made from milk proteins are excellent oxygen barriers, up to 500 times better than LDPE, and completely food-safe. In addition, they are hydrophilic and repel grease, can be eaten with the food product, and dissolve easily in hot or cold water. For these reasons, milk-based films are ideal candidates to coat convenience food packaging; layer between synthetic films to block oxygen; coat foods to preserve them and carry additional nutrients; or, form increasingly-popular single-serve pouches, which can be either eaten or dissolved, generating zero waste. This presentation reports ARS' recent advances in strengthening casein-based, edible packaging films, to physically protect food products, as well as mediate their hydrophilicity to customize their resistance to environmental conditions and/or rate of dissolution and enable a broad range of applications, from cheese-stick wrappers to healthy cereal glaze. The rheological, mechanical, thermal, structural, barrier and functional properties of solvent-cast casein-based films and coatings are characterized using state-of-the art, environmentally-controlled instrumentation such as DMA-RH, vapor-sorption analysis (VSA), oxygen permeability analysis, water vapor transmission, microscopy, and more. Due to the complex, charged, 3-D structure of protein monomers, casein films are sensitive to many formulation and processing parameters, including the caseinate type (calcium or sodium) and concentration, polysaccharide cross-linkers, alkalinity of the suspension, film-casting parameters, and the environmental conditions during drying, storage and testing conditions are critical to the mechanical properties and shelf-life of these hygroscopic, versatile edible polymers.
---