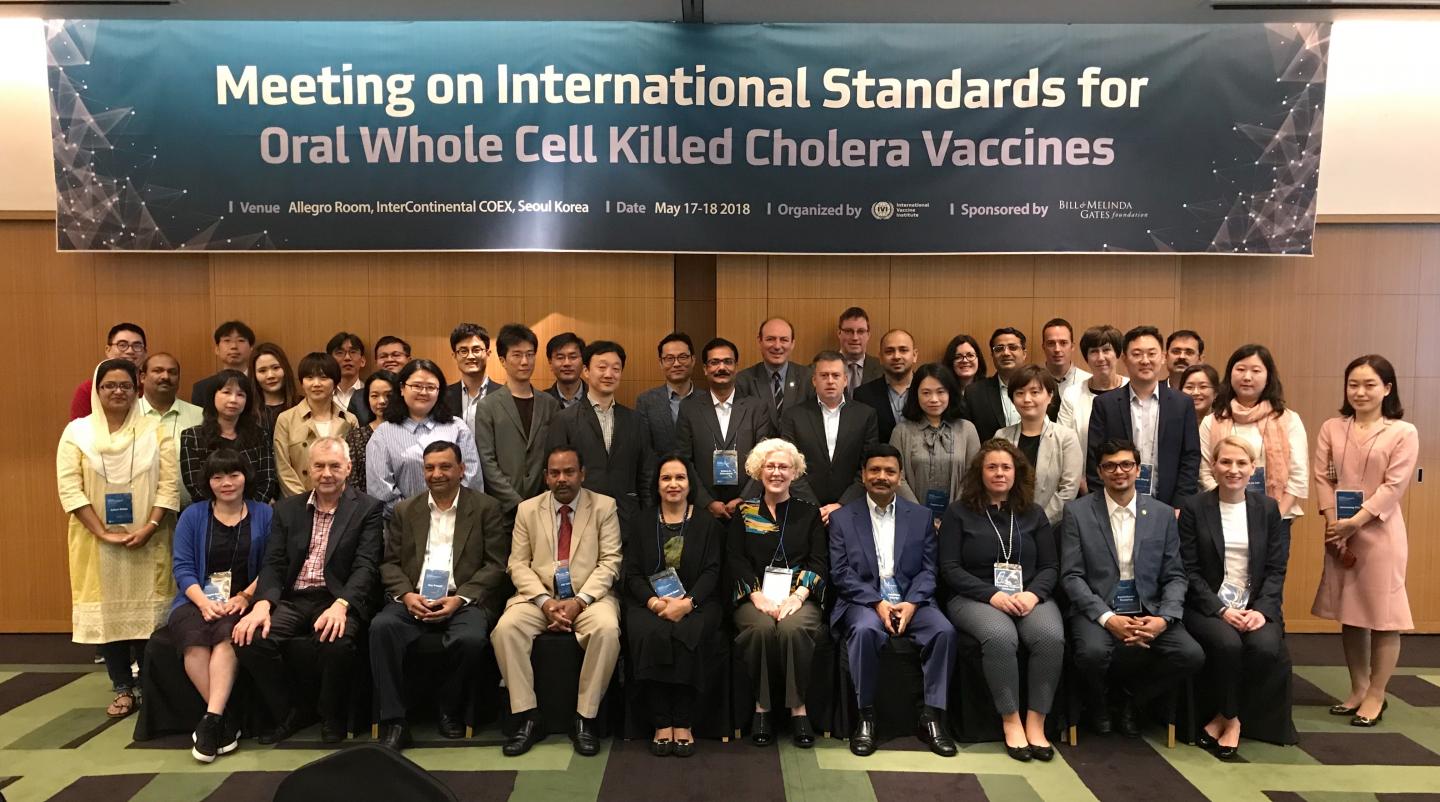 January 9, 2020 - SEOUL, South Korea - The International Vaccine Institute (IVI) received a $1.4 million grant from the Bill & Melinda Gates Foundation to ensure critical standards and reagents are available to low-cost oral cholera vaccine (OCV) manufacturers in the global health market. International standardization in the manufacturing and release of OCV will ultimately ensure sufficient supply of low-cost prequalified vaccines in the 39 Gavi countries, where demand currently exceeds the supply.
There are currently no International Standards or reference reagents available to vaccine manufacturers to test the cholera vaccine antigens containing bulk drug substances or products. This lack of standardization led IVI to organize a meeting in May 2018 on "International Standards for Oral Whole Cell Killed Cholera Vaccines," funded by the Gates Foundation. Representatives from leading research institutions and national regulatory agencies attended the meeting, as well as field experts in inactivated killed OCV from the World Health Organization (WHO) and the National Institute for Biological Standards and Control (NIBSC), to outline consensus on the specification of reagents for LPS inhibition ELISA to be established as WHO International Standards.
"Making available reference reagents will ensure uniform efficacy and allow multiple manufacturers to scale up production of low-cost cholera vaccine, which currently can't fulfill global demand," says Dr. Ravi Ganapathy, Head of Vaccine Process Development at IVI.
With this award from the Gates Foundation, IVI and NIBSC will develop and manufacture WHO International Standards for 01 Inaba, 01 Ogawa, and 0139 V. cholerae LPS ELISA assay. Eventual availability and use of the International Standards will enable existing and new OCV manufacturers and national control laboratories to calibrate in-house Inhibition ELISAs as well as its life cycle management. This increased in-house capacity will ensure proper regulation at national levels and maintain comparable efficacy of OCV worldwide.
IVI developed and completed technology transfer for the world's first low-cost WHO-prequalified OCV, currently stockpiled by the WHO and deployed to epidemic and endemic settings. Gavi, the Vaccine Alliance, a long-time supporter of the global stockpile, provides doses for use in cholera outbreaks and, increasingly, for preventive vaccination campaigns in high risk communities. As of November 2019, over 42 million doses of Euvichol / Euvichol-Plus have been released, and IVI is accelerating efforts to increase production capacity by implementing International Standards and exploring vaccine reformulation, another initiative supported by the Gates Foundation.
###
About International Vaccine Institute (IVI)
The International Vaccine Institute (IVI) is the world's only international organization devoted exclusively to discovery, development and delivery of safe, effective and affordable vaccines for global public health. Established in 1997 as an initiative of the United Nations Development Program, IVI operates as a nonprofit, independent international organization under a treaty signed by 35 countries and the World Health Organization. The Institute conducts research in more than 30 countries of Asia, Africa and Latin America on vaccines against enteric and diarrheal infections, Japanese encephalitis, MERS-CoV, and dengue fever, and develops new and improved vaccines at its headquarters in Seoul, South Korea. For more information, please visit http://www.ivi.int
CONTACT
Aerie Em, Global Communications & Media Specialist
+82 2 881 1386 | aerie.em@ivi.int
---