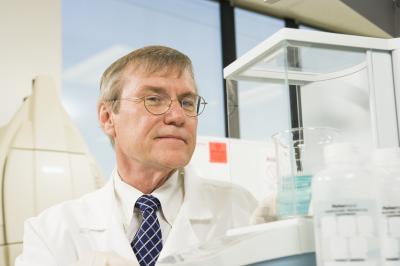 LOS ANGELES – (Sept. 3, 2014) – The North American Menopause Society (NAMS) will present Los Angeles Biomedical Research Institute (LA BioMed) researcher Rowan T. Chlebowski, MD, PhD, with the 2014 NAMS Lippincott/Williams & Wilkins Menopause Journal Best Paper Award at its annual meeting in Washington, D.C. in October.
The organization, which is dedicated to promoting the health and quality of life of all women during midlife and beyond, will recognize Dr. Chlebowski for his article, "Estrogen alone and joint symptoms in the Women's Health Initiative randomized trial."
This article was selected from all articles published in 2013, and the presentation of the award will take place at the NAMS 2014 Annual Meeting Oct. 15-18.
"Congratulations to Dr. Chlebowski for this honor for his scholarship and research," said David I. Meyer, PhD, LA BioMed president and CEO. "Dr. Chlebowski is a leader in both cancer prevention and women's health. The article, which won the award, is one of several significant studies he has authored or co-authored from the Women's Health Initiative, one of the largest U.S. prevention studies of its kind."
In addition to his research at LA BioMed, Dr. Chlebowski is the chief of Medical Oncology and Hematology at the Harbor-UCLA Medical Center and a professor of medicine at the UCLA David Geffen School of Medicine. He earned his doctorate degree in reproductive biology at Case Western Reserve University, where he also earned his medical degree.
After an internship and residency in internal medicine at Cleveland Metropolitan General Hospital, Dr. Chlebowski's fellowship brought him to the University of Southern California's School of Medicine. He has held positions in the UCLA health system since 1979.
Recently, Dr. Chlebowski has been best known for his work on significant clinical trials related to breast cancer prevention and therapy and women's health. He reported results of the Women's Intervention Nutrition Study, a multicenter adjuvant trial where a lifestyle intervention reduced breast cancer recurrence, at the 2005 American Society of Clinical Oncology (ASCO) Annual Meeting Plenary Session.
As a Women's Health Initiative investigator, Dr. Chlebowski led reports on estrogen alone and estrogen plus progestin influence on cancer endpoints. The findings have substantially changed clinical use of menopausal hormone therapy worldwide with an associated reduction in breast cancer incidence. He was also the recipient of the 2012 ASCO/American Cancer Society Award.
###
About LA BioMed
Founded in 1952, LA BioMed is one of the country's leading nonprofit independent biomedical research institutes. It has approximately 100 principal researchers conducting studies into inherited diseases, infectious diseases, illnesses caused by environmental factors and more. It also educates young scientists and provides community services, including prenatal counseling and childhood nutrition programs. LA BioMed is academically affiliated with the David Geffen School of Medicine at UCLA and located on the campus of Harbor-UCLA Medical Center. For more information, please visit http://www.LABioMed.org
---