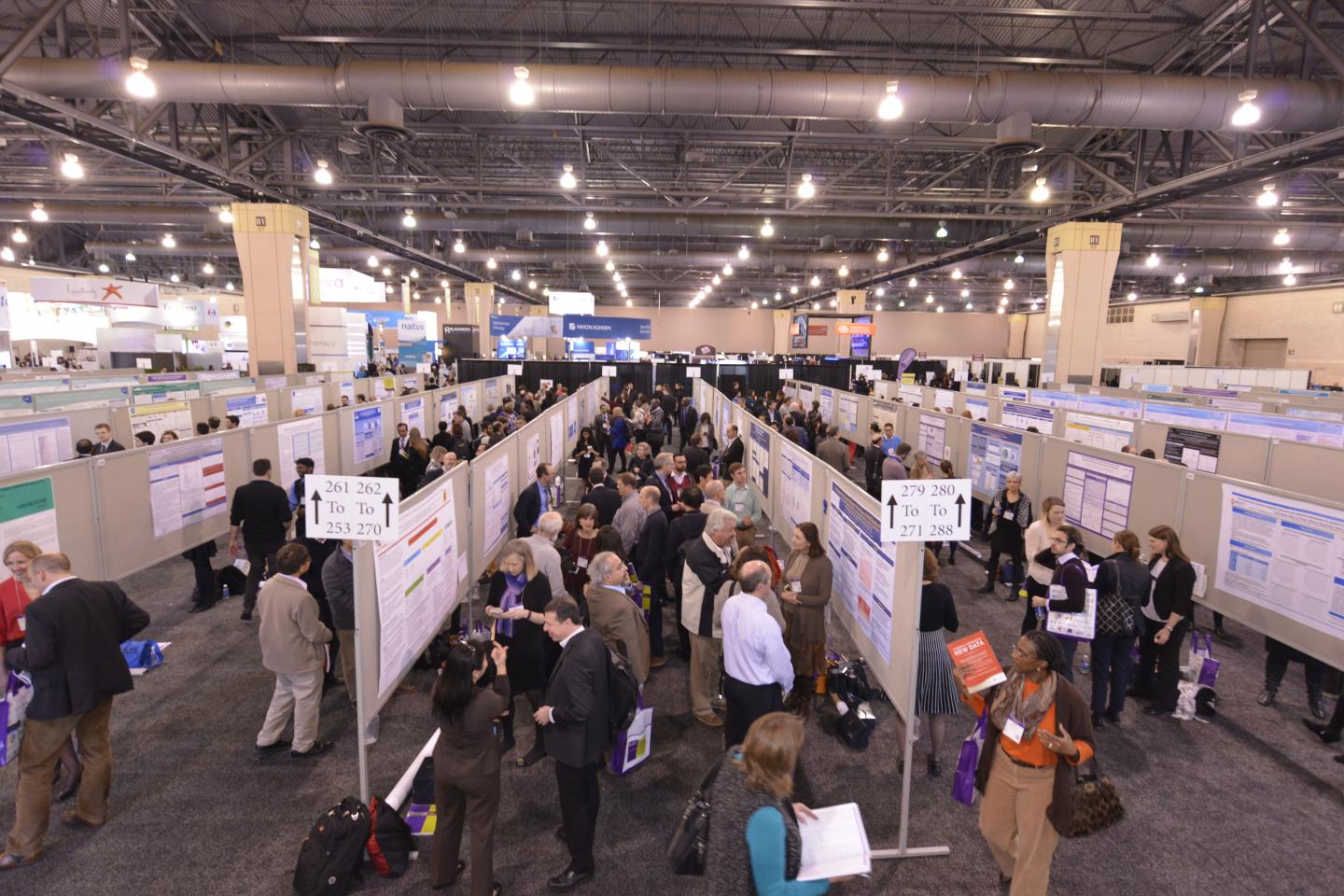 Epilepsy remains one of the most common neurological conditions, affecting one in 26 Americans in their lifetime, with one-third having a form of the condition that resists treatment or effective management. With those statistics in mind, more than 5,200 neurologists, scientists, nurses and health professionals came to Philadelphia December 4-8 for the 2015 American Epilepsy Society (AES) Annual Meeting to discuss new discoveries and emerging technologies that can lead to more effective treatment.
"AES hosts its Annual Meeting with one goal in mind -- to provide our broad community of epilepsy professionals with world-class education in order to take our understanding of epilepsy to the next level," said AES Executive Director Eileen Murray. "Thanks to our board, planning committee, members, speakers, exhibitors, attendees, and staff, we accomplished our goal."
This meeting marked the largest ever in its 69-year history, drawing attendees from all 50 states and more than 60 countries. During the four-day event, AES organized more than 100 symposia, lectures, and platform sessions and more than 1,200 research abstracts were presented. The meeting also featured a sold-out exhibit hall with nearly 200 exhibitors from major therapeutic and research companies and not-for-profit organizations. Popular topics at the Annual Meeting included:
Pharmaceutical CBD (cannabidiol) for severe epilepsy -- Global interest is growing in using CBD for children with severe epilepsy, and three studies presented at the meeting looked at safety and efficacy in the largest trial of CBD to date.
Personal monitoring devices - Three personal monitoring devices unveiled at the meeting offer biometric recording technology that could allow patients to monitor clinical and subclinical seizure activity in the everyday home environment and get advance warning before a seizure strikes.
Personalized medicine reveal new targets for epilepsy - Technological advances ranging from gene editing to next-generation sequencing offer unprecedented access to the human genome and promise to reshape the diagnosis and treatment of epilepsy.
Better management options for status epilepticus in children -- A medical emergency with a high mortality rate, status epilepticus requires prompt treatment, but what constitutes the appropriate care is an area of intense debate.
Interplay between epilepsy and aging - The largest and fastest-growing segment of people with epilepsy are those age 60 and older. People with epilepsy face a number of related health challenges, including cognitive, physical and psychological disorders. But new research suggests other, less expected consequences on the aging process, providing insights that shed light on the long-term implications of life with epilepsy.
A highlight of the Annual Meeting was the Judith Hoyer Lecture, sponsored by the National Institute of Neurological Disorders and Stroke. Jacqueline French, M.D., spoke on "Obstacles in Epilepsy Diagnosis: If You Don't Ask, They Won't Tell." The lecture is meant for both professionals and members of the public, to raise awareness of epilepsy and stimulate thinking about future advances.
Highlights and photos of the AES Annual Meeting can be found here in the AES press room and on the AES Facebook page.
###
About the American Epilepsy Society:
The American Epilepsy Society is a medical and scientific society whose members are engaged in research and clinical care for people with epilepsy. For more than 75 years, AES has provided a dynamic global forum where professionals from academia, private practice, not-for-profit, government and industry can learn, share and grow. Find out more at aesnet.org.
Information Contacts:
Natalie Judd, Big Voice Communication, 203-389-5223, natalie@bigvoicecomm.com
Tess Aaronson, Big Voice Communication, 203-389-5223, tess@bigvoicecomm.com
---