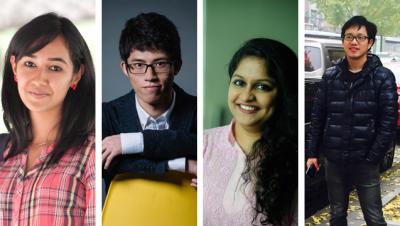 Winners of the 2017 EurekAlert! Fellowships for International Science Reporters say the opportunity to attend the world's largest general scientific meeting and network with reporters and scientists offers validation for their hard work while strengthening their resolve to communicate science to the public.
The Fellowship program, now in its 13th year, funds four early-career science reporters from emerging regions to attend the AAAS Annual Meeting. The 2017 meeting, themed "Serving Society Through Science Policy," will be held in Boston, MA Feb. 16-20.
A total of 23 applications from China and India topped last year's record, with candidates newer to science journalism careers than previous years.
"One of the main goals of the EurekAlert! Fellowships is to encourage science reporters at the dawn of their careers, and to help them build a network of mentors, peers, and contacts in the journalism and scientific communities," said Brian Lin, Director of Editorial Content Strategy at EurekAlert!. "The number of applications have improved steadily and many past Fellows are now leaders in science journalism in their countries."
Disha Shetty, a health reporter with the Daily News and Analysis (DNA) newspaper, based in Mumbai, is only one year into a full-time job as a health beat reporter. She has reported on tuberculosis in rural India with the help of the REACH National Media Fellowship.
She strives for solution-based journalism to "tell my readers the small but concrete things they can do to help conserve our planet at a time when global warming is at its peak," Shetty said. "I believe that [the AAAS Annual Meeting] will be a great learning opportunity for an early-career journalist like me to interact with such a diverse gathering including journalists from across the globe."
Tabassum Barnagarwala has worked with daily newspaper Indian Express for the past three years. Like Shetty, Barnagarwala covers health news but says the theme of the 2017 Annual Meeting is close to her heart. She has been a keen observer of "the micro and macro levels of governmental policies and the obstacles in their implementation" in Mumbai.
This is the third year the Fellowship program has featured India. The 2017 Fellows were selected by an independent panel of judges, including Malathy Iyer, Senior Editor with The Times of India. "Winners of the EurekAlert! Fellowships from India will gain immensely from attending the Boston conference as they will get to meet, listen and interact with science leaders," she said.
The two Chinese judges agreed that this year's applicants, with an average length-of-service of 2.5 years, showed "outstanding performance in science news reporting," said TAI Zixue, an associate professor in the School of Journalism and Telecommunications at the University of Kentucky.
"I am impressed by their solid grasp of timely and important issues on the frontlines of science and technology at both the domestic and global levels, and their acute understanding of the relevance to everyday life," he added.
ZENG Ding has been reporting for Phoenix Weekly, a popular Chinese current affairs magazine, since 2013. In addition to winning an international journalism contest, he earned a series of awards for an in-depth report on Chinese herbal medicine. "Since I do in-depth reporting, what attracts me the most [about the Annual Meeting] are sessions on medical sciences and public health," Zeng said. Winning this Fellowship "offers me the opportunity to listen and have face-to-face chats with the best scientists from all over the world."
HUANG Tianle is the second winner in as many years from Chinese science news website Guokr.com. He is excited about the science communication seminars at the Meeting. "Now I have the opportunity to learn how the world's best science communicators do their job," he said. "I'd love to humbly learn from them, push myself to the next level and encourage young people to make their own [career] decision and prove themselves right."
Both Huang and Zeng have a background in science, which may have contributed to their reporting. "They are producing high-quality science news stories with sound and accurate scientific information," said Joy Ma, Editorial Content Manager at EurekAlert! Chinese, adding that many Chinese applicants submitted entries with "easily accessible and relatable writing styles providing in-depth analysis and perspectives."
The 2017 Fellows are:
Tabassum Barnagarwala, Indian Express
HUANG Tianle (黄天乐), Guokr.com
Disha Shetty, Daily News and Analysis
ZENG Ding (曾鼎), Phoenix Weekly
Background

About the Fellowships
Established in 2004 with a seed grant from the William T. Golden Endowment Fund for Program Innovation and sponsored by EurekAlert!, the AAAS-operated science-news service, the EurekAlert! Fellowships for International Science Reporters support early-career science reporters from emerging economies by providing them with opportunities to cover the latest research and network with peers from around the world at AAAS Annual Meetings.
Applicants must have five years or less of professional science journalism experience, meet EurekAlert!'s longstanding reporter-registrant eligibility criteria, and submit a complete application including published writing samples, a letter of recommendation, and an original essay.
Past fellows have represented the Middle East, Africa, Central and South America, and China. For more information about the 2017 Fellowship winners or to find their meeting coverage, visit: http://www.eurekalert.org/fellows. Previous Fellowship winners from India and China were announced here: 2016, 2015.

Biography of 2017 Fellows (in alphabetical order)

Tabassum Barnagarwala

has been a health reporter with the Indian Express newspaper for three years. She also covers society, women and children, and the environment. Memorable assignments include stories about malnutrition, mental illness, tuberculosis, AIDS, and multi-layered issues plaguing the slums and rural populations. Intrigued by the issues and identities of the varied social strata in rural areas, she loves to read and travel to better understand these populations. She comes from Indore and currently lives in Mumbai, where she has closely observed the way government policies function and the obstacles faced in their implementation.

HUANG Tianle (黄天乐)

is a science reporter at Guokr.com, a Beijing-based science news website. Raised in a family where both of his parents were athletes, he showed interest in various sports at a very young age. Captivated by the smoothness of human movement, he not only trained and competed in different sports, but also became curious about the biological nature of the body. Later, he majored in biotechnology and earned a Bachelor of Science at Sun Yat-sen University. In 2013, he joined Guokr to become a science journalist, mainly focusing on research or discoveries in biology. During the first three years of his career, he has interviewed hundreds of scientists about their work and opinions. In addition to writing about research breakthroughs, he also experiments with live broadcasting or making short videos.

Disha Shetty

, a Mumbai-based Senior Correspondent with the daily newspaper DNA, is passionate about health reporting. Although this is her first year working as a full-time reporter, she previously worked in various part-time writing and editing roles with World Wide Media and Times Group. Her diverse background in print, broadcast, and digital media has allowed her to better understand storytelling - an indispensable skill in today's competitive media landscape. She holds a Bachelor of Mass Media degree from Mumbai University and a Post-Graduate Diploma in Broadcast Journalism from the Asian College of Journalism in Chennai. She is also the recipient of a REACH National Media Fellowship to cover TB in rural India.

ZENG Ding (曾鼎)

has been working as a senior reporter in the Chinese news magazine Phoenix Weekly since 2013. He has covered a wide range of stories about health, the environment and other science topics. He is a winner of the 2016 Global Health Reporting Contest, hosted by International Center for Journalists in Washington, DC. His in-depth report about the Chinese Herbal Medicine- Induced Liver Injury Investigation and the Forgotten Leprosy Generation won a series of awards in national journalism contests. Prior to his current position, he worked for Chinese science news website Guokr.com. He holds a Bachelor's degree in Environment Science and Technology from Shanghai Jiaotong University.
Judges
Malathy Iyer is a senior editor (health) with The Times of India, Mumbai, with over 20 years of experience. When not chasing the big outbreaks of bird flu and swine flu or tracking the emergence of total drug-resistant tuberculosis, she focuses on issues of urban health care systems and women and children with special needs.
T. V. Padma reports on science from India. She coordinated freelance contributions from the region and liaised with key organizations that partnered with SciDev.Net activities. She holds a post-graduate degree in science from the University of Delhi, India, has worked as a science correspondent with the Press Trust of India, and ran development communication projects for Panos South Asia. She also writes for Nature Medicine and has contributed to New Scientist and Inter Press Service.
TAI Zixue joined the media arts and studies faculty at the University of Kentucky in 2007. He teaches courses in multimedia and interactive game development, global communication, telecommunications policy and regulation, and other courses examining the interplay of new media and society. Previously, he taught at Southern Illinois University Edwardsville (SIUE) and Shanghai International Studies University (SISU). His research interests focus on global communication with a special emphasis on the transformation of Chinese media in the new millennium. His research has appeared in journals such as International Communication Gazette, Journalism & Mass Communication Quarterly, New Media & Society, Journal of Communication. He is the author of The Internet in China: Cyberspace and Civil Society (Routledge, 2006). Prof. Tai holds a doctorate in mass communication from the University of Minnesota - Twin Cities, a Master of Software Systems from the University of St. Thomas (Minnesota), and an MA from Shanghai International Studies University.
XIONG Lei is a senior journalist, author, and translator based in China. Formerly Executive Director of China Features, a syndicate with Xinhua News Agency providing text and photo essays about China to media clients around the world, she has been teaching journalism as a guest professor at Beijing Foreign Studies University, Tsinghua University, and Renmin University of China since her retirement in 2006. Xiong has co-authored and translated a number of publications, including Portraits of Ordinary Chinese (Foreign Language Press, 1992), The Last Paradise (China Intercontinental Press, 2008), China Ink: Changing Face of Chinese Journalism (Rowman & Littlefield Publishers, 2008), and China Insight (Environmental Science Press, 2009). She also serves as a media consultant with the Global Environmental Institute, a Beijing-based Chinese non-profit and non-governmental think tank.
###
The American Association for the Advancement of Science (AAAS) is the world's largest general scientific society and publisher of the journal Science as well as Science Translational Medicine, Science Signaling, a digital, open-access journal, Science Advances, Science Immunology, and Science Robotics. AAAS was founded in 1848 and includes nearly 250 affiliated societies and academies of science, serving 10 million individuals. Science has the largest paid circulation of any peer-reviewed general science journal in the world. The non-profit AAAS is open to all and fulfills its mission to "advance science and serve society" through initiatives in science policy, international programs, science education, public engagement, and more. For the latest research news, log onto EurekAlert!, the premier science-news Web site, a service of AAAS. See http://www.aaas.org.
About EurekAlert!
Founded by AAAS in 1996, EurekAlert! is an editorially independent, online science news service. Thousands of reporters around the globe use EurekAlert! to access news and resources from the world's top research organizations. For free access to EurekAlert!, visit http://www.EurekAlert.org.
---