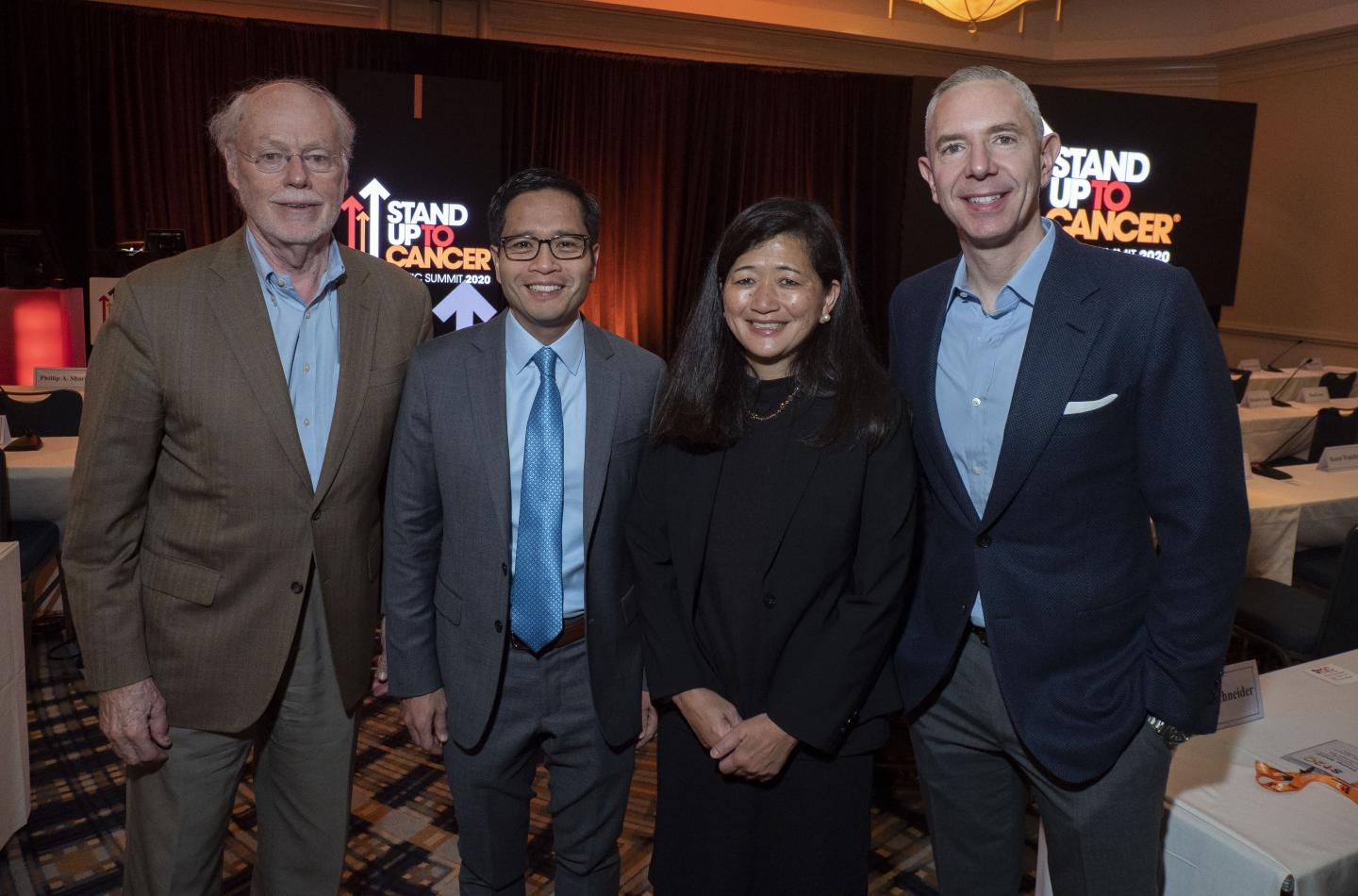 SANTA MONICA, CA. - January 27, 2020 - Stand Up To Cancer (SU2C) announced today that an international team of experts will take a new approach to fighting the world's third-leading cause of cancer death -- stomach (or gastric) cancer.
"Too often, gastric cancer is detected at an advanced stage, when it is very hard to treat," said Phillip A. Sharp, PhD, Institute professor, David H. Koch Institute for Integrative Cancer Research of MIT, the Nobel Laureate who serves as chair of SU2C's Scientific Advisory Committee. "This new team will apply its technological prowess to the challenge of detecting gastric cancer at an early stage, potentially saving many thousands of lives."
The SU2C Gastric Cancer Interception Research Team: Early Detection and Interception of Diffuse and Intestinal Gastric Cancer was introduced at the SU2C Scientific Summit 2020, a meeting organized by the American Association for Cancer Research, SU2C's Scientific Partner, at which scientists, advocates, funders, and others hear reports on the progress of numerous SU2C-supported teams and individual researchers.
The $3 million research team will be funded over three years and is supported by generous grants from the Cless Family Foundation and Sara & Jeff Schottenstein Family Charitable Fund.
Andrew T. Chan, MD, MPH, professor of medicine at Harvard Medical School and director of cancer epidemiology at the Massachusetts General Hospital Cancer Center, will serve as leader of the SU2C Gastric Cancer Interception Research Team. The co-leader is Sandra Ryeom, PhD, associate professor of cancer biology at the University of Pennsylvania's Perelman School of Medicine. The team features researchers from the University of Chicago, City of Hope Comprehensive Cancer Center, Memorial Sloan Kettering Cancer Center and Samsung Medical Center.
The Research Team will conduct intensive studies to identify biomarkers, such as particular bits of DNA and cells that are shed from the tumor that circulate in the blood system and indicate the presence of gastric cancer.
"Gastric cancer can be a devastating diagnosis because it carries such a poor prognosis," stated Marty Cless. "After witnessing my father lose his battle with this disease, the urgency is early detection. Developing new diagnostic tools to find these cancers earlier will improve patient outcomes and change the prognosis from dire to hopeful."
"Bringing early interception to gastric cancer patients in collaboration with SU2C and the Cless family is key to help gastric patients triumph over this devastating disease," said Jeff Schottenstein. "This project honors the memory of my inspirational, kind and beautiful wife, Sara Schottenstein, who lost her battle with gastric cancer in 2016. Sara was such a warm and loving person. I am deeply touched to know that her legacy includes helping others in such a meaningful way."
In addition to U.S.-based scientists, the team includes researchers at the Samsung Medical Center in Seoul, South Korea, the country with the highest rate of stomach cancer in the world, according to the World Cancer Research Fund (WCRF).
Stomach cancer - also known as gastric cancer - is the fifth most common cancer worldwide, and third-leading cause of cancer death, according to the WCRF. Around 952,000 new cases of stomach cancer occurred around the world in 2012, accounting for seven per cent of all new cases of cancer. About 70 per cent of cases of stomach cancer occur in less developed countries with about half of all cases in Eastern Asia, particularly China.
In the United States, the rate of survival five years after diagnosis is only 32 percent, according to the National Cancer Institute. Survival rates are lower in less-developed countries, according to the WCRF. The poor prognosis is attributed largely to the fact that symptoms often appear only at a late stage in the development of the cancer.
"We have been actively involved in developing new endoscopic imaging techniques that can define areas of the stomach that are at high risk of developing cancer," Chan said. "We can also use this information to derive new blood-based biomarkers that can be used for early detection of stomach cancer."
Techniques to be explored include a tiny, pill-sized camera that can be swallowed by a patient without sedation, Chan said. This camera can provide detailed images of the lining of the stomach to identify abnormal areas that might be precancerous.
When validated in clinical trials, the refined techniques will help doctors detect precancers in populations at high risk.
The team will be the sixth SU2C team focusing on Cancer Interception, which is the concept of detecting and diagnosing cancer at a very early stage and/or developing techniques to prevent precancerous lesions from developing into full-blown cancer. Teams established earlier focus on cancers of the lung and pancreas and on multiple myeloma, a malignancy of the bone marrow.
Key team members include:
Andrew T. Chan, MD, MPH
Massachusetts General Hospital
Team Leader
Sandra Ryeom, PhD
University of Pennsylvania
Co-leader
Daniel Catenacci, MD
University of Chicago
Principal
Jeeyun Lee, MD
Samsung Medical Center
Principal
Yanghee Woo, MD
City of Hope Comprehensive Cancer Center
Principal
Sam Yoon, MD
Memorial Sloan Kettering Cancer Center
Principal
Marina Magicheva-Gupta
Massachusetts General Hospital
Project Manager
Patient Advocates
Aki Agata Smith
Stomach Cancer Awareness Network
Patient Advocate
Marisa Ajdelman
Stomach Cancer Awareness Network P
atient Advocate
###
About Stand Up To Cancer
Stand Up To Cancer® (SU2C) raises funds to accelerate the pace of research to get new therapies to patients quickly and save lives now. SU2C, a division of the Entertainment Industry Foundation, a 501(c)(3) charitable organization, was established in 2008 by media and entertainment leaders who utilize these communities' resources to engage the public in supporting a new, collaborative model of cancer research, to increase awareness about cancer prevention, and to highlight progress being made in the fight against the disease. As of December 2019, more than 1,600 scientists representing more than 180 institutions are involved in SU2C-funded research projects.
Under the direction of our Scientific Advisory Committee, led by Nobel laureate Phillip A. Sharp, Ph.D., SU2C operates rigorous competitive review processes to identify the best research proposals to recommend for funding, oversee grants administration, and ensure collaboration across research programs.
Current members of the SU2C Council of Founders and Advisors (CFA) include Katie Couric, Sherry Lansing, Kathleen Lobb, Lisa Paulsen, Rusty Robertson, Sue Schwartz, Pamela Oas Williams, and Ellen Ziffren. The late Laura Ziskin and the late Noreen Fraser are also co-founders. Sung Poblete, Ph.D., R.N., serves as SU2C's CEO. For more information, visit StandUpToCancer.org.
About The Cless Family Foundation
The Cless Family Foundation was formed in 1991 by Ruth & Gerhard Cless. Since its inception, the Foundation's focus has been dedicated to improving and supporting education in the Sciences, Technology and Engineering. The Foundation's support has evolved to include promising advancements in the medical field as our family, like many others, has faced life threatening illnesses and want to do whatever we can to improve future outcomes. Today, Gerhard's legacy is carried on by the Cless children & grandchildren who were taught to live by the golden rule, support causes you believe in and help those under served.
About the Sara and Jeff Schottenstein Foundation
The Sara and Jeff Schottenstein Fund honors Sara Schottenstein who lost her brave battle against gastric cancer in 2016 by supporting cancer patients and cancer research, particularly championing gastric cancer research. Sara was kind, warm and beautiful, and deeply loved and respected by her family, friends and community. Her legacy lives on through her three adoring children as well as the critical work of this Fund.
About the American Association for Cancer Research
Founded in 1907, the American Association for Cancer Research (AACR) is the world's first and largest professional organization dedicated to advancing cancer research and its mission to prevent and cure cancer. AACR membership includes 44,000 laboratory, translational, and clinical researchers; population scientists; other health care professionals; and patient advocates residing in 120 countries. The AACR marshals the full spectrum of expertise of the cancer community to accelerate progress in the prevention, biology, diagnosis, and treatment of cancer by annually convening more than 30 conferences and educational workshops, the largest of which is the AACR Annual Meeting with more than 22,500 attendees. In addition, the AACR publishes eight prestigious, peer-reviewed scientific journals and a magazine for cancer survivors, patients, and their caregivers. The AACR funds meritorious research directly as well as in cooperation with numerous cancer organizations. As the Scientific Partner of Stand Up To Cancer, the AACR provides expert peer review, grants administration, and scientific oversight of team science and individual investigator grants in cancer research that have the potential for near-term patient benefit. The AACR actively communicates with legislators and other policymakers about the value of cancer research and related biomedical science in saving lives from cancer. For more information about the AACR, visit http://www.AACR.org.
Media Contact:
Jane E. Rubinstein
Sr. VP Communications
646-386-7969 ofc / 516-993-0708 cell
jrubinstein@su2c.org
---