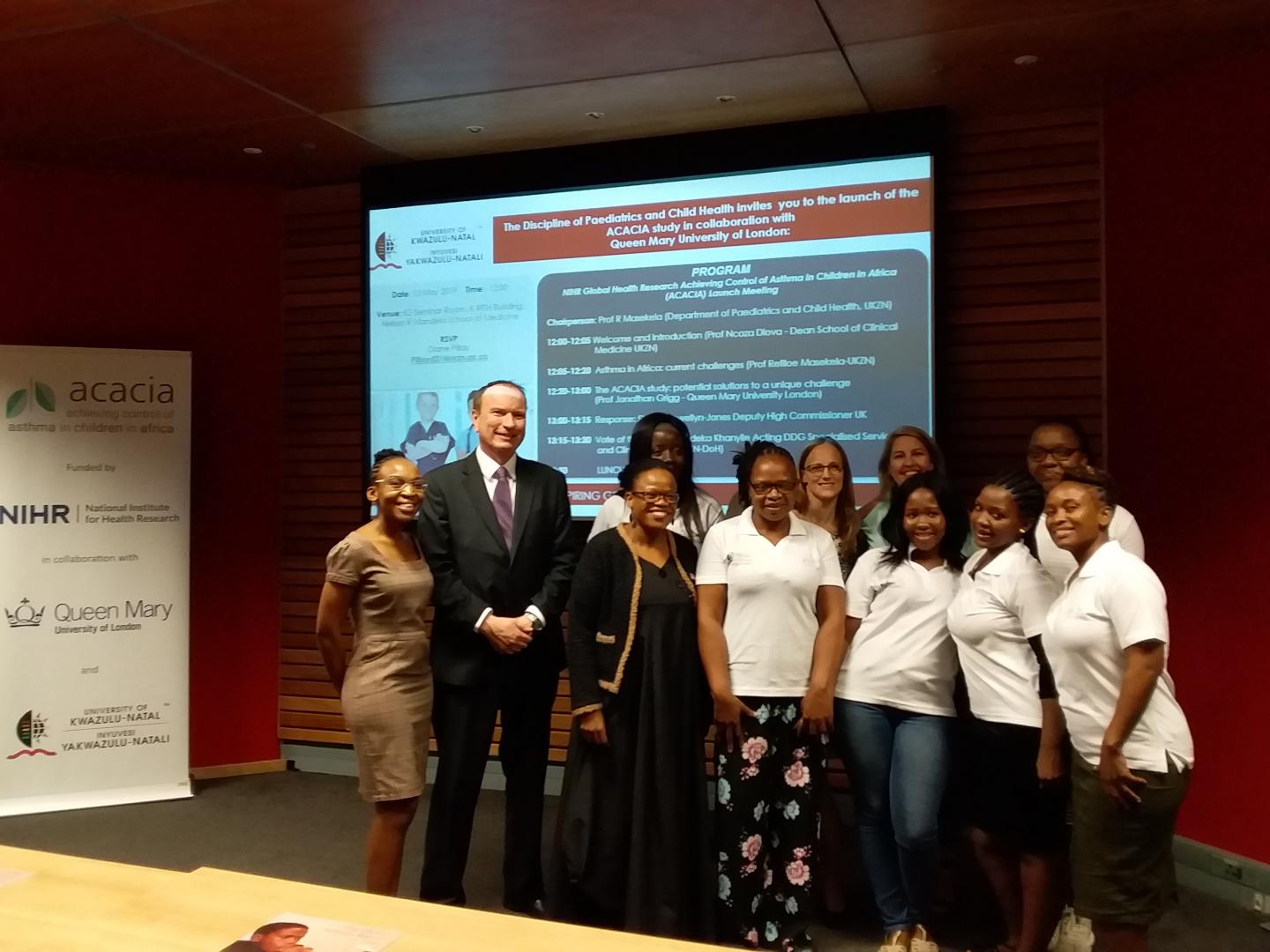 A new project to improve asthma in African children has been officially launched at an event in Durban, South Africa.
The 'Achieving Control of Asthma in Children In Africa' (ACACIA) study, led by Queen Mary University of London, is a £2 million study funded by the National Institute for Health Research (NIHR). It will involve 3,000 children aged between 12 and 16 years old who have symptoms of asthma, and take place over three years in Ghana, Nigeria, South Africa, Uganda, Malawi and Zimbabwe.
The launch event at University of KwaZulu-Natal (UKZN) included a speech by Ben Llewellyn-Jones OBE, British Deputy High Commissioner to South Africa, who announced his support for the study.
Asthma in African children was previously not thought to be a major health issue. But more African children are developing the long-term disease as they move to urban areas. South Africa has one of the highest mortality rates from asthma worldwide. Recent surveys in schools found that between 10 and 20 per cent of children in sub-Saharan Africa aged 13 to 14 have ongoing asthma symptoms.
A similar UK study led by the Queen Mary University of London research group found that 46 per cent of young people had suboptimal asthma control, and that many young people faced a range of barriers to good asthma management, including lack of knowledge, forgetfulness and perceived stigma.
The team will use the new African school survey data to design and test a school-based intervention, which will include the adaption of an existing theatre performance, written by the Nigerian-born playwright Tunde Euba, which addresses asthma knowledge and stigma.
Professor Jonathan Grigg from Queen Mary's Blizard Institute, and Director of the NIHR Global Health Research Group, said: "Children in sub Saharan Africa are increasingly developing diseases of urbanisation, such as asthma. Although other countries, such as the UK, may have higher levels of asthma, the extraordinarily high number of asthma-related deaths in Africa is a major concern. Working with leading paediatricians across Africa, this project will allow us to describe the burden of asthma in children, and the reasons underlying poor asthma control."
Professor Refiloe Masekela, who is conducting the study at UKZN said: "For the first time, this epidemiology study will be looking at the severity of asthma and at factors that impact asthma control and adherence in school-going adolescent children. The outcome of this study will then inform future strategies and interventions to reduce morbidity and mortality among affected children in Africa."
###
For more information, please contact:
Joel Winston
Public Relations Manager (School of Medicine and Dentistry)
Queen Mary University of London
j.winston@qmul.ac.uk
Tel: +44 (0)20 7882 7943 / +44 (0)7968 267 064
Notes to the editor
Photos from the launch event are available here: http://bit.ly/2WKRBmp
About Queen Mary University of London
At Queen Mary University of London, we believe that a diversity of ideas helps us achieve the previously unthinkable.
In 1785, Sir William Blizard established England's first medical school, The London Hospital Medical College, to improve the health of east London's inhabitants. Together with St Bartholomew's Medical College, founded by John Abernethy in 1843 to help those living in the City of London, these two historic institutions are the bedrock of Barts and The London School of Medicine and Dentistry.
Today, Barts and The London continues to uphold this commitment to pioneering medical education and research. Being firmly embedded within our east London community, and with an approach that is driven by the specific health needs of our diverse population, is what makes Barts and The London truly distinctive.
Our local community offer to us a window to the world, ensuring that our ground-breaking research in cancer, cardiovascular and inflammatory diseases, and population health not only dramatically improves the outcomes for patients in London, but also has a far-reaching global impact.
This is just one of the many ways in which Queen Mary is continuing to push the boundaries of teaching, research and clinical practice, and helping us to achieve the previously unthinkable.
About the National Institute for Health Research
The National Institute for Health Research (NIHR) is the nation's largest funder of health and care research. The NIHR:
Funds, supports and delivers high quality research that benefits the NHS, public health and social care
Engages and involves patients, carers and the public in order to improve the reach, quality and impact of research
Attracts, trains and supports the best researchers to tackle the complex health and care challenges of the future
Invests in world-class infrastructure and a skilled delivery workforce to translate discoveries into improved treatments and services
Partners with other public funders, charities and industry to maximise the value of research to patients and the economy
The NIHR was established in 2006 to improve the health and wealth of the nation through research, and is funded by the Department of Health and Social Care. In addition to its national role, the NIHR commissions applied health research to benefit the poorest people in low- and middle-income countries, using Official Development Assistance funding.
---