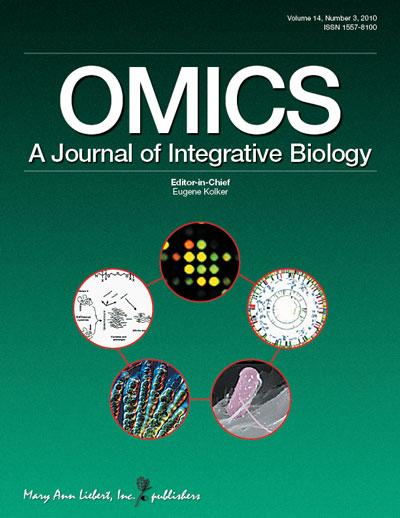 New Rochelle, NY, September 22, 2011—Innovation in the design of vaccines is rapidly expanding their use, safety, and effectiveness for disease prevention and therapeutic interventions. The enormous potential of OMICS sciences for global health and vaccine design is examined in "Vaccines of the 21st Century and Vaccinomics," a special issue of OMICS: A Journal of Integrative Biology, the peer-reviewed journal published by Mary Ann Liebert, Inc. The issue is available free online.
"Truly a fresh new look at how we design vaccines and apply them judiciously to benefit global health is essential and timely in the present age of data enabled science and postgenomics integrative biology," writes Eugene Kolker, PhD, Editor-in-Chief of OMICS, and Chief Data Officer, Seattle Children's Hospital, and Head, Bioinformatics & High-Throughput Analysis Laboratory, Seattle Children's Research Institute, and the Special Issue Guest Editor Vural Ozdemir (Associate Professor, McGill University, Canada), and co-authors of the Introductory Editorial, Tikki Pang (World Health Organization, Geneva, Switzerland), Bartha M. Knoppers, Denise Avard, Ma'n H. Zawati (Centre of Genomics and Policy, Department of Human Genetics, Faculty of Medicine, McGill University), and Samer A. Faraj (Desautels Faculty of Management, McGill University).
Despite advances in public health in the 21th century, we still lack safe and highly effective vaccines against the common pathogens seriously affecting global society such as neglected tropical diseases and helminth infections, tuberculosis, HIV, and malaria. These gaps in global health are deepened further by the lack of development of new antimicrobial drugs. The new field of vaccinomics relies on the integrated use of multi-omics data intensive biotechnologies (e.g., genomics, proteomics, metabolomics) to understand individual and population differences in immune responses to vaccines. Vaccinomics holds great promise for the design of safer and more effective vaccines, and their targeted rational use via novel postgenomics diagnostics to prevent and combat infectious diseases, and to intervene in chronic non-communicable diseases such as cancer, diabetes, and obesity.
Featuring global contributions from leading experts in Australia, Asia, Europe, and North America, "Vaccines of the 21st Century: Vaccinomics for Global Public Health" includes a series of articles on cutting-edge topics such as the conceptual basis of vaccinomics; high throughput ''game changing'' experimental approaches for 21st century vaccine design; case studies including previously neglected tropical diseases vastly affecting the developing countries (e.g., vaccinomics for helminth infections); the new therapeutic cancer vaccines; social science and policy analyses on vaccinomics and global health convergence, and the current strategies for vaccinomics-enabled rational vaccine design deployed by the vaccine industry.
An opinion piece by Alan Bernstein, Global HIV Vaccine Enterprise (New York, NY), Bali Pulendran, Emory University School of Medicine (Atlanta, GA), and Rino Rappuoli, Novartis Global Vaccines and Diagnostics (Siena, Italy) provides a forward look in the article "Systems Vaccinomics: The Road Ahead for Vaccinology."
Guest Editor Vural Ozdemir notes that "OMICS technologies and postgenomics diagnostics, when considered under a sound public health genomics framework, can offer innovative and potentially cost-effective solutions to current priorities in global health." In a concluding remark, he observes that the new science demands more than technological proficiency: "Seeking science-based solutions such as vaccinomics for the extant global public health priorities can only be achieved in a sustainable manner through a tri-partite integration of the biological, social, and political determinants of health."
###
OMICS: A Journal of Integrative Biology is an authoritative peer-reviewed journal published monthly online, which covers genomics, transcriptomics, proteomics, and metabolomics innovations. The Journal explores advances in the era of post-genomic biology and medicine and focuses on the integration of OMICS, data analyses and modeling, and applications of high-throughput approaches to study biological problems. Social, ethical, and public policy aspects of the large scale biology and 21st century data enabled sciences are also considered. Complete tables of content and a free sample issue may be viewed online.
Mary Ann Liebert, Inc. is a privately held, fully integrated media company known for establishing authoritative peer-reviewed journals in many promising areas of science and biomedical research, including Journal of Computational Biology, ASSAY and Drug Development Technologies, and Zebrafish. Its biotechnology trade magazine, Genetic Engineering & Biotechnology News (GEN), was the first in its field and is today the industry's most widely read publication worldwide. A complete list of the firm's 70 journals, books, and newsmagazines is available at our website.
---