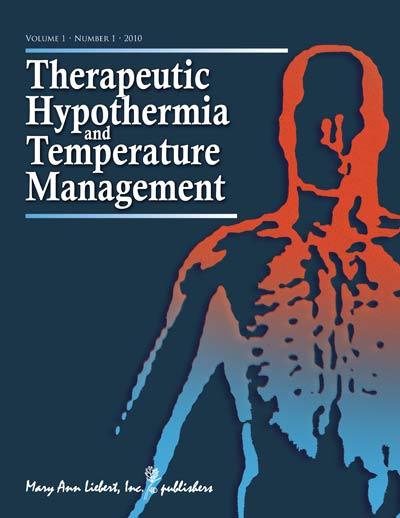 New Rochelle, NY, September 13, 2010--Therapeutic Hypothermia and Temperature Management, a new quarterly peer-reviewed journal from Mary Ann Liebert, Inc., publishers, covers all aspects of hypothermia and temperature considerations relevant to this exciting field, including its application in cardiac arrest, spinal cord and traumatic brain injury, stroke, myocardial ischemia, neurogenic fever, emergency medicine, ICU management, anesthesiology, pediatrics, and much more. A full description of the Journal is available at www.liebertpub.com/ther
The Journal is under the editorial leadership of Editor-in-Chief W. Dalton Dietrich, PhD, Kinetic Concepts Distinguished Chair in Neurosurgery, Professor of Neurological Surgery, Neurology and Cell Biology and Anatomy, University of Miami Leonard M. Miller School of Medicine; European Editor Hans Friberg, MD, PhD, Lund University, Lund, Sweden; Australasian Editor Stephen Bernard, MD, The Alfred Hospital, Victoria, Australia; and a distinguished multidisciplinary editorial board (http://www.liebertpub.com/products/eboard.aspx?pid=380).
The Journal will provide a strong multidisciplinary forum to advance the understanding of therapeutic hypothermia. Novel findings from translational preclinical investigations as well as clinical studies and trials will be featured in original articles, state-of-the-art review articles, provocative roundtable discussions, clinical protocols, and best practices. Therapeutic Hypothermia and Temperature Management will be the journal of record, published in print and online with open access options.
"There is a strong imperative for a dedicated multidisciplinary forum to ensure that research advances are well disseminated, and therapeutic hypothermia is well understood and used effectively to enhance patient outcomes," says Mary Ann Liebert, president of Mary Ann Liebert, Inc.
###
Mary Ann Liebert, Inc. (www.liebertpub.com) is a privately held, fully integrated media company known for establishing authoritative peer-reviewed journals in many promising areas of science and biomedical research, including Journal of Neurotrauma. Its biotechnology trade magazine, Genetic Engineering & Biotechnology News (GEN), was the first in its field and is today the industry's most widely read publication worldwide. A complete list of the firm's 60 journals, books, and newsmagazines is available at www.liebertpub.com
Mary Ann Liebert, Inc. 140 Huguenot St., New Rochelle, NY 10801-5215
Phone: (914) 740-2100 (800) M-LIEBERT Fax (914) 740-2101 www.liebertpub.com
---
Journal
Therapeutic Hypothermia and Temperature Management