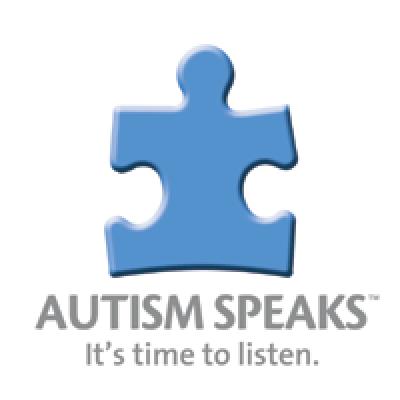 New York, N.Y. (April 15, 2011) – A comprehensive investigation of brain tissue donated to the Autism Speaks Autism Tissue Program (ATP), a postmortem brain tissue donation program, determined that one-third of the brain donors with autism also had epilepsy, and co-morbidity data from the California State Department of Developmental Services revealed a higher than expected rate of mortality in individuals with both autism and epilepsy than for individuals with autism alone.
"Mortality in Individuals With Autism, With and Without Epilepsy," published today in the Journal of Child Neurology, reported that 39 percent of the confirmed cases of autism from ATP donations also had a confirmed diagnosis of epilepsy, which is significantly higher than the estimated rate of epilepsy among the general autism population. The study also reported that data from the California State Department of Developmental Services demonstrated a higher than expected rate of mortality in individuals with autism and epilepsy than autism alone. These data are consistent with past reports. The paper concluded that when epilepsy and autism occurred together, the mortality rates increased by more than 800 percent.
"This study highlights the importance of early identification of epilepsy in children with autism and of autism in children with epilepsy," said Roberto Tuchman, MD, pediatric neurologist at Miami Children's Hospital and member of the Autism Speaks Scientific Advisory Council. "The findings of this study should motivate the autism and epilepsy communities to increase their understanding of the risk factors and common mechanisms that can lead to epilepsy, autism, or both epilepsy and autism. Understanding these early determinants will allow for the development of effective interventions and preventive measures and ultimately better outcomes for children with autism and epilepsy."
It is well established that epilepsy is a major medical disorder that is often co-morbid with autism in as many as 30 percent of children. As many as one in 20 children diagnosed with autism by age 3 could either already have epilepsy or develop epilepsy later in life. As noted by the ATP more than a decade ago, sudden unexplained death in epilepsy (SUDEP) has been identified as a cause of death in individuals with autism. Higher mortality rates than in the general population have been reported among individuals with autism, however, there is relatively little known about the specific risk factors that account for the reported higher-than-expected rate of mortality in autism.
"Sudden, unexpected or unexplained death in autism is often, but not always related to epilepsy and we need to use caution when interpreting these data," explained Autism Speaks Vice President of Clinical Programs Clara Lajonchere, Ph.D. "These findings are important for understanding risk factors that may contribute to early death in individuals with autism and further underscore the need for more accurate and accessible records on cause of death in this population. Furthermore, state surveillance programs should implement better tracking mechanisms to help us better understand mortality for individuals with autism and co-occurring disorders such as epilepsy. Critical initiatives supported by Autism Speaks brain tissue program will help bring these issues to the fore and provide information our community needs to help prevent early death in persons with autism."
###
About Autism
Autism is a complex neurobiological disorder that inhibits a person's ability to communicate and develop social relationships, and is often accompanied by behavioral challenges. Autism spectrum disorders are diagnosed in one in 110 children in the United States, affecting four times as many boys as girls. The prevalence of autism increased 57 percent from 2002 to 2006. The Centers for Disease Control and Prevention have called autism a national public health crisis whose cause and cure remain unknown.
About Autism Speaks
Autism Speaks is North America's largest autism science and advocacy organization. Since its inception in 2005, Autism Speaks has made enormous strides, committing over $160 million to research and developing innovative new resources for families. The organization is dedicated to funding research into the causes, prevention, treatments and a cure for autism; increasing awareness of autism spectrum disorders; and advocating for the needs of individuals with autism and their families. In addition to funding research, Autism Speaks has created resources and programs including the Autism Speaks Autism Treatment Network, Autism Speaks' Autism Genetic Resource Exchange and several other scientific and clinical programs. Notable awareness initiatives include the establishment of the annual United Nations-sanctioned World Autism Awareness Day on April 2, which Autism Speaks celebrates through its Light it Up Blue initiative. Also, Autism Speaks award-winning "Learn the Signs" campaign with the Ad Council has received over $258 million in donated media. Autism Speaks' family resources include the Autism Video Glossary, a 100 Day Kit for newly-diagnosed families, a School Community Tool Kit and a community grant program. Autism Speaks has played a critical role in securing federal legislation to advance the government's response to autism, and has successfully advocated for insurance reform to cover behavioral treatments in 25 states thus far, with bills pending in an additional 11 states. Each year Walk Now for Autism Speaks events are held in more than 80 cities across North America. To learn more about Autism Speaks, please visit www.autismspeaks.org.
About the Co-Founders
Autism Speaks was founded in February 2005 by Suzanne and Bob Wright, the grandparents of a child with autism. Bob Wright is Senior Advisor at Lee Equity Partners and Chairman and CEO of the Palm Beach Civic Association. He served as Vice Chairman of General Electric; and as the Chief Executive Officer of NBC and NBC Universal for more than twenty years. He also serves on the boards of the Polo Ralph Lauren Corporation, Mission Product, LLC and the New York Presbyterian Hospital. Suzanne Wright is a Trustee Emeritus of Sarah Lawrence College, her alma mater. Suzanne has received numerous awards, the Women of Distinction Award from Palm Beach Atlantic University, the CHILD Magazine Children's Champions Award, Luella Bennack Volunteer Award, Spirit of Achievement award by the Albert Einstein College of Medicine's National Women's Division and The Women of Vision Award from the Weizmann Institute of Science. In 2008, the Wrights were named to the Time 100 Heroes and Pioneers category, a list of the most influential people in the world, for their commitment to global autism advocacy. They have also received numerous awards such as the first ever Double Helix Award for Corporate Leadership, NYU Child Advocacy Award, Castle Connolly National Health Leadership Award and The American Ireland Fund Humanitarian Award. In May of 2010 they received Honorary Doctor of Humane Letters Degrees from St. John's University in Queens and delivered the commencement address as the first married couple to be bestowed such an honor.
---
Journal
Journal of Child Neurology