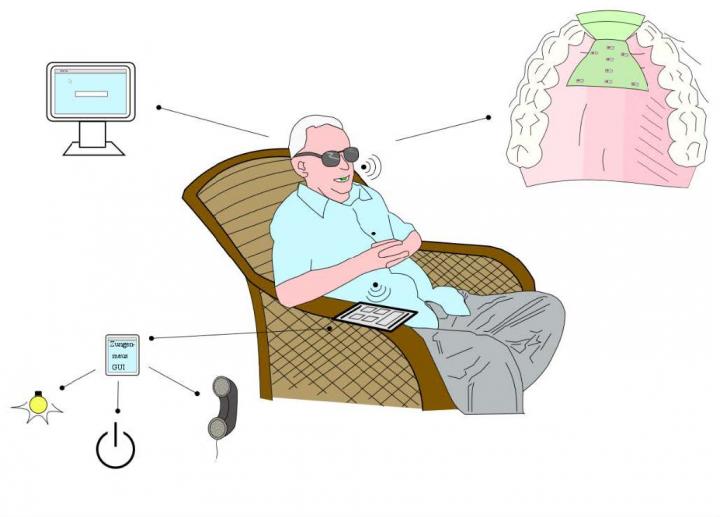 The Institute of Acoustics and Speech Communication at TU Dresden and the Linguwerk GmbH are jointly developing a technical assistance system, which will allow users to operate computer applications or household appliances using only tongue movements. Saxony's Minister of Health, Barbara Klepsch, presented the funding approval to inaugurate the project on 1st March 2019.
"The Free State of Saxony is consciously focusing on supporting digitalisation in the healthcare sector. The aim of this project is to enable patients to remain in their own living environment for as long as possible by maintaining their everyday skills", says Barbara Klepsch. "Highly innovative projects like this are helping to shape the future of health care".
Many people suffer from sensory and motor function impairments of the hands due to illness or old age, which prevent them from being able to use household appliances independently. In Germany alone, almost 900,000 people suffer from rheumatism, Parkinson's disease or the loss of function of their limbs.
In the "Zungenmaus" (literally tongue mouse) project, researchers at TU Dresden are developing a technical assistance system also operable by the elderly that can be used to control devices using only tongue movements. The "Zungenmaus" involves a small sensor plate that will eventually become a substitute for the hand. It is mounted behind the upper incisors and contains a sensor system on a flexible printed circuit board that precisely measures tongue movements, thus allowing certain types of functions to be carried out. The input movements are converted into control commands and can, for example, control a cursor on a graphical user interface in the same way a mouse is controlled on a computer screen.
Particular emphasis is placed on patient comfort. The sensor plate should be able to be inserted and removed without any problems, and should not be irritating. It must also be straightforward to use the sensor in conjunction with dentures. "The Zungenmaus, which we aim to develop with this project, has only become possible through the more recent developments in the fields of optoelectronics and machine learning", explains Junior Professor Peter Birkholz from the Institute of Acoustics and Speech Communication at TU Dresden. "These developments make it possible to not only produce sensors that are small and comfortable to wear, but also to intuitively control devices using the tongue." After a short familiarisation and training phase, it should be relatively easy to use and - because the tongue muscle does not get tired - be possible to use for extended periods of time.
"What sounds like a toy can in fact be an enormous relief for many people with limited motor functions", says Dr. Rico Petrick, Managing Director of Linguwerk GmbH. People who can no longer operate computers or household appliances independently have to rely on help from others. "Previous operating concepts for the elderly, such as large buttons and input through speech or eye movements, have specific disadvantages such as limited functionality or high costs."
The "Zungenmaus" project will receive funding amounting to more than half a million euro until the end of 2020. The funds come from the European Regional Development Fund (ERDF). A fully functional model is to be created by the end of the funding period as a basis for subsequent product development.
###
---